Vietnam News Today (November 9): Vietnam - Priority Destination Among Emerging Economies
Vietnam News Today (November 9): Vietnam records 7,954 new local Covid cases; Vietnamese, Australian defense ministers hold talks; Standard Chartered: Vietnam - a priority destination among emerging economies; Hanoi warned amid resurgence of Covid-19 outbreak.
Vietnam News Today (November 9) notable headlines
Vietnam records 7,954 new local Covid cases
Vietnamese, Australian defense ministers hold talks
Standard Chartered: Vietnam - a priority destination among emerging economies
Hanoi warned amid resurgence of Covid-19 outbreak
Six more airports to be constructed in 10 years
Vietnam, Indonesia seek to boost healthcare, economic, and tourism co-operation
Diverse activities mark 32nd anniversary of diplomatic ties with Venezuela
State budget contribution of PetroVietnam expands by 21% of yearly plan
Coffee exports to enjoy robust growth ahead in fourth quarter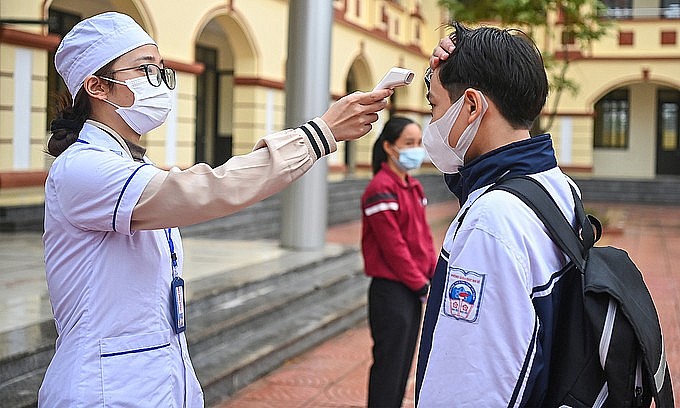 A medic checks the body temperature of a student at Tay Dang Middle School in Hanoi's Ba Vi District, Nov. 8, 2021. Photo: VnExpress
Vietnam records 7,954 new local Covid cases
Health authorities confirmed 7,954 new local Covid-19 cases Monday, up 323 cases from previous day, pushing the ongoing wave's tally to 970,798.
The three localities with the highest number of new cases were Ho Chi Minh City with 1,316 cases, Dong Nai with 969 cases and Binh Duong with 823 cases.
Of the day's tally, 2,237 cases were detected in the community, cited VnExpress.
The Health Ministry also confirmed 1,073 recoveries the same day, bringing the total tally of recovered cases so far to 841,475.
The Covid-19 death toll in Vietnam rose to 22,598 with the confirmation of 67 deaths Monday.
The average number of new cases in the country for the past seven days has been 6,988 a day while the national death rate has been 67 a day on average.
Over 61.4 million people have been vaccinated, with more than 29.3 million receiving two doses.
Vietnamese, Australian defense ministers hold talks
Vietnamese Minister of National Defense General Phan Van Giang and his Australian counterpart Peter Dutton held online talks on November 8, during which they agreed to maintain the bilateral defense ties effectively.
The two side will work to maintain consultation and dialogue mechanisms, exchange experience and deal with war consequences, while expanding collaboration in defense industry and cyber security.
Giang said despite Covid-19, Vietnam and Australia have enhanced their strategic partnership and the defense ties in particular, expressing his belief that outcomes of the talks will help to further expand the defense cooperation.
The Minister used the occasion to thank the Australian Government and people for their valuable support to Vietnam, especially their Covid-19 vaccine commitment.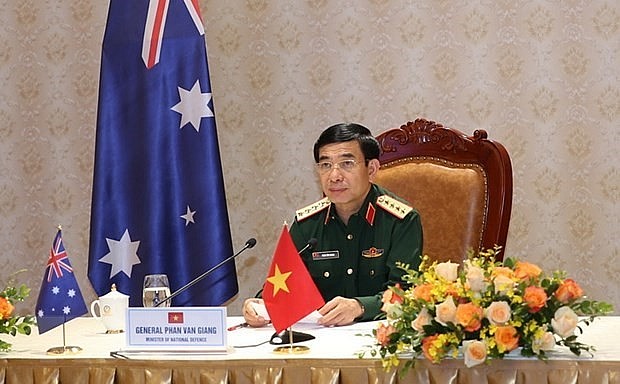 Vietnamese Minister of National Defence General Phan Van Giang. Photo: VNA
He highlighted the Australian defense ministry's assistance to Vietnam in transporting doctors, nurses and medical supplies of its level-2 field hospital to South Sudan. Giang called on Australia to continue supporting Vietnam in United Nations peacekeeping operations.
Regarding multilateral cooperation, Giang lauded Australia's contributions to regional mechanisms, particularly the ASEAN Defense Ministers' Meeting Plus (ADMM+).
For his part, Dutton affirmed that Australia will continue the transportation of Vietnam's level-2 field hospital to UN peacekeeping missions in 2022 as well as the transportation of forces in the years to come if conditions permit.
He appreciated Vietnam's support for upgrading the ASEAN-Australia relationship to a comprehensive strategic partnership, and the ASEAN Chairman's Statement at the recent ASEAN-Australia Summit, according to VNA.
At the talks, the Vietnamese side noted its support for the second ASEAN - Australia Defense Ministers Informal Meeting, and pledged to make more contributions to the ADMM+ Experts' Working Group on Military Medicine under the co-chairmanship of Australia and Brunei for 2021-2023.
Giang invited Dutton to pay an official visit to Vietnam. The Australian minister accepted the invitation with pleasure.
Standard Chartered: Vietnam - a priority destination among emerging economies
Standard Chartered Bank has identified the nation as one of the priority destinations among emerging economies due to its development potential and open-door policy.
These remarks were made by Jose Vinals, group chairman of the bank, during the course of a dialogue with Vietnamese Minister of Industry and Trade Nguyen Hong Dien held within the framework of Prime Minister Pham Minh Chinh's recent trip to COP26 in Glasgow, the UK.
Minister Dien stated that the country will devise necessary institutions in a bid to reinforce the internal strength of the national economy and raise the competitiveness of Vietnamese enterprises. These institutions will thereby help businesses to take full advantage of various free trade agreements (FTAs), particularly in export activities whilst meeting the needs of the domestic market.
Furthermore, the Vietnam Ministry of Industry and Trade will move to speed up digital transformation in all production fields and trade, whilst also pursuing a sustainable development model. Vietnamese industrial policy orientations include seeking cleaner, greener production and using energy in a more economical and efficient manner. This is in addition to the development of basic and supporting industries based on achievements of Industry 4.0.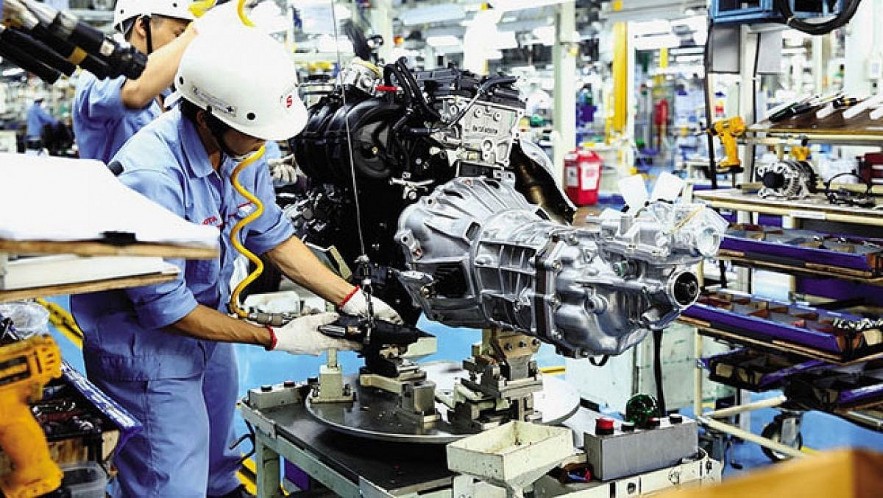 Standard Chartered Bank has identified Vietnam as one of priority destinations among emerging economies thanks to its development potential and open-door policy. Photo: baodautu.vn
Minister Dien incentivized investors to build projects in line with the nation's overall industrial development strategy.
In response, Vinals highlighted Standard Chartered's investment ability to promote technology transfer whilst simultaneously contributing economic benefits to the country.
Moreover, there remains an opportunity for the nation to become one of the world's important factories, with the country able to participate intensively in the global value chain, reported VOV.
He went on to express his confidence that his bank's investment strategy is compatible with Vietnamese priority development areas.
Standard Chartered is one of the first five international banks to be present in the nation, officially operating a local branch back in 2009.
Standard Chartered Bank was voted the best priority bank in Vietnam by International Finance Magazine in 2017 and 2018, the best e-retail bank in Vietnam in 2018 and 2019, and the best foreign retail bank in Vietnam in 2021.
Hanoi warned amid resurgence of Covid-19 outbreak
After over two months of enforcing social distancing measures to cope with the fourth wave of the Covid-19 outbreak, the pandemic situation in the capital has been contained, although the last few weeks have seen many community cases, especially outbreaks of unknown origin of infection.
Despite the municipal administration launching a range of solutions aimed at controlling the pandemic, there have been several outbreaks and many local cases over recent days, including those related to returnees from pandemic-hit areas.
Consecutively from November 3 to the present, the capital has recorded more than 100 new local Covid-19 cases each day. Indeed, there have been hundreds of F0 cases in the community so far, alongside an array of outbreaks and clusters of infections with unclear origin.
According to health experts, there is set to be new infections detected after life returns to the "new normal" as many people return from epidemic-hit areas, with many failing to comply with regulations regarding isolation and medical declarations.
Furthermore, the reopening of venues such as restaurants and shopping centers, has attracted a large number of customers. This can be considered natural due to people staying indoors for a long period, meaning people's demand for travel, eating, and gatherings has increased.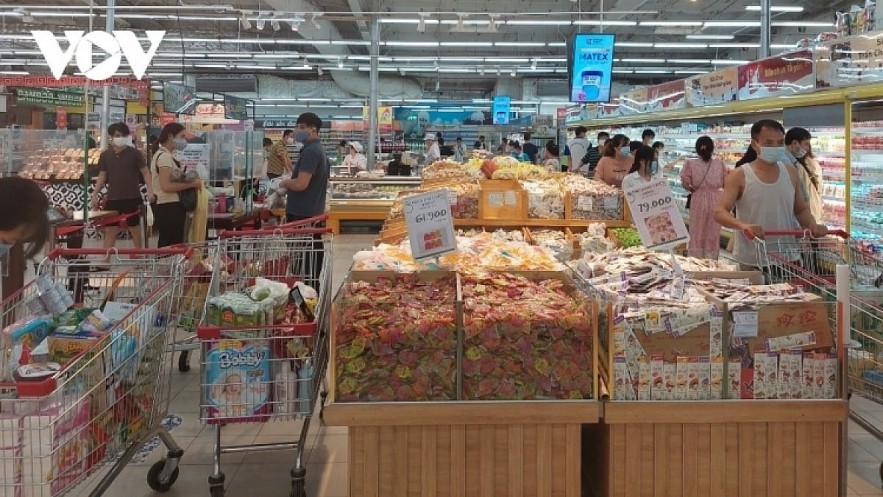 Commercial centers and supermarkets always attract a lot of people going shopping, with many having subjective psychology regarding pandemic prevention and control. Photo: VOV
It is also worth mentioning that the awareness of a part of the population regarding adherence to pandemic prevention and control is not as high as expected, while many remain apathetic donning wearing masks in public and making complete health declarations by scanning QR codes, cited VOV.
According to expert Tran Dac Phu, senior advisor of the Center for Emergency Response to Public Health Events under the Ministry of Health, currently all activities in Hanoi have returned back to the normal. However, it is still not possible to loosen regulations relating to pandemic prevention and control as the vaccination rate remains low in many localities. Indeed, the high number of returnees to Hanoi from pandemic-hit areas is also seen as contributory factor to ease transmission.
Amid the complicated pandemic situation and the growing rate of fresh infections, competent agencies have yet to trace contacts of infected people. This should be done in the narrowest possible range to avoid affecting production and business activities as well as people's lives.
The facts indicate that there are a portion of people who have already been vaccinated, but still subjectively think that after inoculation, they may only suffer from a mild form of the disease or not get the virus. For that reason, many fail to strictly follow the 5K recommendations set out by the Ministry of Health - khau trang (facemask), khu khuan (disinfection), khoang cach (distance), khong tu tap (no gathering) and khai bao y te (health declaration), Phu analyzed.
Phu stated that the risk of a Covid-19 outbreak remains very high and unpredictable. Therefore, it must be considered necessary to take drastic countermeasures moving forward. As a result, Hanoi needs to devise a plan to fulfill the responsibilities of the people, stringently enforce disease prevention measures for themselves, for their families, for the community, and society, he emphasized.
Six more airports to be constructed in 10 years
Six new airports will be built in the next 10 years, raising the total number of airports in the country to 28, haft of which are international airports, according to a master plan on the development of airports in the 2021-2030 period with a vision to 2050 that has been submitted to the Government by the Ministry of Transport.
Under the proposed plan, the 28 airports will have combined capacity of 278 million passengers to ensure that more than 95 percent of the population can access an airports within a distance of 100km.
The plan estimates that about VND400 trillion (US$17.68 billion) will be needed to develop the airport system until 2030, accounting for 22 percent of the total demand for capital of the whole sector.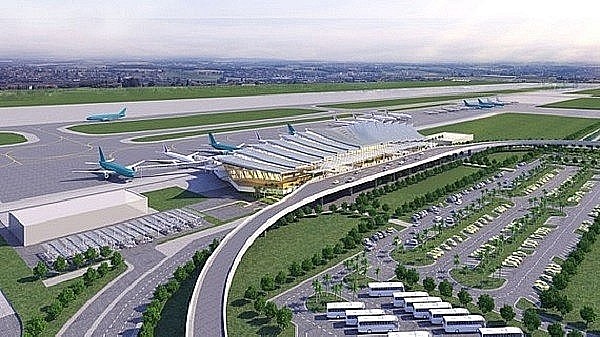 Quang Tri airport is expected to be built in the 2021-2025 period. Photo: VIR
In 2050, the country expects to have 29 airports, including 15 domestic ones. An airport in the southeast of Hanoi will be built, VOV reported.
The plan also includes a list of national key projects with investment priority, including the first phase of Long Thanh International Airport with a capacity of welcoming 25 million passengers per year; the construction of T3 terminal at Tan Son Nhat International Airport (Ho Chi Minh City), and T2 terminal at Noi Bai International Airport (Hanoi) to raise their capacity to handling 20 million and 15 million passengers per year, respectively.
Priority will also be given to the expansion and construction of airports in remote, mountainous and island areas, such as Dien Bien, Con Dao island, Sa Pa and Pleiku.
A representative from the Ministry of Transport said that the ministry has suggested amending and supplementing a number of relevant legal regulations to mobilize non-State budget resources for the scheme, while building and issuing regulations on the selection of investors for aviation service projects at airports.
For new airports, public-private partnership will be preferred, excepting for those of national significance and strategic military and security importance as well as those in border and island areas, which will be invested by State capital.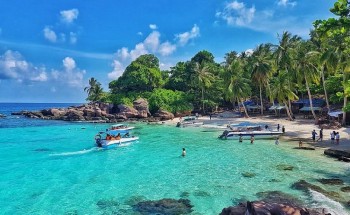 National
Vietnam News Today (Jan. 18): Vietnam confirms 21,691 new local Covid-19 cases; Logo marking 30 years of Vietnam-RoK diplomatic ties unveiled; Phu Quoc represents golden hope for Vietnamese tourism rebound; Int'l searches on Vietnam tourism reopening on the rise.