Vietnam News Today (Oct. 20): Vietnam Remains Attractive for Foreign Financiers
Vietnam News Today (Oct. 20): Vietnamese, Lao localities forge cooperation; Vietnam remains attractive investment destination for foreign financiers; First Vietnam Blockchain Summit opens; Vietnam's overseas investment rises sharply.
Vietnam News Today (Oct. 20) notable headlines
Vietnamese, Lao localities forge cooperation
Vietnam remains attractive investment destination for foreign financiers
First Vietnam Blockchain Summit opens
Vietnam's overseas investment rises sharply
The Travel: Vietnam among top 10 for Best Food in The World
National Assembly leaders of Vietnam, Laos and Cambodia to meet in 2023
Webinar seeks to step up Vietnam – Russia cooperation
International food expo opens in HCM City
Vietnam ensures gender equality in political and public life
Phan Viet Cuong, Chairman of the People's Council of Quang Nam, speaks at the meeting. Photo: VNA
Vietnamese, Lao localities forge cooperation
Officials from the People's Council of Vietnam's central province of Quang Nam and Sekong province of Laos met to exchange experience in Quang Nam's Tam Ky city on October 18.
The two sides briefed each other on potential, advantages and socio-economic situation in their respective localities.
They agreed to hold annual conferences, training courses on political theory and exchange programs for council officials, cited VNA.
Quang Nam will provide office equipment for the People's Councils of Sekong and its four districts.
Phan Viet Cuong, Chairman of the People's Council of Quang Nam, affirmed that a delegation of the council will visit Sekong next year.
Vietnam remains attractive investment destination for foreign financiers
Despite enduring the adverse impact of the Covid-19 pandemic and global uncertainties, several foreign investors continue to view Vietnam as an attractive investment destination, according to insiders.
A survey conducted by Cushman & Wakefield highlights that more than 200 senior representatives from leading investment firms have selected Vietnam as their primary investment destination among emerging markets, with the country obtaining nearly 80% of the votes, followed India getting 75%.
Despite concerns about global macroeconomic instability, rising interest rates, and high inflation, foreign investors continue to inject money into committed projects in the country, said Trang Bui, general manager of Cushman & Wakefield.
The Business Climate Index (BCI) published by the European Chamber of Commerce in Vietnam (EuroCham) and produced by YouGov Decision Lab indicates that 45% of European business stakeholders remain optimistic about future prospects for their own businesses ahead in the fourth quarter of the year.
Furthermore, respondents anticipate that investment planning, orders, and revenues will remain relatively stable in comparison with the previous quarter.
"The future of Vietnam is bright. Vietnam offers great investment opportunities for European businesses, and we are very excited about the country's prospects in the medium- to short-term. Through the EU-Vietnam Free Trade Agreement and our shared commitment to sustainable development, Vietnamese and European companies have a great deal of growth potential," said Alain Cany, chairman of EuroCham.
The Ministry of Planning and Investment recently unveiled Vietnam attracted more than US$18.7 billion in foreign direct investment as of September 20, with Singapore, Japan, Denmark, China, and the Republic of Korea becoming the leading investors.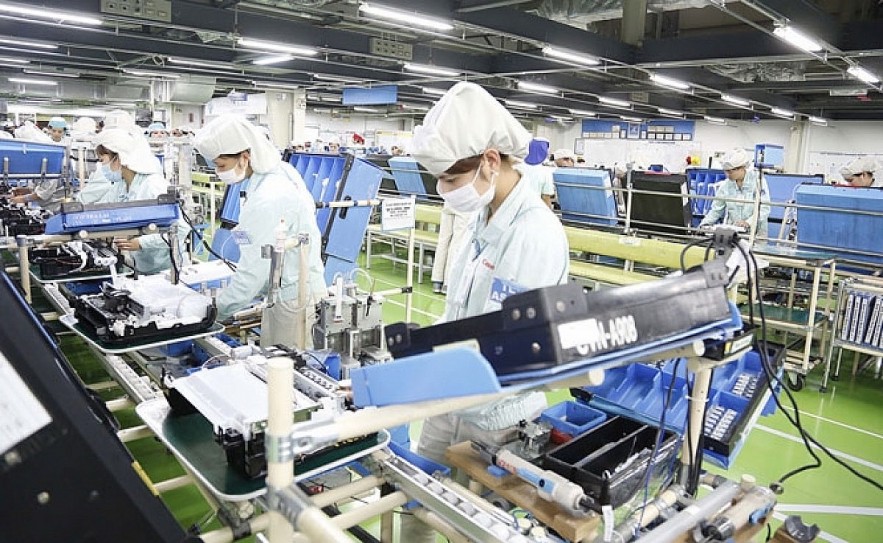 Photo: VOV
Most notably, foreign investment disbursement hit a record high of US$10.06 billion during the first half of the year, securing the highest growth rate over the past five years, according to VOV.
Bui revealed that Vietnam is primarily focused on developing infrastructure such as highways and seaports in a bid to enhance competitiveness and attract further FDI inflows into the country.
Rapid improvements made in the infrastructure system have therefore contributed to the country's strong economic growth and significant developments in terms of the logistics industry, she noted.
Bui went on to outline that thanks to the tremendous efforts over recent years, the country is considered to be an attractive investment destination and a dynamic economy with a large degree of openness and a high economic growth rate.
With regard to policies that aim to attract foreign capital, Dr. Phan Huu Thang, chairman of the International Investment Research Institute, underlined the necessity of fine-tuning the legal system and re-evaluating existing projects to devise proper strategies and identify Vietnamese advantages in order to ensure efficiency for investments moving forward.
First Vietnam Blockchain Summit opens
The Vietnam Blockchain Summit 2022 officially opened in Hanoi on October 19.
Organized for the first time by the Vietnam Software Association (VINASA) and the Vietnam Blockchain Association, the two-day summit is drawing great attention from both domestic and international tech firms.
Among new technologies strongly affecting the world's changes, blockchain is getting more popular, as it is applied in almost all fields and sectors.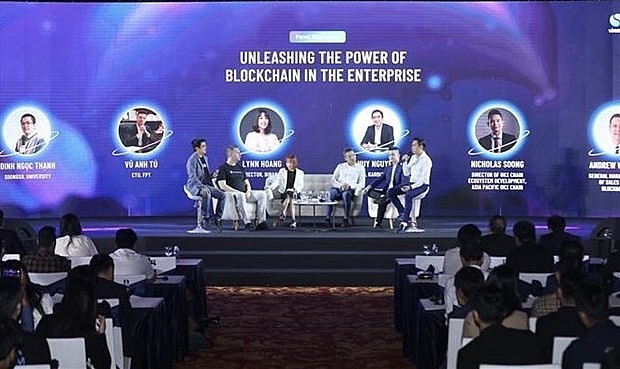 A talkshow held within the framework of Vietnam Blockchain Summit 2022. Photo: VNA
Phan Duc Trung, Vice President of the Vietnam Blockchain Association, said the summit will help boost technology connections and contribute to the development of the digital economy.
It will give participants an insight into Vietnam's blockchain industry as well as policies domestic and foreign firms need to follow while developing business models applying blockchain technology in the country, reported VNA.
Speakers are expected to share approaches to blockchain technology of leading technology companies, new solutions, and stories of integrating blockchain into products to bring new value to users.
Among the top 200 companies operating with blockchain technology in the world, more than 10 were founded by Vietnamese. Vietnam is one of the top five blockchain countries and currently has more than 10 startups in this field with a combined capital of more than US$100 million.
According to a report by MaketsandMarkets, the domestic blockchain-related market will reach a value of nearly US$2.5 billion in 2026, increasing nearly five folds compared to 2021.
Vietnam's overseas investment rises sharply
By 2021, 62 outward investment projects of 14 enterprises had recovered the investment capital with an accumulated amount of US$3.64 billion, including $1.74 billion worth of profits transferred home.
The government's report to National Assembly showed that total outward investment capital had reached $6.61 billion as of December 31, 2021, equal to 55 percent of registered capital.
PetroVietnam had the largest implemented investment capital, nearly $4 billion, accounting for 60 percent of total outward investment capital, followed by Viettel with US$1.46 billion (22 percent), and Vietnam Rubber Group (US$770.8 million, 12 percent).
The total investment capital of the three enterprises accounted for 94 percent of the total outward investment capital of SOEs and state-invested enterprises (SIEs).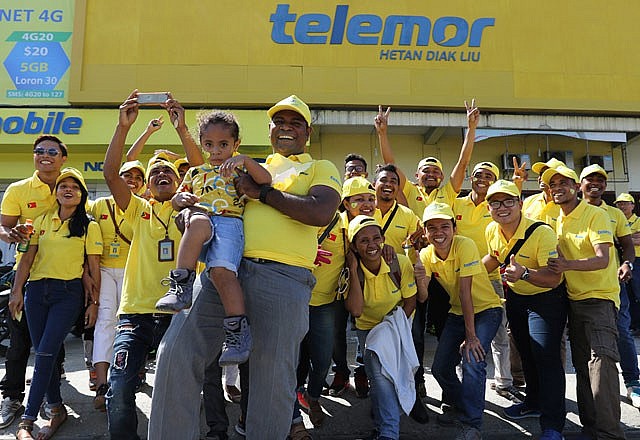 Photo: VNN
In 2021, the capital recovered from outward investment capital was US$509.75 million, while the profit transferred home was US$278.56 million. The money was mostly from large projects of economic groups and general corporations, including PetroVietnam (US$288.34 million), Viettel (US$147.12 million) and Vietnam Airlines Corporation (US$35 million).
Of the capital of US$3.64 billion recovered as of December 31, 2021, the largest capital belonged to PetroVietnam (US$2.63 billion), accounting for 72 percent of recovered capital by SOEs and SIEs, and Viettel (US$853.41 million), or 23 percent.
The recovered capital of the two enterprises accounted for 95 percent of total recovered capital of all enterprises making outward investments, cited VNN.
In 2021, 88 outward investment projects brought revenue totaling US$7.78 billion, an increase of 40 percent compared with 2020. Of these, 62 projects brought profits with post-tax profits of US$810.2 million, up by 90 percent. The profit distributed in the year to Vietnamese investors was US$284.82 million, up by US$166.3 million, or 2.4 times higher than 2020.
Meanwhile, 30 projects have been reported taking losses, totaling US$335.53 million, up by 42 percent compared with 2020.
As of December 31, 2021, 44 projects had reported accumulated losses, totaling US$1.33 billion, a decrease of 2 projects and an increase of US$164.04 million compared with 2020.
To improve overseas investment efficiency, the government has asked the National Assembly to promote diplomatic relations at the State level between Vietnam and countries that receive investment capital from Vietnam SOEs and SIEs, such as Laos, Cambodia and Myanmar. The aim is to ask host countries to apply preferential policies, be consistent and transparent, and create a stable and safe investment environment for Vietnamese enterprises.
It is also necessary to pay more attention to restructuring outward investments by enterprises while reshuffling enterprises in 2021-2025; strengthening management and supervising outward investment activities; and strictly observing requirements on reporting and assessing the use of outward investment capital.
The Travel: Vietnam among top 10 for Best Food in The World
Vietnam is famous for its delicious seafood, Pho (noodle soup), and Nem (spring rolls), earning it a spot among the top 10 for Best Food in The World, according to readers of Canadian magazine The Travel.
The publication notes that seafood is a hugely popular food in Vietnam thanks to the country's long coastline, and the development of fishing and a network of fishing villages across the country.
In addition, there is a wide variety of foods nationwide internationally recognized for visitors to enjoy.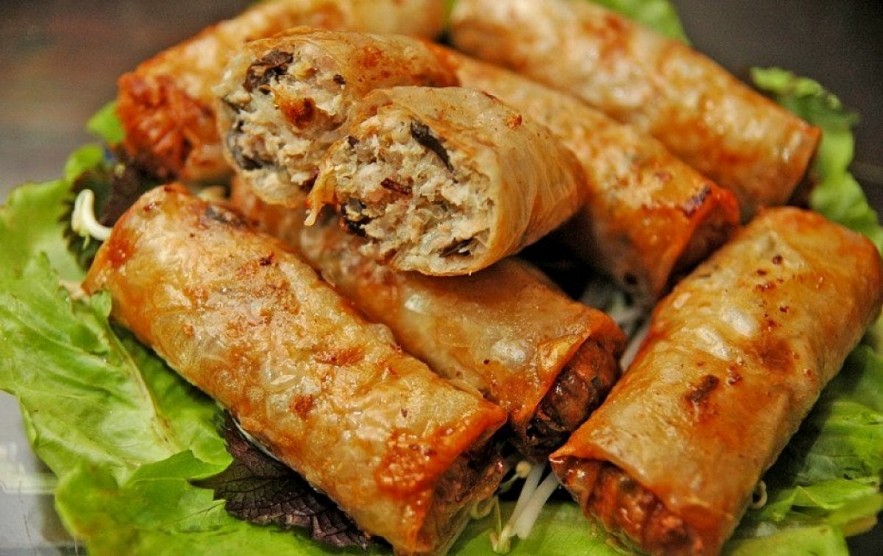 Spring roll is one of the most popular traditional Vietnamese foods served on big occasions such as major ceremonies and Lunar New Year.
Like in many Asian countries, various types of noodle soups are popular in Vietnam, meaning that a bowl of Pho is a delicious dish to begin any food journey.
"This Vietnamese noodle soup is called Pho, and it consists of herbs, chicken, or beef. After tasting the country's national dish, one can proceed to try some snacks such as - spring rolls and Baguettes," says The Travel.
The magazine also shares that there are a range of rice dishes that guests can try out, with some consisting of chicken and others consisting of either beef or pork.
Other countries included in the Best Food in The World list include the United States, Germany, the Philippines, India, Spain, Mexico, Greece, Thailand, and Italy.
This recognition comes following the primetime broadcast by news channel TF1, the oldest and largest French TV channel, which also praised Vietnamese food for being one of the three cuisines most loved by French people.