Vietnam News Today (October 27): HCM City Proposes Covid-19 Vaccinations for Children
Vietnam News Today (October 27): Vietnam confirms another 3,592 domestic Covid cases; Vietnam committed to efficiently coordinating ASEAN-RoK partnership; HCM City proposes Covid-19 vaccinations for children; 'Vaccine passport' holders to land in Phu Quoc in November.
Vietnam News Today (October 27) notable headlines
Vietnam confirms another 3,592 domestic Covid cases
Vietnam committed to efficiently coordinating ASEAN-RoK partnership
HCM City proposes Covid-19 vaccinations for children
'Vaccine passport' holders to land in Phu Quoc in November
Five local universities honored among emerging economies
Vietnam – Australia AI forum takes place on October 27
Domestic retail petrol prices hit seven-year peak
Two Vietnamese buildings win Dezeen architecture awards
Hanoi streets dotted with ox-eye daisies as winter approaches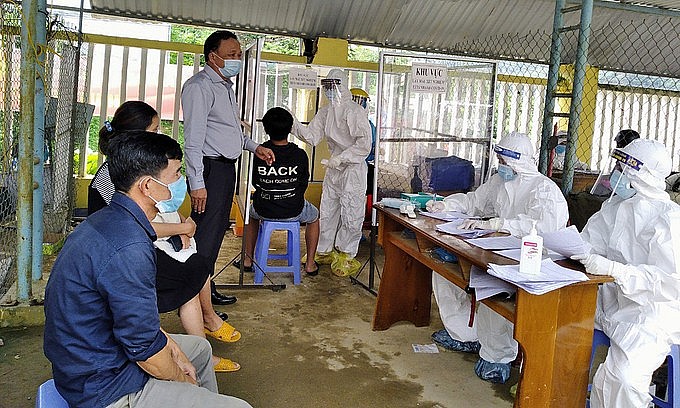 People in Nam Tra My District of central Quang Nam Province are tested for the novel coronavirus on October 26, 2021. Photo: VnExpress
Vietnam confirms another 3,592 domestic Covid cases
The Ministry of Health announced 3,592 new local Covid-19 cases Tuesday in 49 cities and provinces, down 28 against Monday.
Ho Chi Minh City and its neighboring provinces of Binh Duong and Dong Nai account for most cases, at 783, 528, and 481.
The ministry also confirmed 64 Covid-19 deaths Tuesday, including 27 in HCMC and 14 in Binh Duong, raising the nation's death toll since the start of the pandemic to 21,802, a mortality rate of 2.5 percent, cited VnExpress.
So far in the fourth wave that emerged six months ago, 891,389 cases have been confirmed, 807,473 have recovered and 21,767 have died.
Until now, 21.8 million of the nation's 96 million have been fully vaccinated with two doses.
Vietnam committed to efficiently coordinating ASEAN-RoK partnership
Vietnam is committed to doing its best in the coordinating role for the ASEAN-RoK partnership in the next three years on the basis of the sound and long-standing Vietnam-RoK relations, Prime Minister Pham Minh Chinh said during the 22nd ASEAN-RoK Summit held virtually on October 26.
The event was organized within the framework of the ongoing 38th and 39th Summits of the Association of Southeast Asian Nations (ASEAN) and related meetings.
As coordinator for the ASEAN-RoK relations, Vietnam will continue joining hands with other ASEAN members and the RoK to strengthen the strategic partnership and comprehensive cooperation between the sides, thereby contributing to peace, stability and prosperity in the region, the PM added.
The Vietnamese PM put forward some priorities in expanding and deepening the ASEAN-RoK strategic partnership in the coming time, calling on the RoK to use its strengths in digital technology and digital economy to support ASEAN in digital transformation and sustainable development, as well as in narrowing the development gap via the Mekong-RoK cooperation, according to VNA.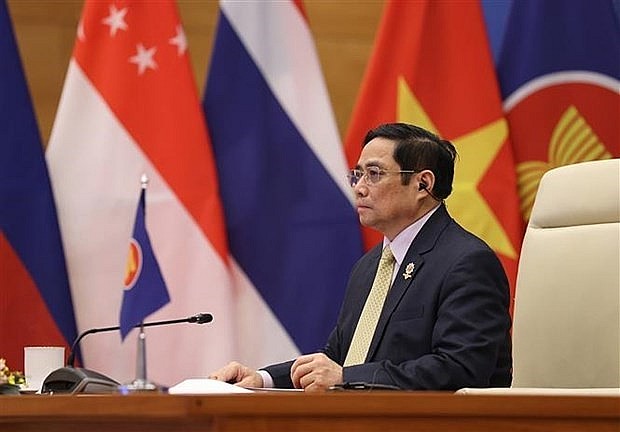 PM Pham Minh Chinh at the 22nd ASEAN-RoK Summit. Photo: VNA
Speaking at the event, RoK President Moon Jae-in affirmed that he values the strategic partnership with ASEAN, highlighting that the organization is a key priority of the New Southern Policy Plus (NSPP) of the RoK. He reiterated the RoK's support for ASEAN's central role in the regional structure and the ASEAN Outlook on the Indo-Pacific (AOIP).
The RoK will continue to help ASEAN battle the Covid-19 pandemic, he said, announcing an additional 5 million USD in contribution to the ASEAN Covid-19 Response Fund. He also unveiled the ASEAN-RoK public health and vaccine initiative in connection with the regular organization of the ASEAN-RoK Health Ministers' Meeting since this year.
The East Asian nation also supports ASEAN's stance on the East Sea and welcomes the bloc's efforts in promoting cooperation, dialogue and trust-building in the region, ensuring the full and effectively implementation of the Declaration on the Conduct of Parties in the East Sea (DOC) and the building of a practical and effective Code of Conduct in the East Sea (COC) that is in accordance with international law and the 1982 United Nations Convention on the Law of the Sea (UNCLOS).
At the summit, leaders of ASEAN and the RoK adopted a joint statement on advancing ASEAN-Republic of Korea Cooperation for People-centered Community of Peace and Prosperity.
HCM City proposes Covid-19 vaccinations for children
The Ho Chi Minh City Department of Health has sent an urgent document to the Ho Chi Minh City Pasteur Institute, asking for an approval of its plan to inoculate children aged 12 – 17 against Covid-19.
The Department of Health requested the Pasteur Institute to approve the use of the Pfizer vaccine and provide guidance as well as training.
The Ministry of Health earlier agreed to vaccinate children aged 12 to 17 but it has yet to give specific instructions. The ministry authorized Institutes of Hygiene and Epidemiology and Pasteur Institutes nationwide to provide specific instructions on vaccinations for children in their localities.
Under its proposal, the HCM City Department of Health plans to inoculate four groups of children, including children attending school, children not attending school, children with underlying diseases and children undergoing inpatient treatment in hospital.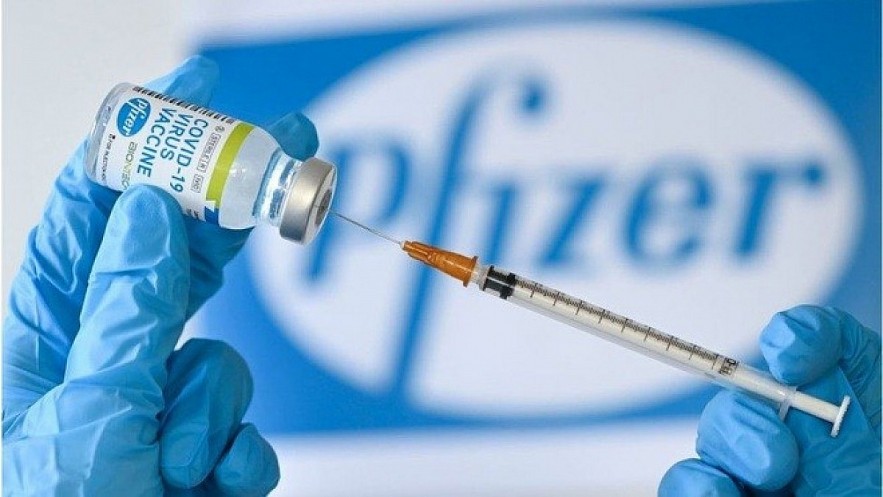 HCM City plans to use the Pfizer vaccine to inoculate its children. Photo: VOV
It will pilot vaccinations for students aged 16-17 in Cu Chi District and District 1 first. Vaccinations will take place at medical facilities, mobile injection sites and schools, reported VOV.
Currently, HCM City has about 780,000 children aged 12 to 17. A recent survey conducted by the municipal Department of Education and Training shows 92% of parents have agreed with vaccinations for their children.
According to the Ministry of Health, few Covid-19 vaccines are being used to vaccinate children worldwide. Among them are the Pfizer and Moderna.
The US Food and Drug Administration has fully approved the Pfizer vaccine for children aged 16 and older. Children between the ages of 12 and 15 can get the shot under the current emergency use authorization.
Clinical trials show the Pfizer vaccine is 90.7% effective against asymptomatic infection in children.
Though children have a much lower risk of severe Covid-19 infection than adults, health experts say vaccinations can help reduce virus transmission among children.
HCM City is the largest coronavirus hotspot in Vietnam. Since the virus recurred in Vietnam in late April 2021, the city has recorded nearly 430,000 cases, making up half of the country's total.
'Vaccine passport' holders to land in Phu Quoc in November
The Mekong Delta province of Kien Giang will receive a number of charter flights going to its Phu Quoc island from November 20 to test the process of picking up and serving guests with "vaccine passport".
It is part of a pilot plan on reopening tourism for the group, which will be implemented in two phases within the course of six months. After hosting the charter flights, the authorities will evaluate the plan's feasibility, make adjustments if necessary, and follow the official roadmap from December 20, 2021, cited VNA.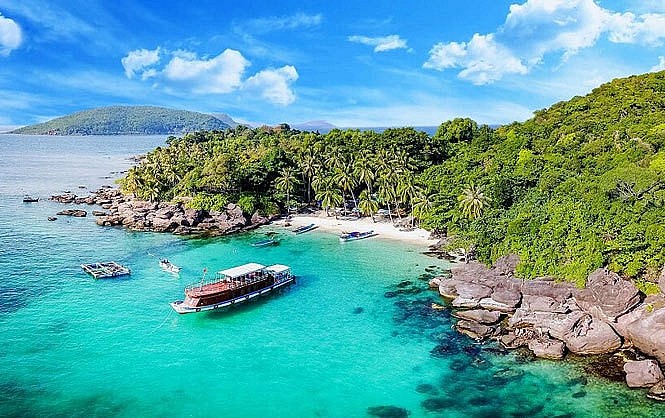 A corner of Phu Quoc. Photo: VNA
Accordingly, during the first phase from December 20, 2021 to March 20, 2022, Phu Quoc will welcome 3,000 to 5,000 tourists per month via charter flights and allocate private experiences within limited locations and areas for guests.
The second phase, from March 20, 2022 to June 20, 2022, will involve evaluation of the first phase and a scale of 5,000 to 10,000 guests per month if all requirements are met.
Allowed international tourists must come from countries and territories with high safety in Covid-19 prevention. They will enter Phu Quoc International Airport via charter flights with a certificate of full vaccination against Covid-19 or a proof of Covid-19 recovery recognized by relevant authorities in Vietnam.
Injection of their second shot must have been done at least 14 days before and no more than 12 months to the day of arrival. Visitors who have recovered from COVID-19 have to submit proof that their discharge from the hospital to the date they enter Phu Quoc do not exceed six months. In addition, an English certificate of negative Covid-19 test results via the RT-PCR method within 72 hours before departure must be prepared by visitors.
Earlier, on October 25, the Airports Council International (ACI) awarded the Airport Health Accreditation (AHA) certificate to the Phu Quoc International Airport.
Five local universities honored among emerging economies
Five Vietnamese representatives have made it into the Times Higher Education (THE) Emerging Economies University Rankings 2022.
Among the five honored education institutions, Ton Duc Thang University and Duy Tan University recorded the highest achievements, coming in at 82nd and 107th, respectively.
Vietnam National University, Hanoi (VNU) dropped to the 150th, while Hanoi University of Science and Technology fell to the 501st + group.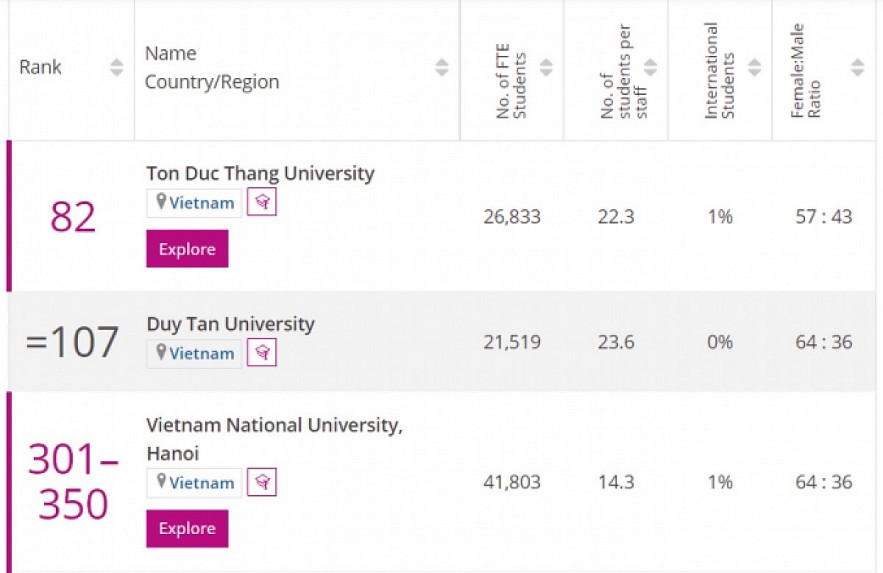 Ton Duc Thang University comes in at 82nd place in Emerging Economies University Rankings 2022. Photo: VOV
Meanwhile, Vietnam National University, Ho Chi Minh City (VNU HCM) retained its position in the 401st to 500th group.
This year, the Emerging Economies University Rankings considered a total of 906 education facilities from across the globe.
The Emerging Economies University Rankings makes use of 13 carefully calibrated performance indicators that serve to measure an institution's performance across various areas, according to VOV.
They include teaching, specifically the learning environment (accounting for 30%), research, including volume, income and reputation (30%), and citations, with research influence being prominent (20%).
The organization also evaluates the institutions' international outlook, such as staff, students, and research (accounting for 10%), and their Industry Income, such as knowledge transfer (10%).
China continues to dominate the Emerging Economies table, with 51 institutions among the top 200, including all of the top five universities.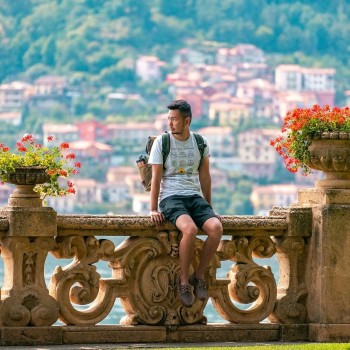 Travel
If you have the opportunity to visit Hoi An at the end of the year, these are some of the best recommendations for fun activities you can do from Peter R – a Thai travel blogger.