Vietnam News Today (Sep. 10): Ample Room For Vietnam – Switzerland Economic Cooperation
Vietnam News Today (Sep. 10): Ample room for Vietnam – Switzerland economic cooperation; Vietnam-Japan Investment Forum held in Kanagawa prefecture; Major highlights of US President Joe Biden's visit to Vietnam; Vietnamese language helps overseas Vietnamese connect with homeland.
Vietnam News Today (Sep. 10) notable headlines
Ample room for Vietnam – Switzerland economic cooperation
Vietnam-Japan Investment Forum held in Kanagawa prefecture
Major highlights of US President Joe Biden's visit to Vietnam
Vietnamese language helps overseas Vietnamese connect with homeland
Vietnam to commercialize 5G by early 2024
Book on Cuban leader Fidel Castro's visit to Vietnam introduced
Vietnam wins several prizes at ASEAN Public Relations Excellence Awards
German-invested hi-tech film factory inaugurated in Binh Dinh
French parliamentarians applauded for contributing to Vietnam-France friendship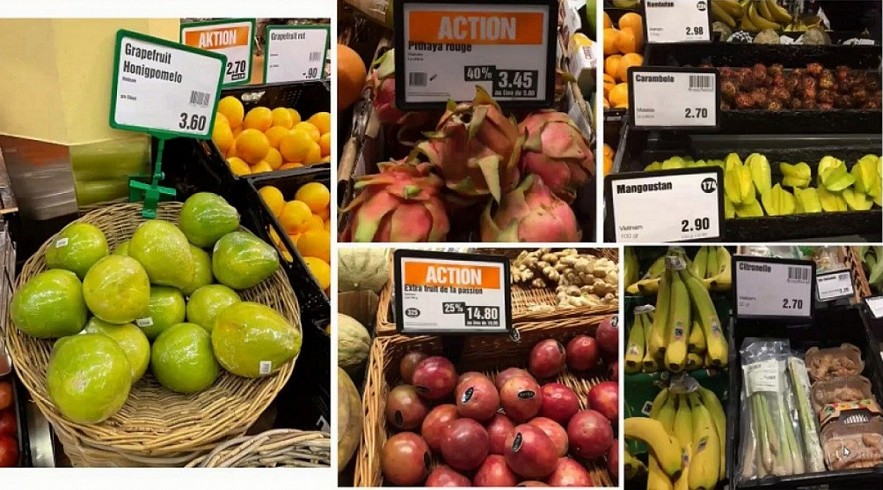 Some Vietnamese farm products are available for sale at supermarkets in Switzerland. (Photo: SVBG)
Ample room for Vietnam – Switzerland economic cooperation
More than 150 delegates, including policymakers, economic experts, and businesses examined the potential for economic cooperation between Vietnam and Switzerland, at a roundtable discussion held in Zurich on September 8.
In his opening speech, the Vietnamese ambassador to Switzerland Phung The Long noted that after more than five decades of bilateral diplomacy, the leaders of Vietnam and Switzerland have agreed to soon bring the two countries' cooperative relations to new heights amid rapid changes globally.
He revealed that Switzerland in February 2023 adopted the Southeast Asia Strategy for 2023-2026 which identifies Vietnam as the most dynamic economy in Southeast Asia and an increasingly important partner for Switzerland.
Meanwhile, he said the Government of Vietnam always values its friendship and cooperation with Switzerland, considering the European nation one of its important partners in Europe. The two countries are now speeding up negotiations towards signing a Free Trade Agreement between Vietnam and the European Free Trade Association (EFTA), of which Switzerland is a member.
Joining the discussion virtually, Swiss Ambassador to Vietnam Thomas Gass emphasized that relations between the two countries have developed strongly over the past 52 years, not only in the fields of politics and multilateral cooperation, but also in economy, technical assistance, trade, investment, scientific research, culture, tourism, and people-to-people exchanges. Regular high-level exchanges between the two countries have established the premise for trade and investment ties to continuously prosper.
The visit to Vietnam in June 2023 by President of the National Council of Switzerland Martin Candinas helped to strengthen good cooperation between the two countries and their legislatures as well, stressed the diplomat.
Delegates agreed that the two sides still have many untapped opportunities and areas for joint development and innovation. They expected that the EFTA agreement would be signed soon so that the business communities could take advantage of opportunities for development cooperation and promote the flow of trade in goods and investment capital between the two sides, cited VOV.
The speakers also exchanged views and discussed the development of a sustainable startup ecosystem in Vietnam, as well as investment opportunities in the country.
The event, part of Vietnam Day 2023, was organized by the Embassy of Vietnam in Switzerland in collaboration with the Ministry of Industry and Trade of Vietnam, the Swiss-Asia Chamber of Commerce, Bellecapital, Keep It Beautiful Vietnam (KIBV) and the Association of Vietnamese Experts in Switzerland (AIEVS).
Vietnam-Japan Investment Forum held in Kanagawa prefecture
A Vietnam-Japan Investment Forum was held in Yokohama city of Japan's Kanagawa prefecture on September 8 as part of activities to celebrate the 50th anniversary of bilateral diplomatic relations.
Jointly held by the Vietnamese Embassy in Japan and the administrations of Vietnam's northern Ha Nam and Bac Ninh provinces, the event aimed to promote Japanese investment in the Southeast Asian country in the future.
Opening the event, Ambassador Pham Quang Hieu underlined that Japan is a leading economic partner and the largest ODA provider of Vietnam. The country is also the second labor partner, the third biggest tourist market, and the fourth largest trading partner of Vietnam.
Investors from Japan in general and Kanagawa in particular have played an important part in Vietnam's foreign direct investment attraction process over the past 35 years, he noted.
Nguyen Anh Chuc, Standing Vice Chairman of the Ha Nam People's Committee, highlighted the potential of the province in the fields of processing industry, information technology, automobile manufacturing, agricultural machinery and equipment, electric and electronic equipment, tourism, and services.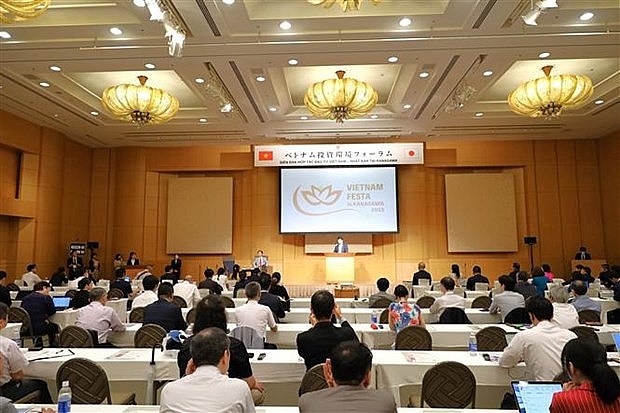 An overview of the forum (Photo: VNA)
He also underlined measures that the locality is applying to lure more foreign investment, including developing an infrastructure system, and providing support to investors in human resources, and holding dialogues with them to settle obstacles facing them.
Meanwhile, Le Thi Thu Huyen, Vice Director of the Management Board of Bac Ninh Industrial Parks, said that Bac Ninh has been one of the 10 leading localities across the country in terms of FDI attraction, according to VNA.
As of 2022, Bac Ninh had lured nearly 2,000 FDI projects worth US$24.4 billion, she said, adding that 70% of the projects are in the fields of processing and manufacturing industries.
So far, the province is home to more than 100 Japanese-invested projects with a total capital of US$1.67 billion, making Japan the third largest out of 39 countries and territories investing in Bac Ninh.
Huyen also introduced a number of incentives that Bac Ninh has offered to foreign investors, including a 10% tax cut in 15 years and exemption of corporate income tax in four years as well as a 50% cut in the following nine years.
Meanwhile, Kanagawa Governor Kuroiwa Yuji said that the forum was a good chance for local firms to update Vietnam's investment environment and make their plans to invest in the country in the future.
He hoped more Kanagawa businesses would choose Vietnam as their investment destination, thus making contributions to the cooperation between the two countries.
The forum was the first of a series of events within the framework of the Vietnam Days in Kanagawa in 2023 from September 8-10.
Major highlights of US President Joe Biden's visit to Vietnam
President of the United States Joe Biden is scheduled to pay a State visit to Vietnam on September 9-10 at the invitation of the General Secretary of the Communist Party of Vietnam Nguyen Phu Trong.
During his stay, Biden is set to hold talks with Trong and meet with other senior Vietnamese leaders, along with sideline activities with businesses and people.
According to the Vietnamese ambassador to the US, Nguyen Quoc Dung, the two sides will review their Comprehensive Partnership established in 2013 in all fields and set out directions for bilateral relations in the coming time, with a primary focus on cooperation in science and technology, economy - trade – investment, people-to-people exchanges as well as overcoming the consequences of war.
"This will open a new chapter in Vietnam-US relations while creating more favorable conditions for Vietnam to gradually assert a higher position in the regional and global value chain," said the ambassador.
The two sides also plan to exchange war memorabilia and organize meetings between their technology businesses. They are expected to sign many important economic agreements and contracts that are likely to be worth billions of dollars, revealed the ambassador.
Ambassador Dung also pointed out that Biden's visit this time is of special significance as it takes place at a time when the two countries are celebrating 10 years of their comprehensive partnership, reported VOV.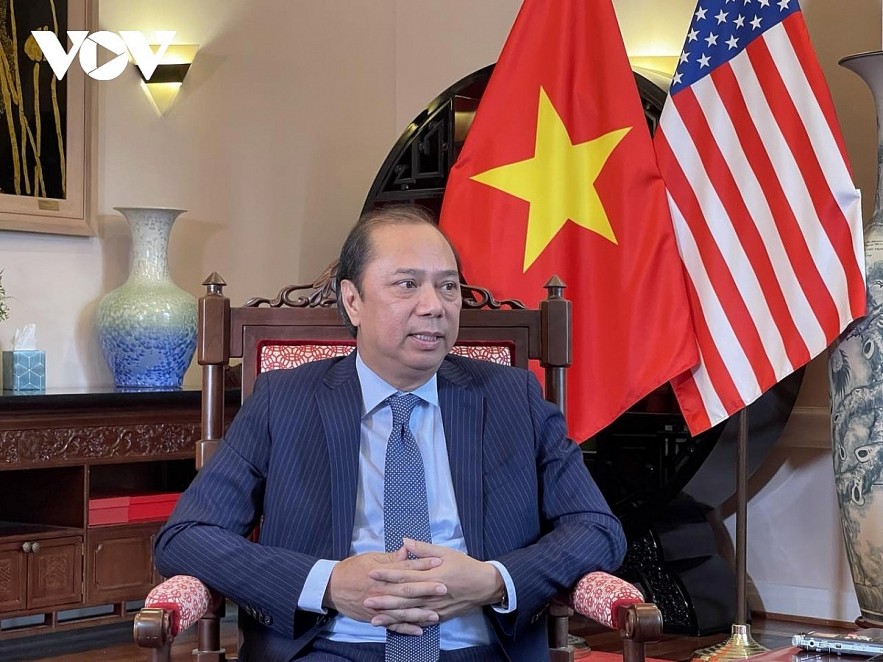 Vietnamese Ambassador to the US Nguyen Quoc Dung reveals US President Joe Biden's major activities in Vietnam during his State visit on September 9-10.
"Fuelled by the comprehensive and extensive development of the two countries' relationship, President Biden's visit will create more motivation to bring Vietnam-US relations to new heights. This is the agreement that Party General Secretary Nguyen Phu Trong and President Joe Biden reached during their phone call on March 29, 2023," said the diplomat.
He stated that welcoming President Biden on a State visit is to contribute to implementing Vietnam's foreign policy of independence, self-reliance, diversification, and multilateralization of international relations, as well as comprehensive and deep international integration.
"I am optimistic about the future of bilateral relations based on the progress and achievements the two countries have recorded in recent times, the potential and aspirations of their peoples, and new cooperation frameworks that the leaders of the two countries will put forward during President Biden's visit. The results of the visit will also practically contribute to the relationship between the US and ASEAN, as well as peace, cooperation, and development in the region and the world at large," concluded Ambassador Dung.
Vietnam and the US established diplomatic relations in 1995 and a comprehensive partnership in 2013. Bilateral relations have developed strongly and effectively both in quantity and quality over the years.
Two-way trade turnover rose more than fivefold, from just US$25 billion in 2012 to US$139 billion in 2022, making Vietnam the seventh largest trading partner of the US.
Currently, the US is Vietnam's largest export market for goods. The past two years saw Vietnam rake in more than US$100 billion each from exports to the US, helping to balance its international trade with other countries.
The US voices its support for a strong, independent, self-reliant, and prosperous Vietnamese nation, and desires to raise their comprehensive partnership to new heights.
Vietnamese language helps overseas Vietnamese connect with their homeland
The preservation and dissemination of the Vietnamese language among overseas Vietnamese communities around the world not only helps them improve language competency but nurtures a pride and love for the homeland.
For the Vietnamese community abroad, the Vietnamese language – their mother tongue is a means of preserving, spreading, and transmitting culture, helping them keep their cultural identity. Vietnamese is a bridge connecting Vietnamese people around the world with the fatherland.
Teaching Vietnamese to Vietnamese people abroad, especially the younger generation, has become a movement in Vietnamese communities around the world. So far, there are about 200 centers and establishments teaching Vietnamese in the US, 39 classes in Thailand, 33 schools in Cambodia, and 13 schools in Laos.
Since 2013, the State Committee on Overseas Vietnamese Affairs (SCOVA) under the Ministry of Foreign Affairs has coordinated with the Ministry of Education and Training to provide training courses for teachers teaching Vietnamese abroad.
So far, more than 800 teachers have attended these training courses with the latest one held from August 16-30.
Dao Le Quynh Phan, an overseas Vietnamese in Thailand said that there is a huge demand for learning the Vietnamese language in Thailand, particularly in its northeast region which is home to the third largest Vietnamese community in Thailand.
Having attended the two training courses, Phan said that she has more teaching skills and finds effective teaching methods to instruct her students, especially the second and third generations of Vietnamese people in Thailand.
This year, the annual summer camp for overseas Vietnamese youth also had activities to promote Vietnamese teaching and learning.
For example, camp participants had an opportunity to join a Vietnamese language competition where they were asked to tell stories, sing, rap, and read poetry in Vietnamese.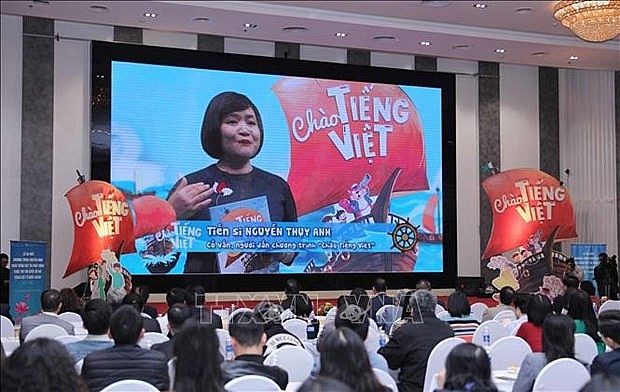 "Chao Tieng Viet" ( Hello Vietnamese) - a TV program on teaching Vietnamese for overseas Vietnamese people. (Photo: VNA)
Le Thanh Trang from Russia said the competition helped her understand and love her mother tongue more.
She felt more confident and passionate about improving the Vietnamese language and contributing to preserving the beauty of the national culture.
"Although I was not born and raised in Vietnam, thanks to the Vietnamese language, I can feel the cultural beauty of the country in my heart," she said.
Last year, the Prime Minister approved the project "Honoring the Vietnamese Language in the Overseas Vietnamese Community from 2023 to 2030".
In 2023, the first year of the project, September 8 marked "Vietnamese Language Day" for the first time, cited VNA.
Deputy Minister of Foreign Affairs Le Thi Thu Hang, Chairwoman of the SCOVA, said that the project aims to turn "Vietnamese Language Day" into an important annual milestone in the cultural and spiritual life of overseas Vietnamese communities, creating motivation to preserve and promote the Vietnamese language globally.
Under the project, from the beginning of 2023, the SCOVA launched a contest to find "Ambassadors of Vietnamese language abroad in 2023".
By the end of the year, the committee will open libraries with Vietnamese books to serve communities in countries such as Japan, Slovakia, Austria, and Hungary. It will continue to support Vietnamese learning and teaching abroad, for example, by providing teaching/learning materials, or Vietnamese language teaching TV programs.
The Deputy FM hoped that activities to honor the Vietnamese language and culture will increasingly receive widespread attention from communities, organizations, and individuals at home and abroad.
Vietnam to commercialize 5G by early 2024
The Ministry of Information and Communications (MIC) is going to auction frequencies for 5G in November, and the first licenses to deploy 5G are expected to be granted by the year-end.
Auctioning frequencies is a must for 5G commercialization, and the ministry wants to organize auctions soon to pave the way to deploy new technologies. However, since 2019, MIC has had no other choice than to wait for the Law on Frequencies (amended) to take effect on July 1, 2023.
After that, MIC compiled Decree 63 for the organization and calculation of frequency auctions. Under a roadmap that has been sketched out, the auction will be organized in November.
After the auction, MIC will grant 5G frequency right in 2023 so that telecom carriers can begin deploying 5G in 2024.
Alongside the licensing, Vietnam also is preparing to manufacture 5G telecom equipment. Viettel has produced equipment, and it is testing products in the final step. MIC hopes that the certificates for meeting Vietnamese standards will be granted to Viettel's equipment.
The ministry has recently signed a decision on defining the fees from wavebands so as to activate the process of auctioning for the right to use frequencies for 4G and 5G, VNN reported.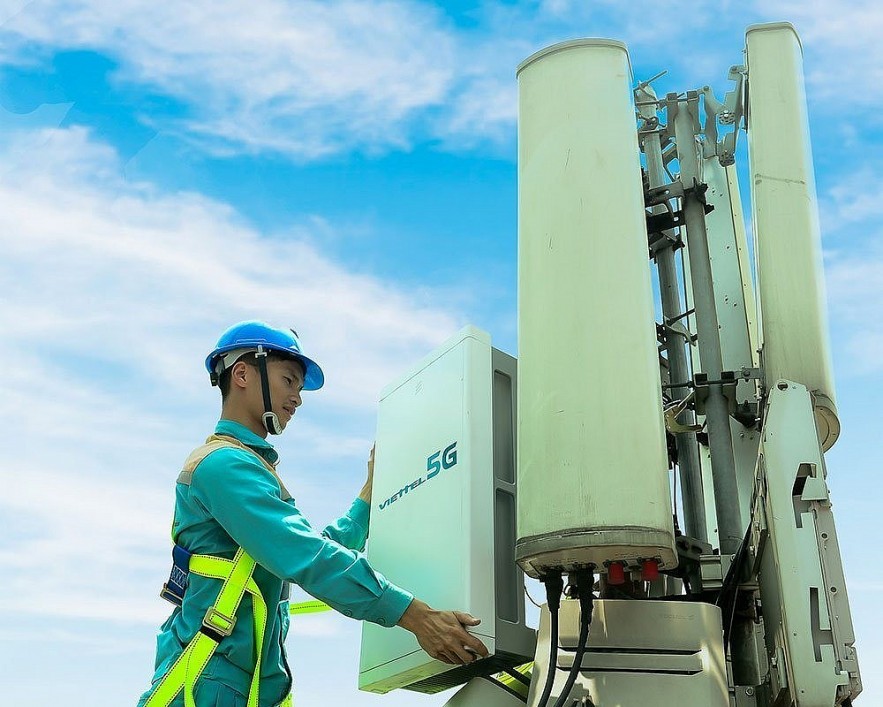 Photo: VNN
The 700 MHz wavebands (703-733 MHz and 758-788 MHz), 2600 MHz (2500-2600 MHz), and 3700 MHz (3560-4000 MHz) will be put into auction.
The MIC Minister has assigned the Authority of Radio Frequency Management (ARFM) to choose an organization that can meet the requirements to provide price appraisal service to work on the basic fee to be applied to 703-733 MHz and 758-788 MHz, 2500-2600 MHz and 3560-4000 MHz wavebands. The results of the appraisal will be submitted to MIC, which will set official fee rates for wavebands.
According to ARFM, the 700 Mhz waveband was most used for terrestrial analog television systems. However, the system was replaced by terrestrial digital television under the framework of the project on terrestrial television transmission and broadcasting digitization by 2020.
In December 2020, Vietnam officially stopped terrestrial analog television throughout the country. The 700 MHz waveband was released for the deployment of the IMT system.
With the auction for the right to use frequencies 700 MHz, 2600 MHz, and 3700 MHz wavebands, Vietnam will have 500 MHz more bandwidth (both low-band and mid-band) for the IMT mobile information system to deploy 4G/5G in Vietnam.