Vietnam News Today (Sep. 21): Vietnam, Bangladesh Enjoy Strong Ties Over 50 Years
Vietnam News Today (Sep. 21): Vietnam, Bangladesh enjoy strong ties over 50 years; Vietnam among world's top 20 most visited countries; President Joe Biden highlights Vietnam-US relations at UN General Assembly; Westlife set for Vietnam return on Wild Dreams tour.
Vietnam News Today (Sep. 21) notable headlines
Vietnam, Bangladesh enjoy strong ties over 50 years
Vietnam among world's top 20 most visited countries
President Joe Biden highlights Vietnam-US relations at UN General Assembly
Westlife set for Vietnam return on Wild Dreams tour
Vietnam ready to strengthen international cooperation on aviation security
PM suggests Vietnam, US create cooperation breakthroughs
HCM City looks for new technologies toward smart transport system
Vietnam - Japan ties live up to extensive strategic partnership: ambassador
EC pledges support for Vietnam in developing sustainable fisheries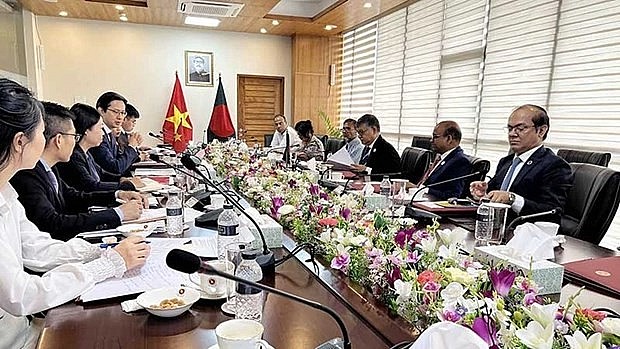 A Vietnam-Bangladesh political consultation in Dhaka (Photo: MoF)
Vietnam, Bangladesh enjoy strong ties over 50 years
Since Vietnam and Bangladesh set up their diplomatic relations on February 2, 1973, the two sides have enjoyed close ties with strong political trust, which lays a firm foundation for them to promote partnership across all fields.
Over the past 50 years, the two sides have stood by stood and support each other during national construction, defence and economic development in each country.
Along with maintaining regular high-level visits and meetings, the two sides have agreed to work closely to build a long-term vision for bilateral relations, increase visits at high and all levels, strengthen meetings of existing cooperation mechanisms, and consider the resumption and upgrading of the Joint Committee on economic, culture, science and technology cooperation in the time to come.
They have concurred to strengthen cooperation in defense-security, economy, trade, investment, education, agriculture, fisheries and breeding, while promoting cultural and tourism exchanges, and focusing on reviewing and extending cooperation agreements such as the memorandum of understanding (MoU) on fisheries and breeding cooperation, a MoU on tourism collaboration, another on machinery manufacturing, and a cultural exchange programme for the new period. The two countries will work to sign a new MoU on information technology cooperation, and another on trade promotion.
Vietnam and Bangladesh have coordinated closely at international forums, especially the UN. Bangladesh supported Vietnam to run for a seat at the UN Security Council in the 2020-2021 tenure. Both countries were elected to the UN Human Rights Council in the 2023-2025 tenure.
The two countries have shared viewpoints and stance at forums of developing countries such as the Non-Aligned Movement and South-South Cooperation, as well as in global issues such as climate change, natural disaster mitigation, water security, energy security and migration, cited VNA.
Particularly, economic and trade partnership has been a highlight of bilateral relations. Bangladesh is currently one of the leading trade partners of Vietnam in South Asia. Two-way trade surged from US$288 million to nearly US$800 million in the 2010-2014 period, while maintaining a rising trend in recent years, reaching US$1,465 billion in 2022 and US$555 million in the first half of 2023.
Vietnam exports rice, animal feed, and chemical materials to Bangladesh, while importing aquatic products, tobacco raw materials and pharmaceuticals from the country.
The two sides are striving for US$2 billion in trade revenue by increasing trade promotion activities and working for the opening of a direct air route.
The Bangladeshi side proposed that Vietnam invest in Bangladesh's industrial parks and software technology parks, pledging to give incentives for Vietnamese investors, while welcoming Vietnam to increase exports of strong products to Bangladesh such as agricultural machinery, raw materials, household appliances, electronics, and processed agricultural and aquatic products.
Regarding investment, Bangladesh currently invests in 18 projects in Vietnam with a total capital of US$930,000.
Bilateral cooperation in agriculture, fisheries, tourism and culture has also been fruitful.
In terms of education, Vietnam organised nearly 20 training courses on public administration for about 500 Bangladeshi Government officials in Vietnam.
On the firm foundation built by leaders and people of the two countries, Vietnam and Bangladesh have been determined to lift the bilateral ties to a new height. The upcoming Bangladesh visit by National Assembly Chairman Vuong Dinh Hue starting from September 21 is expected to open up a new development period in the friendship and cooperation between Vietnam and Bangladesh.
Vietnam among world's top 20 most visited countries
Travel analytics firm ForwardKeys has named Vietnam among the top 20 most visited countries in the world by share of scheduled flight bookings.
Accordingly, the Southeast Asian country ranked 19th on the list.
ForwardKeys revealed that the number of international tourists heading to Vietnam stood at just 28% lower than the pre-pandemic period, and equal to 112% compared to the same period from last year.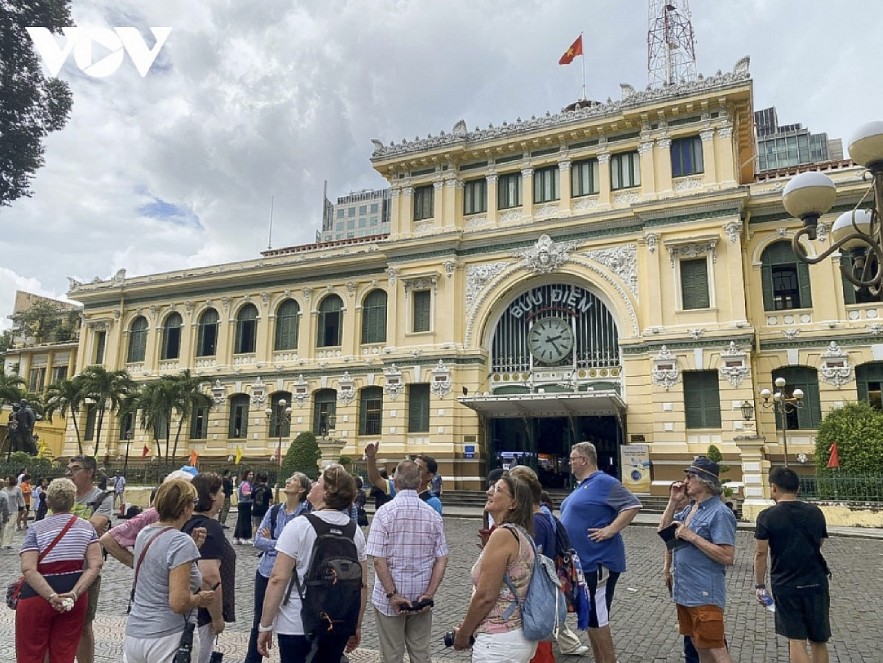 International tourists visit Saigon Central Post Office in Ho Chi Minh City
During the July - August period, the Vietnamese tourism industry witnessed a significant recovery with about 2.25 million foreign visitors, or 80% compared to the same period from 2019. Of these, the number of passengers travelling by air stood at 1.97 million.
The US topped the list by a substantial margin, attracting 11% of all international visitors this summer, followed by Spain, the UK, Italy, Japan, France, Mexico, Germany, Canada, and Turkey.
President Joe Biden highlights Vietnam-US relations at UN General Assembly
US President Joe Biden highlighted the relations between Vietnam and the US in his speech at the 78th session of the United Nations General Assembly in New York on September 19.
"For decades, it would have been unthinkable for an American President to stand in Hanoi alongside a Vietnamese leader and announce a mutual commitment to the highest level of countries partnership," he said at the high-level debate themed "Rebuilding trust and reigniting global solidarity: Accelerating action on the 2030 Agenda and its Sustainable Development Goals towards peace, prosperity, progress and sustainability for all," referring to his Vietnam visit earlier this month.
"With a concerted leadership and careful effort, adversaries can become partners, overwhelming challenges can be resolved, and deep wounds can heal," the leader continued.
Through this example, Biden affirmed that the US stands ready to cooperate with countries to address disputes and that the US commits to promoting multilateralism to settle global challenges, according to VNA.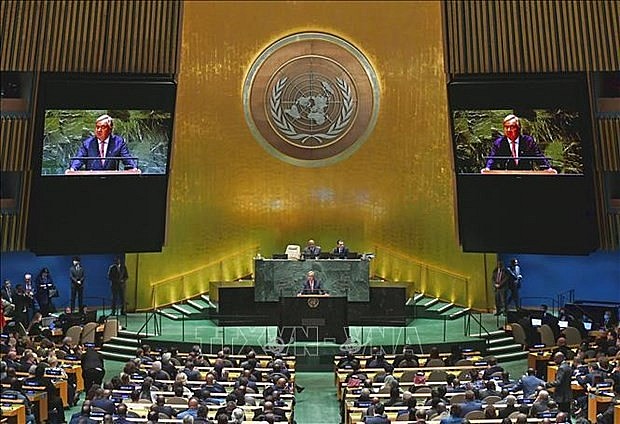 At the 78th session of the United Nations General Assembly. (Photo: VNA)
Addressing the debate, UN Secretary-General António Guterres called on countries to enhance dialogues, promote multilateralism, and reform international administration system, especially international and UN economic and financial institutions to better meet requirements of sustainable development.
A high-ranking Vietnamese delegation led by Prime Minister Pham Minh Chinh will attend high-level sessions with many important activities to promote the Vietnamese Party's, State's and Government's consistent policy on a Vietnam of peace, cooperation and integration to international friends, and elevate the relations between Vietnam and the UN and countries to a new height.
Westlife set for Vietnam return on Wild Dreams tour
Irish pop group Westlife have got the hearts of fans fluttering following the news that they will be performing in Ho Chi Minh City on November 22.
In a status posted on their Facebook fan page on September 19, the world famous boyband announced that they would stage their one-night live concert at Thong Nhat Stadium in Ho Chi Minh City as part of the Wild Dreams tour.
"Vietnam! We are so excited to be coming back with the Wild Dreams tour on the 22nd November 2023. Tickets are on sale from September 26, don't miss out!" Westlife wrote on their fan page.
The article received over 45,000 interactions from Vietnamese fans, along with 16,000 comments and more than 10,000 shares.
This marks the second time that Westlife has come to Vietnam for a live concert.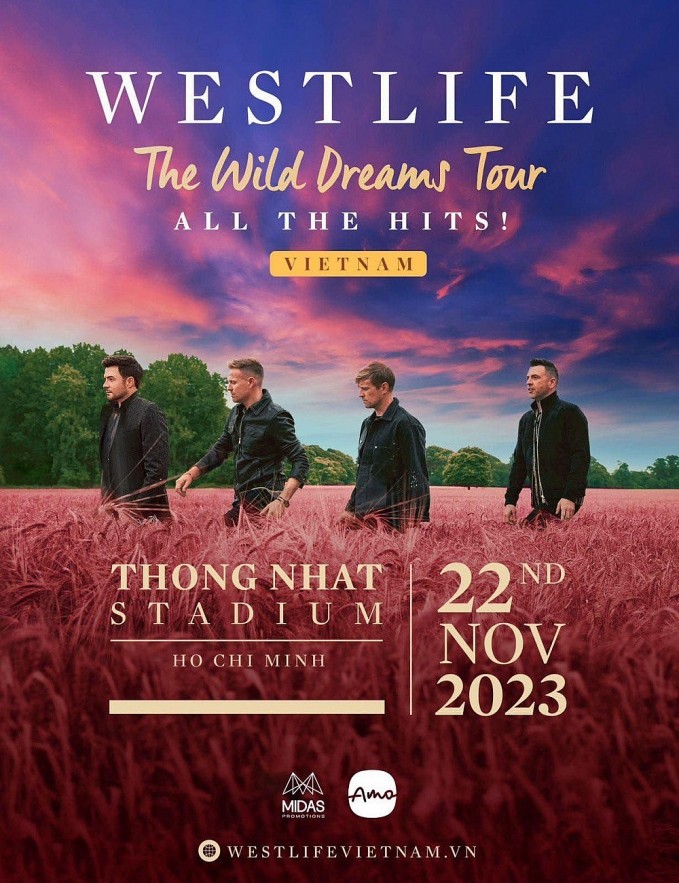 Photo: Westlife Vietnam.
In 2011, the Irish pop group enthralled crowds of thousands during their Gravity global tour which stopped at the My Dinh Stadium in Hanoi.
The group's main vocalist Shane Filan came to Ho Chi Minh City in 2014 to perform as part of the You & Me tour. In 2017, he once again came back to Ho Chi Minh City for the Love Always music night.
As a five-member band, Westlife were formed in 1998 with Shane Filan, Kian Egan, Nicky Bryne, Mark Feehily, and Bryan McFadden.
They have sold over 55 million records and are holders of four Guinness World Records. Westlife have also received numerous accolades, including one World Music Award, two Brit Awards, four MTV Awards, and four Record of the Year Awards.
Their hit songs Flying Without Wings, Seasons in The Sun, My Love, and I Lay My Love On You have won the hearts of many fans from across the world, including those in Vietnam.
Vietnam ready to strengthen international cooperation on aviation security
Vietnam will make every effort to build an aviation system ensuring safety and security, meeting international standards and practices while being ready to boost cooperation with bilateral and multilateral partners in this field.
The remark was made by Deputy Prime Minister Tran Luu Quang at the IATA World Safety & Operations Conference 2023, held in Hanoi, on the morning of September 19.
This is the first time a global aviation safety conference has been held in Vietnam by the Ministry of Transport, the International Air Transport Association (IATA), and the national flag carrier Vietnam Airlines, reported NDO.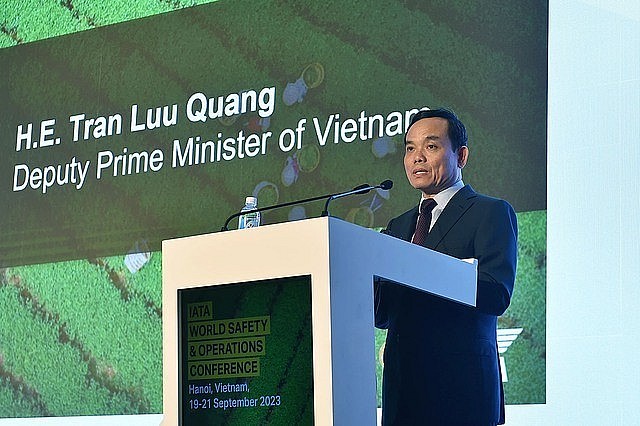 Deputy Prime Minister Tran Luu Quang speaks at the conference. (Photo: VGP)
Speaking at the event, Deputy PM Tran Luu Quang affirmed that the Vietnamese Government always attaches great importance to the safe and sustainable development of the aviation industry to serve socio-economic development, improve national competitiveness, and promote trade and people-to-people exchanges, while ensuring national defence and security and strengthening the connection between Vietnam and the world.
IATA General Director Willie Walsh said "Safety is the top priority of the aviation industry and this has been demonstrated by the participation of Government leaders, management agencies and safety experts from about 100 airlines, aircraft manufacturers and stakeholders at the event."
At the conference, Vietnam Airlines and IATA signed a charter on safety culture, while building dialogue contents with airline leaders, aviation authorities and leaders of state management agencies, on aviation safety culture.
During the 2009-2019 period, Vietnam's air transport market made remarkable progress, with annual average passenger growth of over 17% and annual goods growth of nearly 14%.