Vietnam News Today (Sep. 4): EVFTA a Milestone in Vietnam-EU Bilateral Cooperation
Vietnam News Today (Sep. 4): EVFTA a milestone in Vietnam-EU bilateral cooperation; Vietnamese peacekeepers celebrate National Day in Abyei; Strengthening Vietnam - Japan extensive strategic partnership; Vietnam 14th most favored country by expats, thanks to budget-friendly living.
Vietnam News Today (Sep. 4) notable headlines
EVFTA a milestone in Vietnam-EU bilateral cooperation
Vietnamese peacekeepers celebrate National Day in Abyei
Strengthening Vietnam - Japan extensive strategic partnership
Vietnam 14th most favored country by expats, thanks to budget-friendly living
HCM City works to elevate tourism profile
Slovenia pledges favorable conditions for Vietnamese firms
Vietnamese culture presented at "Taste of Sambal" fair in Malaysia
Vietnam to further affirm proactive, effective contributions at 43rd ASEAN Summit
Ho Chi Minh Mausoleum welcomes nearly 33,000 visitors on National Day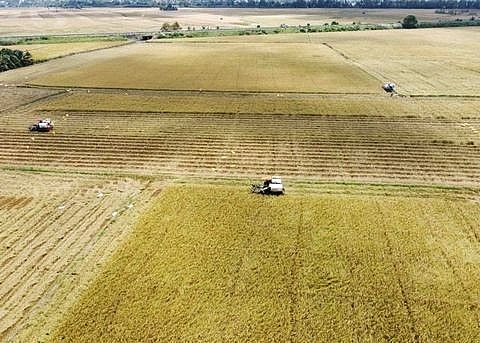 Photo: VNS
EVFTA a milestone in Vietnam-EU bilateral cooperation
The VN-EU Free Trade Agreement (EVFTA) has been a milestone during the 30-year relationship between the Southeast Asian country and the European Union, ushering in a new era of bilateral cooperation and development.
The trade agreement, which went into effect on August 1, 2020, has brought Vietnam-EU economic partnership to the next level while establishing a solid foundation for future economic and investment collaboration.
The EVFTA was the first and among the most influential, of many new-generation free trade agreements signed by Vietnam in recent decades, which has connected Vietnameconomy to those of the EU's 27 member states.
Defined by high-standards and encompassing commitment in various fields, and a strong focus on the liberalization of trade and investment, the EVFTA has delivered significantly positive impacts on Vietnam's economy, both economically and institutionally.
Three years after the implementation of the EVFTA, Vietnam has made it clear the country has been and will continue to stay committed to full implementation of the trade agreements regarding tariffs, market access for services, investment, public procurement, and deregulation.
According to the Vietnam Chamber of Commerce and Industry (VCCI), the EVFTA has played a major role in improving trade, the pace and quality of foreign investment, business awareness and economic development in the country.
Trade and investment
Total export turnover from Vietnam to the EU during the period of August 2020 to July 2022 reached a total of US$83.4 billion, averaging US$41.7 billion annually, according to the VCCI.
This represented an increase of 24 per cent of turnover per year compared to the period of 2016-19, largely thanks to an increase in EVFTA tariff preferences.
The trade agreement has provided a significant boost to many of Vietnam's major exports thanks to its tariff preferences, including rice, footwear, aquatic products, plastic and plastic products.
However, export growth from the country to the EU has remained modest at just 14.1 per cent in 2021, trailing behind its economy's growth to other FTA markets at 18.2 per cent and all worldwide markets at 23 per cent in the same year, showing there was still untapped potential for bilateral trade in the future.
On the investment front, the EU's foreign direct investment (FDI) into Vietnam reached $1.37 billion in registered capital in 2020, ranking eighth and accounting for 4.8 per cent of the total FDI in the country.
Following the EVFTA, the EU's FDI into Vietnam was up 2.2 per cent in 2021, bringing the union to the fifth rank and 4.5 per cent of all FDI investment in Vietnam.
VCCI's data indicated that the trade agreement has played a significant role in attracting investment from the EU to Việt Nam, recording the average investment capital during the period of 2017-21 (after EVFTA negotiations were completed) increased by 86 per cent compared to the 2015-16 period.
Awareness and benefits
According to the VCCI, 94 per cent of Vietnamese businesses surveyed said they heard or studied the EVFTA to varying degrees, the highest rate among the Southeast Asian economy's numerous FTAs.
Three out of ten businesses when asked confirmed they possessed an understanding of the commitments related to their business activities within the EVFTA. Among different groups of businesses, the FDI group had the highest rate of fairly clear/clear understanding of the EVFTA (43 per cent), followed by domestic private enterprises (37 per cent), and lastly, state-owned enterprises (13 per cent).
The survey showed a clear indication of the trade agreement's appeal among the business community and the success of a coordinated effort on the part of Vietnamese state agencies and the media in promoting the EVFTA.
In addition, 41 per cent of participating businesses in the survey reported having benefited from the EVFTA with the most common incentives of the trade agreement being tariff preferences for exported and imported goods; followed by effects such as increased orders, increased revenue, and profit from supplying goods/services for export-import activities with the EU, or opportunities for cooperation and partnerships to leverage the EVFTA; and other longer-term benefits such as investment opportunities or protection of intellectual property in the EU (9-12 per cent of businesses).
On the other hand, among the 59 per cent of businesses that did not benefit from the EVFTA in the past two years the most common reasons included not having any transactions with EU partners during that time (69 per cent); not knowing the specific benefits of the trade agreement (24 per cent); and other reasons stemming from subjective limitations of businesses or objective challenges in implementation (4-7 per cent).
Additionally, around 4.2 per cent of participating businesses said they experienced difficulties and suffered financial setbacks from the EVFTA, mainly in the form of increased compliance costs and increased competition from imported EU goods.
Regarding the utilisation of tariff preferences, 17 per cent of businesses said they benefited from EVFTA tariff preferences with at least one export shipment, and 16 per cent benefited from cheaper imported goods.
Most participating businesses said they became aware of these benefits through proactive commitment exploration (73 per cent) and/or partner suggestions and support (36 per cent).
In terms of what measures have been taken by said businesses to secure these benefits, 34 per cent said that their current supply chain and production cycle were in compliance with the EVFTA rules of origin; 13 per cent said they changed or adjusted.
For businesses who failed to exploit the benefits from the trade agreement's tariff preferences, the most common reasons included not meeting the rules of origin requirements (20-33 per cent of businesses) or having already benefited from other tariff preferences like GSP or low MFN tariffs (18-31 per cent).
In addition, there were a minority of businesses who said they had not managed to meet document and procedural requirements (10-11 per cent) or were aware of these benefits (15 per cent).
When asked about the effect of the EVFTA and other FTAs in the near future, 76 per cent of businesses said they believed these FTAs would have an impact on their business prospects over the next three years. Among these, the majority (85 per cent) said they expected the impact to be positive, while only one per cent said negative.
Most business expectations were centered around improvements in supply sources, order volumes, revenue, profits, value chain participation, and collaboration opportunities (88-92 per cent), cited VNS.
According to the VCCI, this high percentage could serve as both a motivator for businesses to further explore and take action to realize their expectations and a risk factor due to overly optimistic outlooks.
Regarding potential obstacles that could hinder businesses from benefiting from the EVFTA, the most commonly said included market volatility and uncertainty (47 per cent of participating businesses), limited competitive capabilities (46 per cent), and lack of information about commitments and application procedures (40 per cent).
Global integration
The EVFTA and other free trade agreements including the Vietnam–Eurasian Economic Union Free Trade Agreement in 2016, the Comprehensive and Progressive Agreement for Trans-Pacific Partnership in 2018, and the Regional Comprehensive Economic Partnership in 2022, among others, have played a key role in the Vietnamese Government's efforts for greater and deeper economic integration into the global economy, in line with 13th National Congress of the Communist Party of Vietnam.
By providing a connection at both regional and global levels, leveraging the advantages of numerous global free trade agreements, Vietnam is striving to become an important link in the global supply chain and economy while pushing for faster and stronger socioeconomic development of the country.
In addition, Vietnam has been engaging and participating in a number of international forums and organizations as an active, reliable, and responsible member of the global community, to help address some of the most pressing issues and challenges including maritime security, climate change, food security, and water resources.
In cooperation with the international community, Vietnam has been taking part in multilateral activities on the ground, notably in the realm of maintaining UN peace with Vietnamese delegations deployed on numerous UN peacekeeping missions around the world.
"Vietnam will continue to pursuit high-level diplomacy in deepening relations with global partners, promoting multilateral diplomacy and steadfastly following an independent, self-reliant, peaceful, cooperative development-oriented foreign policy, diversifying and internationalizing international relations while actively and deeply integrating into the global community, prioritizing national interests above all else," said the General Secretary of the Communist Party of Vietnam, Nguyen Phu Trong, at the 13th National Party Congress.
Vietnamese peacekeepers celebrate National Day in Abyei
Military Engineering Unit Rotation 2 celebrated the 78th anniversary of Vietnam's National Day at the UN Interim Security Force for Abyei (UNISFA) in Africa, on September 2.
In his speech at the ceremony, Major General Benjamin Olufemi Sawyerr, commander of the UNISFA Mission, congratulated Vietnam on its National Day, noting Vietnam had gone through many years of war and gained independence after enduring struggles, helping the people understand the value of peace.
He praised Vietnamese peacekeepers for risking their lives in a faraway land to bring local people peace, hope and a chance for a better life, according to VOV.
Colonel Nguyen Viet Hung (second from right), commander of the Vietnamese peacekeeping force in Abyei and Major General Benjamin Olufemi Sawyerr, commander of the UNISFA Mission in Abyei, at the ceremony marking 78 years of Vietnam's National Day on September 2. (Photo: thanhnien.vn)
Vietnam has gone a long way and UNISFA is proud to be a partner of Vietnam, said the Major General.
Colonel Nguyen Viet Hung, commander of the Vietnamese peacekeeping force in Abyei, affirmed that over the past decades, the Vietnamese Party, State and people have constantly struggled to protect national independence, sovereignty, unity, and territorial integrity, as well as the nation's right to self-determination and the people's freedom and happiness in the spirit of 'nothing is more precious than independence and freedom'.
For more than a year of deployment at the UNISFA Mission, the Vietnamese peacekeeping force has coordinated closely with agencies and units of the UNISFA to build a better Abyei land, helping local people enjoy better living and education conditions, stressed Colonel Hung.
Despite difficulties in terms of the climate, human resources and equipment, the Vietnamese peacekeeping force and the Military Engineering Unit Rotation 2 in particular will successfully complete all assigned tasks, he said.
During the ceremony, delegates were treated to cultural and martial arts performances given by members of the Military Engineering Unit Rotation 2. They also watched an introduction about Vietnamese culture and people, and enjoyed delicious Vietnamese food.
Strengthening Vietnam - Japan extensive strategic partnership
President of the House of Councillors of Japan Otsuji Hidehisa will pay an official visit to Vietnam from September 4-7 at the invitation of National Assembly Chairman Vuong Dinh Hue.
The visit takes place in the context that the two countries are celebrating the 50th anniversary of the bilateral diplomatic ties (September 21, 1973-2023) with many significant activities being held.
Over the past five decades, the framework of bilateral relations has upgraded from "reliable, stable and long-term partnership" in 2002 to "towards a strategic partnership for peace and prosperity in Asia" in 2006, and "strategic partnership for peace and prosperity in Asia" in 2009, and "extensive strategic partnership for peace and prosperity in Asia" in 2014.
Regular visits and meetings of the two countries' leaders on the sidelines of global and regional conferences have contributed to strengthening their trustworthy relationship, setting major orientations to the effective development of bilateral relations across the board.
As one of Vietnam's top important economic partners, Japan was the first G7 country to recognize Vietnam's market economy status in October 2011.
Two-way trade has been steadily increasing over the years, reaching 40 billion USD in 2020, US$42.7 billion in 2021, 47.6 billion in 2022 and US$24.9 billion in the first seven months of this year. Vietnam mostly exports vehicles and spare parts, machinery and equipment, wood and wooden products, aquatic products; computers, electronics and components to Japan while importing machinery, spare parts and equipment. The two countries have granted the most favoured nation (MFN) status to each other since 1999.
In terms of investment, Japan is the third largest foreign direct investor in Vietnam, following the Republic of Korea and Singapore, with 5,143 active FDI projects worth over US$71.2 billion as of July 2023.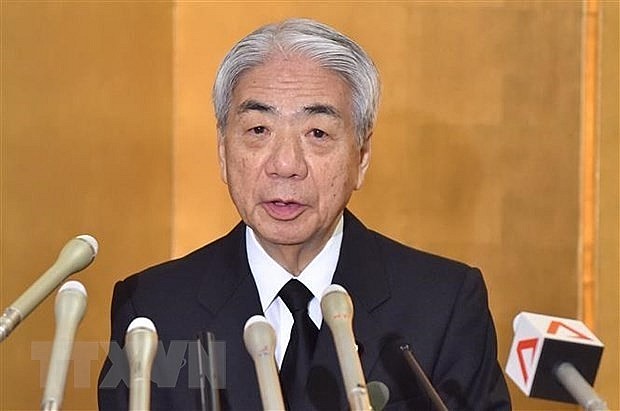 President of the House of Councillors of Japan Otsuji Hidehisa (Photo: AFP)
Japan is also the biggest supplier of official development assistance (ODA) to Vietnam, accounting for around 30% of the total funding from foreign donors to the country. Japan's ODA to Vietnam has amounted to US$29.3 billion, US$1.8 billion of which was non-refundable aid.
Apart from economic and trade cooperation, the two countries have also worked effectively together in various areas, including culture, education and training, health care, tourism, locality-to-locality cooperation and labour.
Japan is one of the biggest non-refundable aid suppliers to Vietnam's education and training sector. Both countries inked a number of agreements in this field, reported VNA.
Among the top 10 foreign arrivals in Vietnam in the first five months of this year, Japan was one of the four high-growth Northeast Asian markets, alongside the RoK with over 1.3 million visitors, China 399,000, and Taiwan (China) 252,000 visitors.
Currently, there are roughly 500,000 Vietnamese people living, working and studying across all 47 cities and prefectures of Japan, predominantly in Aichi, Tokyo, Osaka, Saitama, Chiba, and Fukuoka prefectures.
The upcoming Vietnam visit by the Japanese official is also expected to contribute to further consolidating and deepening bilateral extensive strategic partnership.
Vietnam 14th most favored country by expats, thanks to budget-friendly living
Vietnam is ranked the 14th best place for expats in 2023, with a happiness score of 82 against a global average of 72, according to the Expat Insiders 2023 Report released recently.
The survey was conducted in February this year via an online questionnaire through the InterNations community, with 12,065 participants representing 171 nationalities living in 172 countries/territories across the world.
Five factors - namely Quality of Life, Ease of Settling In, Working Abroad, Personal Finance, and Expat Essentials - were taken into account in the ranking.
In the Quality of Life index, Vietnam was ranked 47 in the top 53 countries, cited VNS.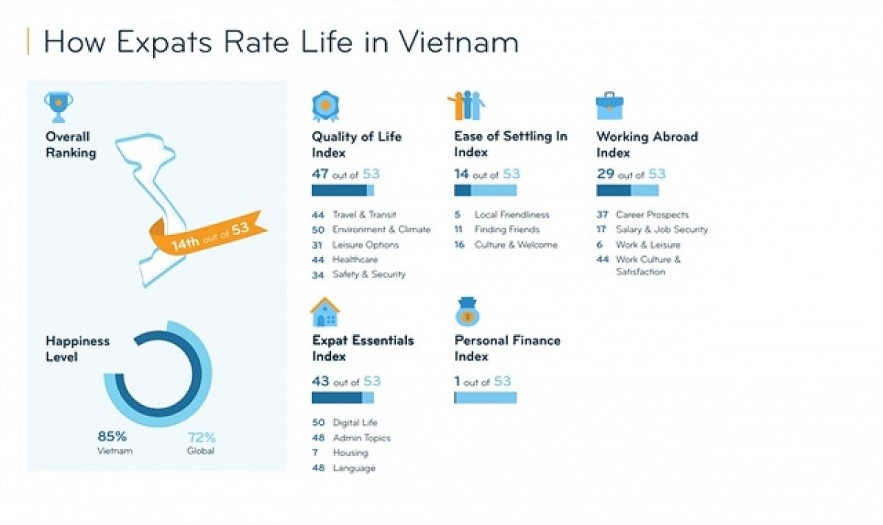 How expats rate life in Vietnam. The country was ranked 14th in the world as the best country for expats according to InterNations 2023 survey. Photo from the survey report
More than half the expats (55%) are unhappy with the air quality, more than triple the global average (17%). And not even three in ten (29%) are happy with the urban environment, compared to 67% globally.
In the Ease of Settling In index, Vietnam ranks quite high at 14th place in the top 53 countries, with the expats highly appreciating the country in the subcategories: Local Friendliness (5th), Culture & Welcome (16th), Finding Friends (11th). Eighty three per cent of the respondents feel welcome in Vietnam (83% vs. 67% globally).
In the Working Abroad index, Vietnam was rated 29 of 53, with Work & Leisure or Salary & Job Security subcategories being quite high (6th and 17th, respectively), while Career Prospects and Work Culture subcategories leaving a lot for desire (37th & 44th positions, respectively).
In Personal Finance, Vietnam was unbeatable, reigning champion for the second time this year, ahead of its several neighboring countries in ASEAN (Philippines the 3rd place, Thailand 4th, Malaysia 5th, and Indonesia 6th).
The index is based on three factors: satisfaction with the financial situation, general cost of living, and whether a respondent's disposable household income is enough to lead a comfortable life.
Over three-quarters of respondents in Vietnam (77%) rate the cost of living favourably (vs. 44% globally). More than triple the global average say it is very good (43% vs. 13%). Expats are happy with their financial situation (71% vs. 58% globally) — close to two in five (39%) even completely so (vs. 21% globally).
Around seven in ten (71%) agree that their disposable household income is more than enough to lead a comfortable life (vs. 44% globally). And over a quarter (27%) even say it is a lot more than enough (vs. 6% globally).
Since the first Expat Insider survey in 2014, Vietnam has always ranked in the top 10 of the Personal Finance Index. It has even landed in 1st place in this index five times, including in 2023.
Close to a third of those working in Vietnam (32%) are top managers/executives (vs. 12% globally), according to the survey.
In the Expat Essentials, Vietnam scored quite low at the 43th position out of the top 53 countries. Other than the apparent satisfaction seen in the Housing subcategory (7th place), other three remaining subcategories - Digital Life, Admin Topics, and Language - the country was rated in the bottom five countries.
Almost half of the respondents (49%) are unhappy with the availability of administrative services online (vs. 21% globally), and only 66 per cent are satisfied with the cashless payment options, much less than the global average (84%). Both obtaining high-speed internet access at home (44th) and having unrestricted access to online services (44th) pose further problems for expats in Vietnam.
According to the survey by InterNations, the average age of expat respondents in Vietnam is about 52.9 years old, and is mostly men (73%).
Seventeen per cent are from the United States, 9% from the United Kingdom, and roughly 7% from Australia, same for India.
A third of the expats work in the education field (32%), 11% in manufacturing and engineering, and 10% in IT.
HCM City works to elevate tourism profile
The southern economic hub of Ho Chi Minh City led the country in tourism revenue in the first half of 2023. The result showed the city's countless efforts in promoting the tourism sector and tourism development.
Promoting its role as an economic center and attractive tourism destination, in the first six months of this year, the city's tourism revenue earned VND80.8 trillion (US$3.35 billion), up 62.7% year on year. In the reviewed period, the city welcomed more than 16.4 million domestic visitors, up 48% year on year, and 1.9 million international tourist arrivals, triple than the same period last year.
According to experts, these figures reflect a bustle in tourism and the diversity of entertainment activities in the southern metropolis in the first half of this year.
A report of the municipal Department of Tourism showed that in the January-June period, revenue from accomodation and catering sevices in the city reached over VND51 trillion, up 36.2% over the same period in 2022, while travel revenue was 4.8 trillion VND, up 78.5% year on year.
In particular, in the reviewed period, the local tourism industry launched a series of new tourism products and services, attracting tourists at home and aboard.
The department has focused on fully tapping indigenous tourism strengths associated with local potential to introduce a series of typical tourist destinations and cultural and historical relic sites in districts in the city, including District 7, District 1; District 8, among others, VNA reported.
HCM City works to elevate tourism profile (Photo: VNA)
Le Truong Hien Hoa, Deputy Director of the municipal Department of Tourism, said that 21 areas in the city have launched featured products, under the theme of the "each district having at least one typical tourism product" program.
In the remaining months of this year, the city's tourism sector will focus on implementing a tourism development strategy to 2030; continue to implement the Smart Tourism Development Project in the 2021 - 2025 period. The sector will also accelerate the completion of the tourism database system and the tourism service information integration project.
In particular, the municipal Department of Tourism will focus on organising the city's key activities and events, including first river festival, 17th Ho Chi Minh City International Tourism Fair and Ho Chi Minh City Tourism Week 2023, among others to lure more visitors.
In tourism cooperation, the city will continue to promote regional tourism links with provinces and cities. The focus is on tourism development cooperation program between Ho Chi Minh City and 13 provinces and cities in the Mekong Delta.
In addition, the municipal Department of Tourism has increased tourism promotion activities in some key markets such as Singapore, the US.