Vietnam police arrest suspect in brutal murder case in Quang Ninh
The arrest was made 3 days after the murder of a woman and 3 children.
The arrest was made 3 days after the murder of a woman and 3 children.
At around 9:00 p.m. on Monday, police in the northern city of Hai Phong arrested Doan Trung Dung, a suspect accused of killing a 61-year-old woman and her three grandchildren in the nearby province of Quang Ninh.
Dung was arrested near the Binh Bridge in Thuy Nguyen District and subsequently brought onto a car at 11 p.m. heading to Quang Ninh Province to be handed over to the police.
Doan Trung Dung at the police station in the northern Vietnamese province of Quang Ninh
According to the suspect's initial statements, he admitted the crime, confirming that he was high on crystal meth.
According to the case file, Nguyen Thi Hat, 61, and her three grandchildren, Pham Dinh Hung, 9, Pham Thu Ha, 8, and Vu Khanh Huyen, 3, were found dead at their house, with many stabs on their bodies, on Saturday.
Dung, who was Hat's in-law, came to the house and asked for some money to buy drugs, the suspect recounted.
Though Dung was turned down, he was allowed to stay at the residence for a night.
He later got high on crystal meth when Hat and her three grandchildren were sleeping. He then decided to steal from the victims.
Dung first killed Hung and Ha by stabbing them to death as they were awakened before returning to his bed.
After Hat and Huyen discovered the dead bodies in the morning, the suspect murdered them by repeatedly hitting their heads with a hard object.
Dung took a pair of earrings and a ring from Hat before returning to his house to plan for his escape.
A source close to Tuoi Tre (Youth) newspaper stated that aside from Dung, another suspect is also wanted by police officers.
Further investigation is underway./.
VNF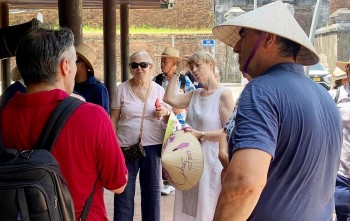 National
Vietnam News Today (Mar. 29): Vietnam to issue e-visa to foreigners of all countries; Vietnam, China beef up defence ties; Outbound tours prove popular during April holiday; Vietnam International Travel Mart 2023 to spotlight cultural tourism.