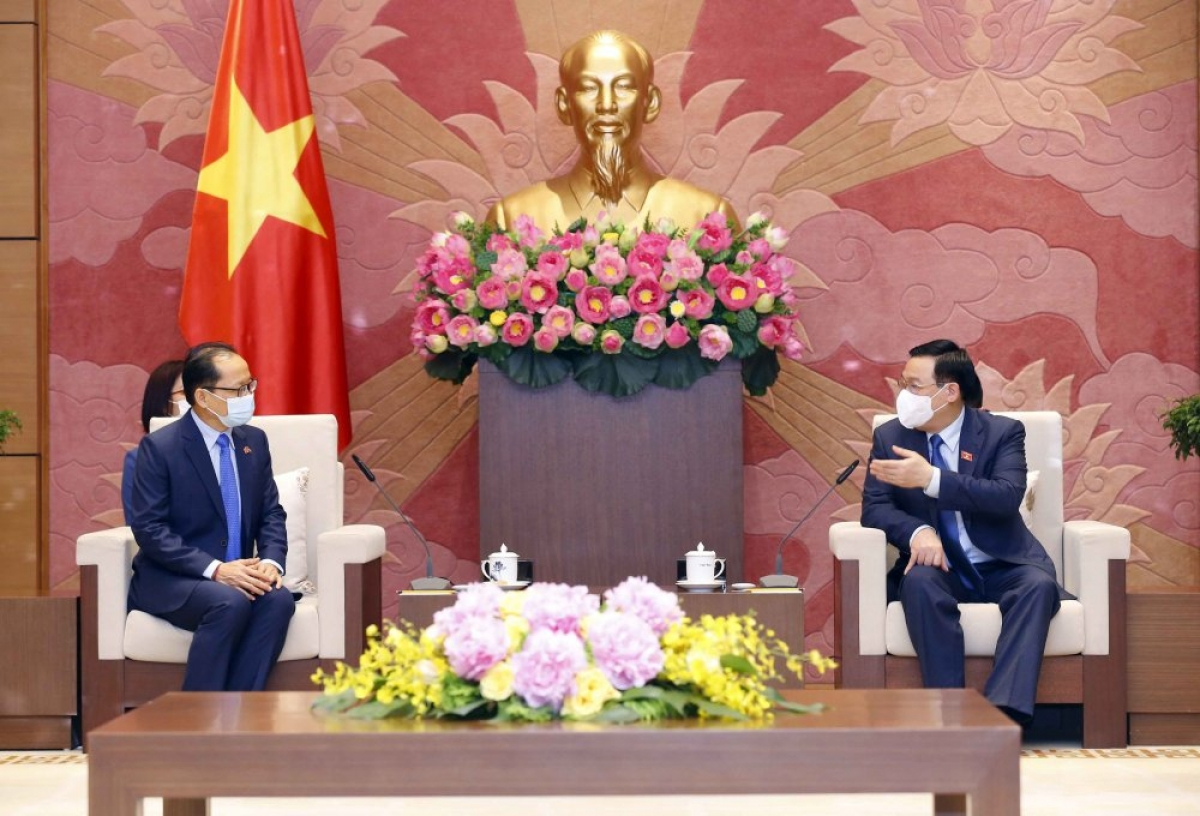 National Assembly Chairman Vuong Dinh Hue (R) hosts a reception for outgoing Cambodian Ambassador Chay Navuth in Hanoi on May 14. Photo: VOV
National Assembly Chairman Vuong Dinh Hue said on May 14 that Vietnam attaches great importance to and gives high priority to consolidating and strengthening the relationship of "good neighborliness, traditional friendship, comprehensive cooperation, and long-term sustainability" with Cambodia, the VOV reported.
Hosting Cambodian Ambassador Chay Navuth in Hanoi on Friday, National Assembly Chairman Hue said that in the context of complicated developments of the Covid-19 pandemic, the two countries' senior leaders have continued to maintain regular contact and exchange, and bilateral cooperation mechanisms continued to be effective.
Vietnam closely watches the current pandemic situation in Cambodia and hopes that in the spirit of solidarity and mutual assistance Vietnam's recent assistance will contribute to Cambodia's efforts to suppress the pandemic.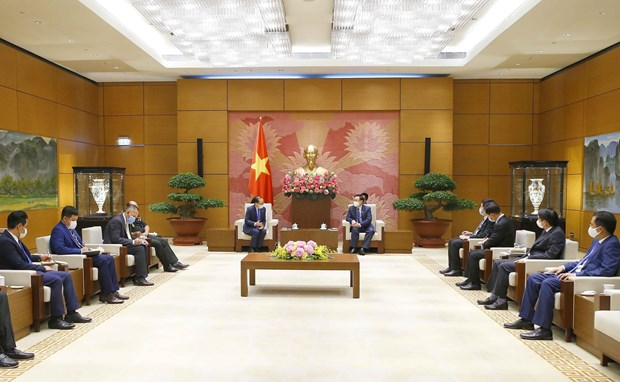 National Assembly Chairman Vuong Dinh Hue (R) hosts a reception for outgoing Cambodian Ambassador Chay Navuth in Hanoi on May 14. Photo: VNA
On this occasion, the National Assembly Chairman thanked Cambodia for helping the Vietnamese community in Cambodia, including vaccination for students and other people of Vietnamese origin in Cambodia. He said Vietnam has planned to vaccinate Cambodian students and other people living and working in Vietnam.
National Assembly Chairman Vuong Dinh Hue invited National Assembly Chairman Heng Samrin and Senate President Say Chhum to visit Vietnam at an appropriate time.
The Cambodian Ambassador thanked Vietnam for building the Work House of the Cambodian National Assembly's Secretariat and Committees. The construction project is expected to begin in late 2021 and early 2022. The Ambassador also expressed his gratitude to the Vietnamese National Assembly for helping the Cambodian National Assembly in human resource training.
Vietnam offers Cambodia largest Covid-19 aid package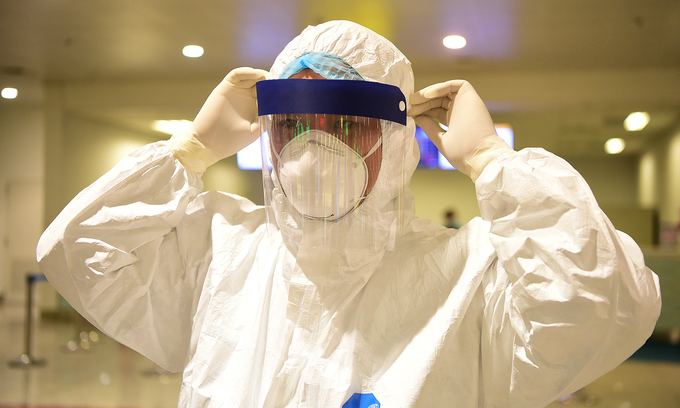 A medical worker is equipped with a medical mask, face shield and protective suit at Hanoi's Noi Bai Airport, March 18, 2020. Photo: VnExpress
Vietnam is willing to support Cambodia's Covid-19 fight by sending medical experts, ventilators and masks, Health Minister Nguyen Thanh Long during a recent online meeting with his Cambodian counterpart Mam Buncheng.
Vietnam would send Cambodia 800 ventilators, around 2.3 million medical masks and other equipment, he added, saying the batch would be Vietnam's largest aid package for foreign countries in the Covid-19 fight.
Sharing Vietnam's experience in fighting the coronavirus pandemic, Long said one of Vietnam's lessons is to utilise the whole political system and population in the fight.
Collaboration between all Covid-19 treatment facilities meant that doctors could discuss treatment of difficult cases with each other.
"Remote diagnosis was very effective and successful for Vietnam during the first and second Covid-19 waves. During the third wave in Hai Duong, there were many severely ill patients but we managed to treat and save them all," he was cited by VnExpress as saying./.
Rosy Huong