Vietnam reports five new COVID-19 cases, all imported from UAE and Russia
Vietnam reported five new coronavirus infections on August 26 evening, all of which were imported cases involving Vietnamese citizens returning from Russia and the United Arab Emirates (UAE).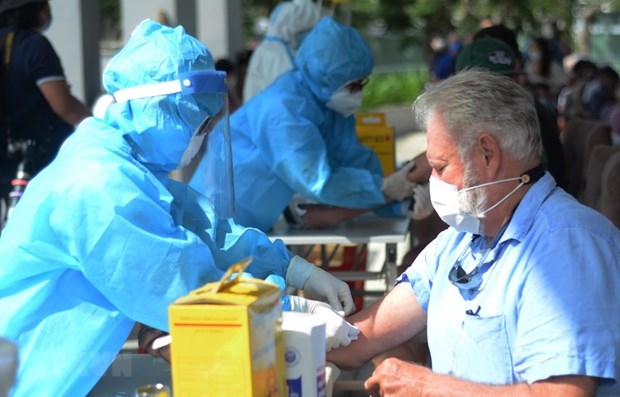 Health workers are collecting samples for COVID-19 testing. Photo: VNA
The new patients brought the total number of coronavirus cases in the country to 1,034, according to the National Steering Committee for COVID-19 Prevention and Control.
Two of the new cases were citizens returning from UAE and the rest were repatriated from Russia.
All imported cases, aged between 21 and 58, were quarantined upon their arrival.
With the new confirmed cases, 687 are local transmissions, and 347 entered Vietnam from abroad.
The authorities also have made efforts to contain the importation of the disease by implementing a range of regulations regarding COVID-19 prevention and control as Vietnamese authorities and overseas missions plan to arrange more flights to bring Vietnamese citizens home.
On the same day, the Ministry of Health announced two patients in the central province of Quang Ngai and Da Nang city died of COVID-19 and other underlying health problems, taking the national fatality count to 29.
As many as 37 patients were given the all-clear on the same day, lifting the total of recovered cases to 596.
The committee's treatment sub-committee said 15 patients are in critical conditions. They all suffer from various serious underlying health problems, such as chronic kidney failure, heart diseases, or cerebrovascular accident.
The outbreak has since spread to 17 cities and provinces, with Da Nang alone being the hardest hit city, registering more than 370 cases.
Some 69,429 people who had close contact with COVID-19 patients or came from pandemic-hit areas are under quarantine nationwide.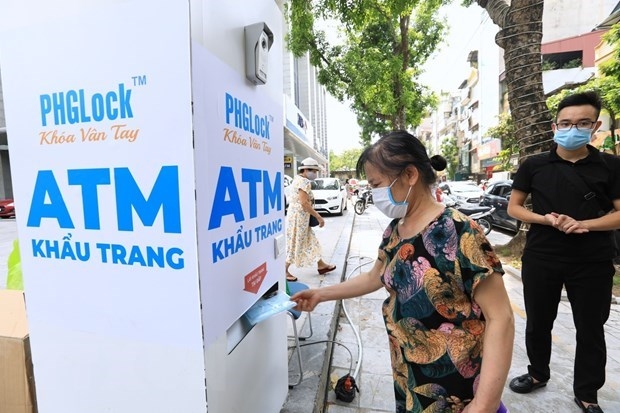 A "Mask ATM" was put into operation at 23, Lac Trung street, using technology similar to "Rice ATM" and offering 45,000 medical masks with 3-4 layers. Photo: VNA
Authorities of northern Ha Nam province and Hai Phong city are tracing and quarantining close contacts of two men who tested positive for coronavirus SARS-CoV-2 after arriving in the Republic of Korea (RoK).
After receiving confirmation from the Korean authorities regarding the COVID-19 case of a 24-year-old male in Kim Bang district, health workers have set up surveillance zone around his residence and identified 68 people who he came into contact with him.
Accordingly, the man went to the RoK on August 20 on a flight with a fellow Vietnamese from the northern city of Hai Phong, also confirmed SARS-CoV-2 positive by health authorities there.
Meanwhile, the man on the same flight was confirmed by Hai Phong city's authorities to be a student who was repatriated from the RoK in March. The man had visited central Da Nang city and Quang Nam province, the country's current COVID-19 epicentre, from July 24-27, but had been self-isolating at his home.
He returned to the RoK on August 20 to continue his studies but tested positive for coronavirus./.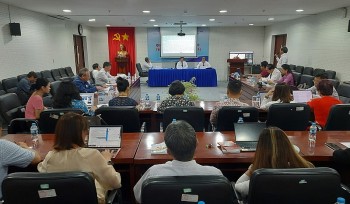 Friendship
The Vietnam - India Friendship Association's Ho Chi Minh City branch, the Ho Chi Minh City Union of Friendship Organizations (HUFO) and the Southern Institute of Social Sciences on March 21 held a scientific seminar themed "Vietnam - India relationship: tradition and present".