Vietnam, RoK Aim at USD 100 billion in 2023 Two-way Trade
Vietnam and the Republic of Korea will work closely together to raise two-way trade to US$100 billion this year and US$150 billion by 2030 in a more balanced direction, Vietnamese Deputy Prime Minister Le Minh Khai and his RoK counterpart Choo Kyungho stated in the second Vietnam – Korea dialogue on economic cooperation in Hanoi on March 10.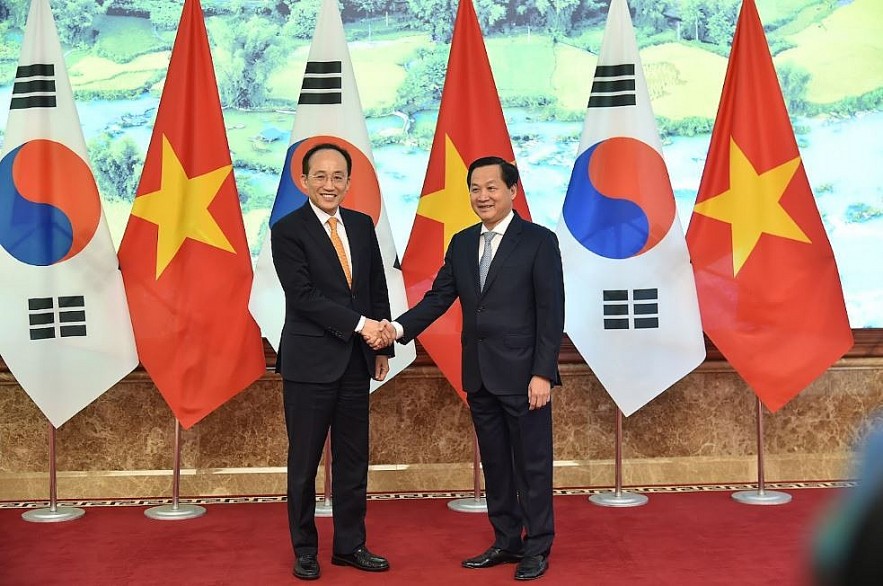 Deputy Prime Minister Le Minh Khai (R) and his Korean counterpart Choo Kyung-ho. (Photo: VGP)
Vietnam and the Republic of Korea (RoK) agreed to lift two-way trade to 100 billion USD right in 2023 and USD 150 billion by 2030 at the second economic cooperation dialogue at the deputy prime ministerial level in Hanoi on March 10. The event was co-chaired by Vietnamese Deputy Prime Minister Le Minh Khai and his Korean counterpart Choo Kyung-ho, according to VNA.
The two sides discussed and reached a consensus on cooperation contents in trade, energy and infrastructure, development cooperation, information technology and investment, health care, and labor.
They agreed to deal with difficulties faced by enterprises in each country and draw more Korean investments in Vietnam's priority areas such as information technology and communications, LNG-fueled power, infrastructure, smart urban development, distribution, and logistics.
The two sides vowed to enhance effective cooperation in official development assistance through the efficient utilisation of non-refundable aid projects and the RoK's ODA loans through the Economic Development Cooperation Fund (EDCF) and the Economic Development Promotion Facility (EDPF).
According to VOV, Deputy PM Le Minh Khai said the initiatives put forward at the dialogue are very practical and suitable to the actual situation of each country that is expected to not only remove difficulties and obstacles but also open up new economic cooperation opportunities between the two countries. He noted bilateral trade is growing considerably, with two-way trade turnover last year reaching US$86.4 billion.
Currently, Vietnam slipped into a trade deficit in trade exchanges with the RoK standing at about US$37.8 billion in 2022, an increase of about 10% compared to 2021. The Vietnamese government wishes to continue expanding bilateral trade relations with the RoK, aiming to raise the trade value to US$100 billion in 2023 and US$150 billion by 2030 in a more balanced direction, said Khai.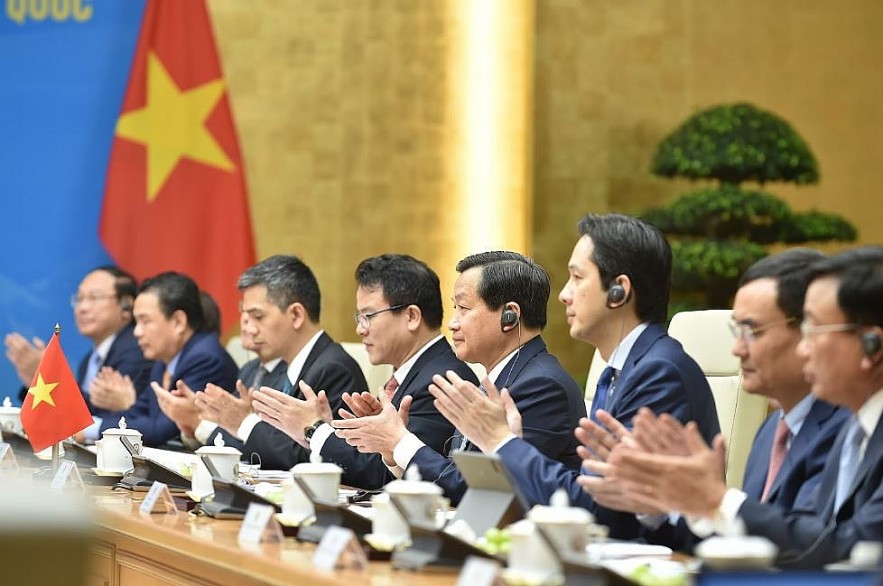 Delegates at the event (Photo: VGP)
Choo, for his part, said the RoK will continue working closely with Vietnam to step up exchanges on quarantine of farm produce, and animal husbandry and expand coordination in health care. The Korean Government will make the best of large-scale infrastructure projects for Vietnam's development and encourage Korean firms to take part in, he said.
Both sides need to reshuffle the global supply chain and perform sustainable support policies, and continue extending collaboration in raw materials, Choo said.
The RoK wants to partner with Vietnam and share its experience and understanding of advanced technology, information technology, and digital transformation, he said, adding that the RoK also wishes to build eco-friendly infrastructure in Vietnam and boost bilateral cooperation in clean energy, contributing to Vietnam's carbon neutrality goal.
He hoped for Khai and the Vietnamese Government's special support in administrative reform to draw more Korean enterprises.
At the event, Vietnamese Deputy Minister of Finance Vo Thanh Hung and Vice Chairman of the Export-Import Bank of Korea Kim Tae-soo signed an agreement to finance the project on upgrading the Hoa Duyet - Thanh Luyen section of the Hanoi - Ho Chi Minh City railway route.