Vietnam startups attracts big venture capital money
Startup companies in Vietnam, ranging from FinTech to logistics and artificial intelligence, are attracting a record amount of venture capital money in the country, according to a report by the Financial Times.
The fund managers are attracted to Vietnam because it's one of Asia's fastest growing economies, and it's also a young one. They want to help build the country's first billion dollar companies and get more attention from investors around the globe to continue growth.
There were 24 deals in Vietnam that were worth around $128 million from January to June, which is up from six worth $12 million during the same time period one year ago, according to data from trade publication Asian Venture Capital Journal.
One of the companies attracting a lot of attention is FastGo, which is a competitor for ride-sharing company Grab. Another company, Abivin, handles logistics for Vietnamese businesses. And a company named Logivan has been described as the "Uber of trucking."
"When we started 15 years ago, we were one of the few [private, start-up] companies," said Le Hong Ming, chief executive of gaming and media company VNG, which was Vietnam's first unicorn. "Now there are hundreds and hundreds."
The company isn't well known outside of Vietnam but it can be compared to Chinese company Tencent in its reach inside the country. VNG, which was recently valued at $2.2 billion, began as an online gaming company and then grew into a payments, news, cloud computing and smartphone messaging company.
VNG's leading investor was Temasek, from Singapore, and it was going to pursue an initial public offer on the Nasdaq exchange, but hasn't done so due to Vietnamese regulatory issues.
VNPay is another Vietnamese company that will soon have a billion dollar valuation, with a proposed deal of $300 million from SoftBank Vision Fund and Singapore's sovereign wealth fund GIC.
"Vietnamese companies going regional is one of the themes we look at," said Don Lam, chief executive of VinaCapital, which last year launched a second $100 million venture capital fund dedicated to Vietnam. "When we invest in Vietnam, we want companies to be able to say they can compete regionally, and hopefully globally one day."
VNF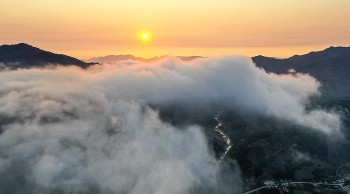 Multimedia
The gorgeous dawn behind a sea of fluffy white clouds creates a wonderful and beautiful picture of Truong Son Dong peak, Quang Ngai.