Vietnam tightens rules on radioactive devices
Prime Minister Nguyen Tan Dung has approved Decree 17/CT-TTg on increased security measures to manage and control radioactive devices in the country.
Prime Minister Nguyen Tan Dung has approved Decree 17/CT-TTg on increased security measures to manage and control radioactive devices in the country.
The decree, approved on July 10, pointed out many shortcomings and limitations within the current system, which led to numerous cases of radioactive devices and equipment going missing in recent years.
The PM ordered the Ministry of Science and Technology (MoST), in collaboration with Government agencies and local authorities, to perform a comprehensive review of the country's current regulations and security protocols on the control of radioactive devices.
He ordered through inspections to be carried out on the use of radioactive devices and their storage facilities across the country.
The MoST was charged with the task of organising and providing training sessions on radiation safety and security. It was also ordered to establish a database of the country's radioactive devices and a security system to monitor them. The ministry is to submit annual reports to the PM on the country's security and management of radioactive devices.
Government agencies and ministries were asked to compile a list of radioactive sources under their management, which is to be updated on a regular basis and submitted to the MoST.
The PM also ordered the Ministry of Public Security to tighten control on the illegal sale and application of radioactive devices, build and improve emergency protocols in case of missing radioactive devices and step up cooperation with international security agencies.
The Ministry of Defence, border guards and the General Department of Custom should remain vigilant and intensify inspections and patrols to detect and prevent cross-border trafficking of radioactive devices.
A number of cases involving missing radioactive devices have raised the alarm about the country's lax security practices and the absence of effective mechanisms to control and monitor the use of radioactive devices.
In April, 45 kilogrammes of radioactive material went missing from the Pomina steel mill in Ba Ria-Vung Tau province. Despite days of extensive search efforts, it was never recovered.
In September last year, the HCM City Apave Asia-Pacific Company reported that it had lost track of a radioactive device, which was later recovered after a four-day search.
A report in April from local Science and Technology Departments showed that there are approximately 1,920 radioactive sources across 170 facilities in Hanoi and 1,200 in HCM City./.
VNF/VNA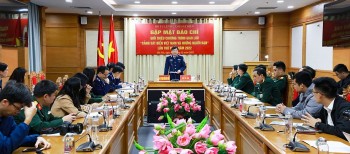 Seas and islands
The first "Vietnam Coast Guard and friends" exchange will take place in December with the participation of National Committee for Maritime Security of Cambodia, Coast Guard Department of China, Indonesian Maritime Security Agency, Malaysian Maritime Enforcement Agency, the Coast Guard of the Philippines, and Thailand Maritime Enforcement Coordinating Center.