Vietnam to hold first conference on Artificial Intelligence
The world and Southeast Asia had been impressed with Vietnam's achievements, he said, noting that the country had quickly integrated into the world despite of the low income of many of its residents.
(VNF) – The first conference on Artificial Intelligence hosted by Vietnam will be take place from May 9 - 11, at the University of Science and Technology (Hanoi) from May 9-11.
The event, titled Artificial Intelligence for Life (AI4Life-2018) will be jointly held by the Ministry of Science and Technology, the Vietnam Union of Science and Technology Associations and Hanoi National University.
The first international conference on Artificial Intelligence (AI) hosted by Vietnam will be in May (source: VNU)
The conference is expected to serve as an international forum for practitioners and researchers in government, industry, and academia to communicate, exchange ideas and discuss potential applications as well as present research results in artificial intelligence.
Furthermore, Artificial Intelligence for Life aims to raise public's awareness of recent advances, applications and recommendations as well as the emergence of AI in every aspect of our life.
According to the event's organizing board, the conference will include the presentation of researching paper, exhibition, tutorials, meeting and panel discussion.
Poster presentations content will be fundamental research result on AI (Machine Learning, Speech Recognition and Natural Language Processing, Robotics, Data Analysis and Mining, Smart City and Transportation, Agriculture, Medicine and Healthcare, E-commerce, etc.).
Speakers at the event will include renowned scientists in the science - technology sector worldwide, including Top 40 most outstanding young entrepreneurs in Silicon Valley, Dr. Vu Duy Thuc (as an outstanding alumnus of US prestigious Stanford University, Thuc has been well-known for his invention Ohmni, an user-friendly communication app for the elderly.)
Dr. Vu Duy Thuc, top 40 most outstanding young entrepreneurs in Silicon Valley, will attend the conference, alongside renowned scientists from US, Japan, Hungary, Poland, etc. (source: dantri)
To be held for the first time in Vietnam, Artificial Intelligence for Life is expected to create momentum for the development of AI in Vietnam in the context of the Fourth Industrial Revolution.
The country is a big potential market for AI, thanks to its large population, according to Nguyen Anh Tuan, CEO of the Boston Global Forum.
"Many of them young people who could help Vietnam access high-quality technologies and new knowledge," he said.
Associate Professor Vu Minh Khuong, a senior expert on economic development policy from the Lee Kuan Yew School of Public Policy said Vietnam had outstanding achievements over the past 10 years in terms of catching up with IT.
According to Associate Professor Vu Minh Khuong, Vietnam had outstanding achievements over the past 10 years in terms of catching up with IT. (Illustrative photo: VNA)
Artificial intelligence (AI) is the ability of a digital computer or computer-controlled robot to perform tasks commonly associated with intelligent beings. The term is frequently applied to the project of developing systems endowed with the intellectual processes characteristic of humans, such as the ability to reason, discover meaning, generalize, or learn from past experience.
Since the development of the digital computer in the 1940s, it has been demonstrated that computers can be programmed to carry out very complex tasks—as, for example, discovering proofs for mathematical theorems or playing chess—with great proficiency.
In fact, the study of AI in Vietnam began in the early 1970s when courses about AI were introduced to students in computer science at some universities. Pioneers in teaching and researching AI in Vietnam are professors Nguyen Van Ba, Bach Hung Khang, Phan Dinh Dieu, Hoang Kiem, etc., who have trained many students and built research and development teams in AI in later years.
Since the 1980s, Vietnam has had some products using AI. For instance, Professor Bach Hung Khang led a team of scientists doing research to solve the problem of Vietnamese Optical Character Recognition. The team created VnDOCR software, which is the best software in Vietnam market for recognizing Vietnamese words from printed documents.
Nowadays, Vietnam is holding vast potentials AI, with the presence of well-known IT group, including Viettel and FPT, which are seeking new markets in banking, healthcare, education and transport. The country has been listed as one of the leading automation markets in the world.
The potential is also attributed to Vietnam's high consumption of new technologies, making the market attractive to high-tech investors, such as Google, Facebook, Apple and Samsung./.
( Phi Yen )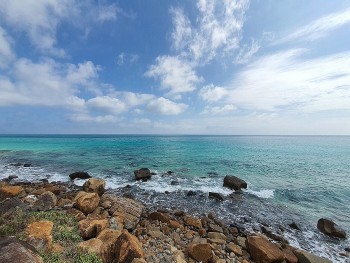 Viet's Home
Con Dao, a historical and famous island situating in the southern province of Ba Ria - Vung Tau, has been named among the top 16 best island vacations in the world, as compiled by tourism magazine Condé Nast Traveler (CNTraveler) of the United States.