Vietnam - US Cooperation Opens New Opportunities For Semiconductor Industry
The potential for Vietnam-US cooperation in the semiconductor industry is extremely large, opening up new oppourtunites for the two nations.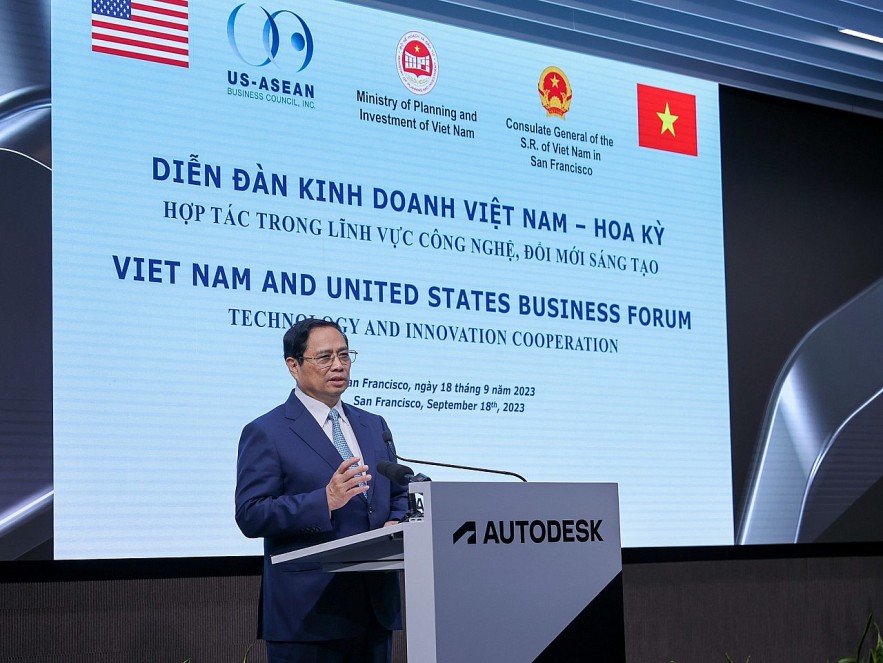 Prime Minister Pham Minh Chinh proposed that American semiconductor businesses continue to cooperate and invest extensively in Vietnam.
New opportunities to develop the semiconductor industry
During his recent visit to the US, Prime Minister Pham Minh Chinh proposed that businesses of Vietnam and the US focus on cooperation in a number of areas, including the semiconductor industry.
Prime Minister Pham Minh Chinh worked with many leading US corporations in the field of semiconductors. At the meetings, many American semiconductor businesses appreciated the potential for developing the semiconductor industry in Vietnam.
They exchanged opinions, shared about investment opportunities in Vietnam, and proposed methods of cooperation between Vietnam and the US to successfully develop the semiconductor ecosystem in Vietnam. In the long term, American businesses and corporations can research the possibility of locating chip factories in Vietnam.
Prime Minister Pham Minh Chinh proposed that American semiconductor businesses continue to cooperate and invest extensively in Vietnam, creating conditions to improve the quality of human resources and capacity of Vietnamese businesses.
This gradually brings Vietnam deeper into the value and supply chain of the global semiconductor industry in many stages from design, assembly, packaging, testing, and production.
The Prime Minister said that the Government and ministries will create an equitable and healthy business environment, creating the best conditions for foreign businesses to invest and operate effectively in Vietnam, including American semiconductor businesses.
After working with Synopsys, the Prime Minister hoped that the company would continue to expand its production and supply chain in Vietnam.
He expected Synopsys to have technological and financial solutions for Vietnam to develop quickly and sustainably, contributing to training human resources in chips particularly and high-quality technology.
Afterwards, Prime Minister Pham Minh Chinh, Minister of Information and Communications and leaders of the Vietnamese delegation witnessed the signing ceremony of a cooperation agreement between the Department of Information and Communications and Synopsys to support the development of Vietnam's semiconductor industry.
Accordingly, the Department of Information and Communications planned to establish a Semiconductor Research Institute.
This cooperation aims to develop a draft strategy to establish a high-end R&D manufacturing and simulation center, nurture startups in advanced IC design, and support R&D manufacturing production in Vietnam.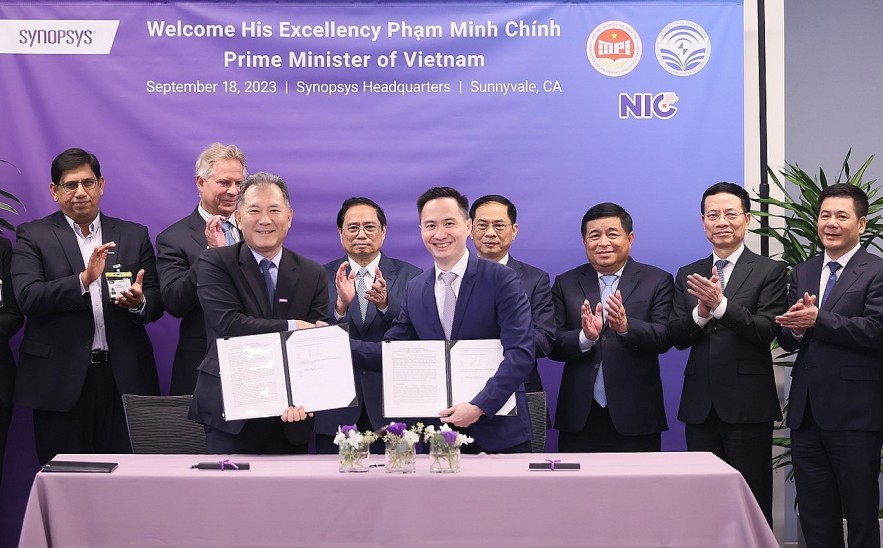 Cooperation agreement between the Department of Information and Communications and Synopsys.
Vietnamese enterprises participate in the global semiconductor market
During Prime Minister Pham Minh Chinh's visit to the US, FPT Semiconductor signed a strategic cooperation memorandum with Silvaco.
According to the newly signed cooperation memorandum, FPT Semiconductor and Silvaco committed to cooperate in developing human resources in the semiconductor industry for companies in the US.
According to Minister of Planning and Investment Nguyen Chi Dung, this is the next step to deploy cooperative activities between organizations and businesses in the US semiconductor industry with Vietnamese partners to expand markets and improve Vietnam's capacity in this industry.
Vietnamese technology enterprises invest in the US market
At the "Vietnam-US Business Forum on Technology and Innovation Cooperation" on September 18, in the presence of Prime Minister Pham Minh Chinh, Vietnamese technology company Rikkeisoft announced an investment of more than US$30 million until 2026 in the US market to focus on developing high-quality technological human resources, expanding markets as well as mergers and acquisitions (M&A) activities.
Rikkeisoft's representative in the US said that the investment of US$10-30 million in the next 3 years will be focused on developing high-quality technology human resources, market expansion and M&A activities.
Specifically, the investment in 2023 is US$2 million and will increase to US$30 million by 2026.
This investment is expected to create hundreds of jobs in the technology sector for the US market, helping Rikkeisoft become a billion-dollar technology company in the next 5 years.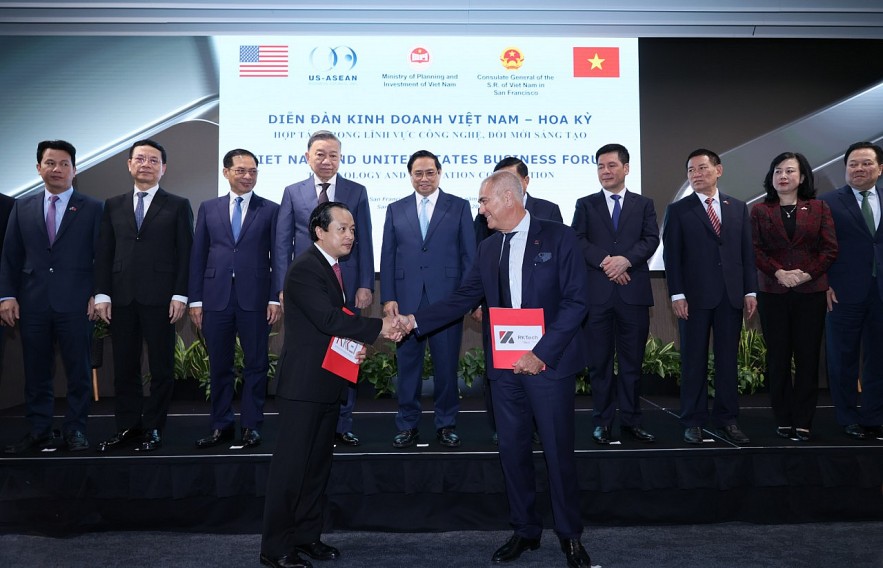 Photo: VNN
Bui Hoang Tung, senior executive vice president of Rikkeisoft said that the abundant technology and human resources from Vietnam with high qualifications and reasonable costs help them confidently provide services with added value for US customers.
Rikkeisoft's goal is not simply an initial public offering (IPO) in the US in 2028 but to become part of the US technology picture by providing a sustainable solution for the talent supply.
Rikkeisoft President Ta Son Tung shared that the US market is a strategic investment of Rikkeisoft. "The company aims to become a global technology services company with a market capitalization of US$1 billion. Therefore, only a large market like the US can help Rikkeisoft achieve this goal," he said.