Vietnam – US Veterans: From friendship to partnership
After the conference, the two sides will keep working together in preparation for the Vietnam-US business, veteran forum scheduled in July 2017.
(VNF) – Vietnam and US veterans were brought together for discussion prospect of business partnership in a conference took place in Hanoi on Feb 22.
The conference was held by the Vietnam - US Society (VUS), serving as a communication platform for veterans from two countries, especially entrepreneur veterans, to exchange their views on opportunities and challenges on their new shared journey.
According to Nguyen Tam Chien, Chairman of VUS, strengthening economic and trade ties between Vietnam and US veterans is the key topic of the conference as well as the focus in Vietnam - US bilateral relations in 2017.
Since the end of the war in 1975, many Vietnamese soldiers have dedicated great efforts to improve the livelihoods of themselves and families, at the same time contribute to the development of the nation.
In 1986, Vietnam started embarking on a process named 'Doi Moi' policy which aimed at economic reforms. The openness of the market has facilitated many people, including veterans, to venture into business world.
Today, veteran-owned enterprises in Vietnam is on the rise, as they have established their own community, known as Business Association of Vietnam Veteran (BAV) with 63 affiliated organizations across the country. Veteran-owned firms operate in multi sectors including agriculture, aquaculture, textile, household appliance, etc.
BAV has been playing a significant role in boosting socio-economic progress. In 2016, BAV business activities earned a total revenue of VND 100,000 billion (USD 4348 billion), partly contributed to the growth of Vietnam's economy.
Veterans in Binh Duong province introducing agricultural production model (source: doanhnhanccbtphcm)
BAV also contribute to social stability and development by providing full-time employment for hundreds thousands of people, many of which are veteran families' members.
In addition, BAV always bears in mind their corporate social responsibility. Veteran entrepreneurs have been proactively in supporting the needy through cash donation, scholarship and visiting trips to schools and households.
However, in the era of global integration, Vietnamese veteran-owned firms still struggle to sustain and grow, particularly in promoting trade with the US.
One of the issues facing these enterprises is US tax on import commodities, according to Le Hong Quang, Deputy Chair of BAV. Currently, many products of Vietnam are imposed high tax rate (20-40 percent) in US, as US is yet to recognize Vietnamese as market economy.
Tax is one barrier hindering VN firm's export to US (source: vov)
Another issue facing veteran's firms, Quang added, is shortage of capital, skilled workers and access to advanced technology.
Apart from that, participants in the conference took account of other causes, such as limited communication between Vietnam and US veterans. The drawback was attributed to the lack of effective mechanism for communication, as well as the difference in background of Vietnam & US veteran and limited budget of Vietnamese veteran's firms to conduct overseas visiting trip.
Various approaches to cope with those issues were proposed in the conference.
According to Nguyen Tam Chien, former Ambassador of Vietnam to US since the Bilateral Trade Agreement (BTA) began taking effect in 2001, Vietnam and US veterans should foster mutual understanding, promptly kick-start joint business projects, ensuring cooperation in multi fields, especially economics, trade and science-technology. He stressed comprehensive partnership is the cornerstone of Vietnam-US relations.
Meanwhile Bui Van Nghi, VUS Secretary suggested Vietnamese enterprises to put more efforts in researching the US market preference, spotting new categories of product to export.
Besides traditional export products such as seafood, apparels, Vietnamese veteran-owned firms should tap into other sectors like handicrafts, wood and timber products, which are highly favored by the US market. Some of these products even enjoy very low to zero import tax.
Wood and timber furnitures - the potential sector among Vietnam's exported goods to US (source: vov)
In addition, Nghi urged for more involvement of scholars, journalists, educators from the US in broadcasting a precise image of Vietnam in modern days to their country. The activity is expected to tighten the bonds between two countries' people, thus facilitate cooperation in business and other fields.
The US side, represented by Marsha Four – VVA Vice President, added a suggestion on broadcasting more information about Vietnam to US veteran's children, as many of them are studying in business schools. The idea aims to create more opportunities for exchange and cooperation for the youth from both sides.The delegates also paid attention to the benefits for young generations, especially children of veterans. Vietnam wanted to seek for supports from US side in terms of education, for instance, English language as well as other necessary skills training.
The progress of Vietnam and US relations is expected to bring the young generation - "our children and grandchildren" the "profit of peace" that they are supposed to enjoy. And the move should be initiated as soon as possible, Mokey Porter, VUS Communication Director stated.
More efforts needed to ensure the young generation can enjoy the profit of peace
Illustrative photo: US veteran and daughter visiting a kindergarten in Quang Tri, Vietnam (source: VOV)
Vietnam National Center - venue of the Vietnam-US business, veteran forum in July (source: ncc.gov.vn)
The event – the first of its kind taking place in Vietnam, is a "turning point" in US-VN relations, from enemies in war to friends in time of peace and now business partners in the age of global integration, according to Chairman of VUS.
The Vietnam-US business, veteran forum is scheduled on 6-7 July in Hanoi, dedicating to supports partnership of enterprises from two countries, especially SMEs and veteran-own businesses./.
( Phi Yen )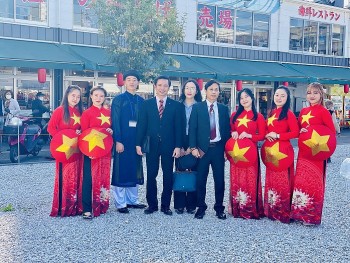 Overseas Vietnamese
The Kochi-Vietnam Cultural Exchange Festival has been organised in Kochi Prefecture, Japan, recently for first time in an effort to boost cultural exchanges and cooperation between the two countries.