Vietnam values extensive strategic partnership with Japan
The upcoming visit to Japan by Prime Minister Nguyen Xuan Phuc from June 27 to July 1 during which he will attend G20 Summit shows how important the two countries' partnership is to Vietnam.
Prime Minister Nguyen Xuan Phuc (L) and Prime Minister Shinzo Abe. Photo: VNA
The visit, made at the invitation of Japanese Prime Minister Shinzo Abe, is expected to open new cooperation opportunities between the two countries and promote bilateral relations.
In recent years, relations between Vietnam and Japan have grown rapidly. Japan was the first G7 country to establish a strategic partnership with Vietnam in 2009 and recognise Vietnam's market economy in 2011.
In May 2016, Japan was also the first G7 country to invite Vietnam to attend the expanded G7 Summit.
During the State visit to Japan by President Truong Tan Sang in March 2014, the two countries elevated their relations to an extensive strategic partnership.
Two-way trade in the first five months of 2019 reached 15.28 billion USD, a year-on-year rise of 3.2 percent.
As of May 2019, Japan had 4,149 valid foreign direct investment (FDI) projects in Vietnam with total registered capital of more than 57.4 billion USD, ranking second among the 116 countries and territories investing in Vietnam.
Besides trade and investment, Vietnam and Japan have been developing cooperation in agriculture, climate change adaptation, education-training, tourism, and locality-to-locality cooperation.
In September 2015, the two sides signed a medium-to long-term vision for agricultural cooperation, and renewed it in May 2018.
Cooperation in climate change adaptation has developed strongly with the provision of official development assistance (ODA) from Japan in recent years for Vietnam.
Cooperation in education and training has been developing under various forms. Japan is one of the biggest providers of non-refundable aid packages for the education-training sector in Vietnam.
The two countries have signed several cooperation documents in this field. Japan is cooperating with Vietnam to build the Vietnam – Japan University to train high-quality human resources in science-technology, management and services.
Japan is also supporting Vietnam to teach Japanese language at some primary and secondary schools in Hanoi and Ho Chi Minh City.
In October 2018, the two sides inked a deal on cooperation in implementing measures to reduce the number Vietnamese students breaking the law in Japan.
Japan is one of the countries with the highest number of tourists to Vietnam. The two nations have signed a joint statement on tourism cooperation. From January 1, 2004, Vietnam unilaterally waived visas for Japanese to travel and trade in Vietnam for 15 days. From July 1, 2004, Vietnam exempted short-term entry visa for Japanese passport holders.
On March 8, 2005, the two sides exchanged a diplomatic note on visa exemption for Vietnamese and Japanese citizens holding diplomatic and official passports for a stay of not more than 90 days starting from May 1, 2005.
Japan started relaxing regulations for granting multiple entry visa from September 30, 2014, and further loosened them from February 15, 2016 and single entry visa from November 20, 2014 for Vietnamese citizens.
The two countries have also promoted locality-to-locality cooperation and more than 40 pairs of Vietnam-Japan localities have signed cooperation agreements./.
VNF/VNA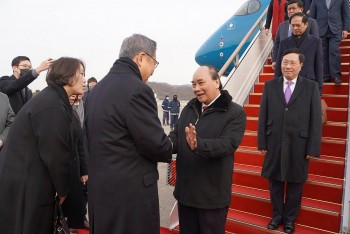 National
Vietnam News Today (Dec. 5): Additional 204 Covid-19 cases recorded on December 4; State President warmly welcomed in Seoul on RoK visit; Vietnam, Venezuela boast potential for fishery cooperation; Northerners feel chill as cold wave intensifies.