Vietnam Wishes to Promote Ties with New Zealand through All Channels
Vietnam and New Zealand will step up cooperation in different areas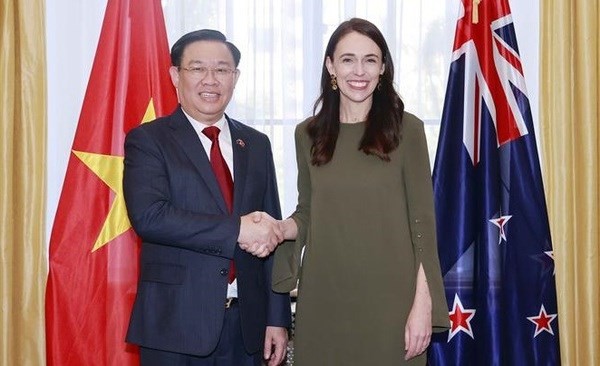 National Assembly Chairman Vuong Dinh Hue (L) meets New Zealand Prime Minister Jacinda Ardern in Wellington on December 6. Photo: VNA
National Assembly Chairman Vuong Dinh Hue on December 6 told New Zealand Prime Minister Jacinda Ardern that Vietnam attaches great importance to relations with the country and wishes to further promote the bilateral partnership in all fields through channels, VNA reported.
The Vietnamese top legislator said that together with the recent official visit to Vietnam by the New Zealand leader, his ongoing visit affirms the determination of high-ranking leaders and peoples of both countries in promoting the bilateral strategic relations.
Briefing the host on his activities in Wellington, Auckland and Hamilton, he underlined that there is room for the two countries to further beef up their cooperation for the target of USD 2 billion in two-way trade in 2024.
NA Chairman Hue suggested that the two sides further strengthen collaboration in aviation and tourism with the operation of more direct flights.
He proposed that New Zealand remove trade barriers and avoid the imposition of trade defence measures against Vietnam to facilitate bilateral trade, while creating more favourable conditions for the business communities of the two sides to foster partnership and increasing trade promotion programmes.
Vietnam is willing to import goods from New Zealand and hopes to export more farm produce to the country, he said, suggesting that New Zealand open high schools and universities in Vietnam and receive more Vietnamese students.
He also asked New Zealand to support Vietnamese holiday and agricultural workers to work in the country.
For her part, PM Ardern recalled her good memories of her November visit to Vietnam and said that the Vietnamese NA leader's visit will help further promote the bilateral ties in all fields, including economy, trade, agriculture, education-training, and people-to-people exchange.
Agreeing with the Vietnamese NA Chairman's proposals, PM Ardern held that with the good outcomes of high-ranking leaders' visits, including the successful business forums in both countries, New Zealand is keen on continuing to explore the Vietnamese market and cooperation opportunities in economy, trade and investment with Vietnam.
She said she hopes the two countries will continue to strengthen cooperation in education, affirming that New Zealand is ready to create favourable conditions for Vietnamese workers to work in New Zealand in prioritised areas such as health care, construction and agriculture.
PM Ardern lauded the organisation of the Economic Forum and the Education Forum on the occasion of the visit, expressing her belief that the positive results of the forums will open up many opportunities for cooperation between the two countries after the pandemic.
She thanked Vietnam for quickly announcing the opening of the market for New Zealand's strawberries and pumpkins, less than a month after her visit to Vietnam.
NA Chairman Hue took the occasion to thank the New Zealand Government for supporting the Vietnamese community in the country.
National Assembly Chairman Vuong Dinh Hue and Speaker of the New Zealand House of Representatives Adrian Rurawhe. Photo: VNA
The same day, Hue also held talks with Speaker of the House of Representatives Adrian Rurawhe and head of the Foreign Affairs, Defence and Trade Committee of the Parliament Jenny Salesa in Wellington.
Highlighting the importance of people-to-people exchange, Rurawhe described Vietnam as a favourite destination for New Zealand people, with about 40,000 arrivals to the country each year before the pandemic.
New Zealand will provide more scholarships for Vietnamese students, he revealed.
The two sides agreed on the need to further strengthen economic-trade-investment cooperation, making it a driving force for development of bilateral ties.
Apart from traditional cooperation fields of education-training, tourism, culture, sports, labour, and agro-forestry-fisheries, they urged expanding joint work into new and promising areas such as digital transformation, energy transition and climate change.
The host hailed Vietnam for officially opening the market for New Zealand's strawberry and pumpkin.
Host and guest agreed to build a cooperation agreement between the two legislatures to create a legal framework for their ties, continue facilitating the exchange of delegations to share experience on legislation and personnel training, especially English language training, among their committees and offices.
They vowed to maintain consultations and mutual support at multilateral cooperation mechanisms as well as regional and global parliamentary forums to make active contributions to peace, stability, cooperation and development in the region and the world.
The New Zealand leader also promised to visit Vietnam at an appropriate time.
During the talks with the head of the Foreign Affairs, Defence and Trade Committee of the New Zealand Parliament, the two sides will also push ahead with the implementation of a memorandum of understanding on defence cooperation, and work towards the establishment of a defence dialogue and consultation mechanism at ministerial level.
They consented to enhance cooperation on training UN peacekeeping troops and maritime security, and consider expanding collaboration in the defence industry, military medicine, and search and rescue operations.
Hue also had a meeting with New Zealand's National Party leader Christopher Luxon, during which the top legislator affirmed the importance Vietnam attaches to relations with New Zealand in all Party, State, parliament and people-to-people exchange channels, including ties with different political parties of the New Zealand Parliament.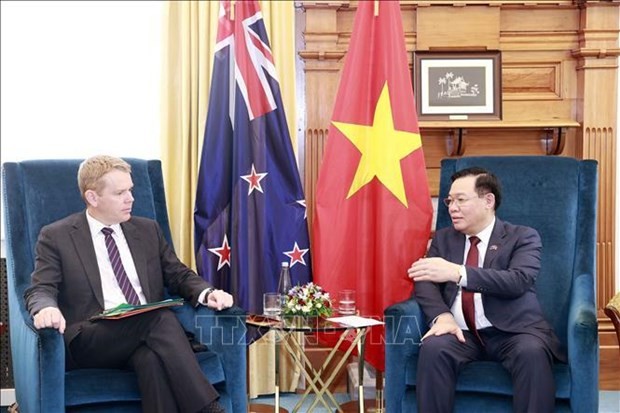 NA Chairman Vuong Dinh Hue and New Zealand's Education Minister Chris Hipkins. Photo: VNA
Meeting New Zealand's Education Minister Chris Hipkins, Hue emphasised that education-training is an important cooperation area in the bilateral ties, adding that about 3.5 million Vietnamese people will have demand for higher education by 2035.
According to the minister, the number of Vietnamese students in New Zealand has dropped to 2,700 compared with the pre-pandemic figure, and expressed his hope that it will grow in the time ahead.
Also on December 6, the Vietnamese legislator had brief meetings with MPs O'Connor and Melissa Lee, Co-Chairpersons of the New Zealand-South and Southeast Asia Parliamentary Friendship Group, and attended a question and answer session of the host Parliament before wrapping up his official visit.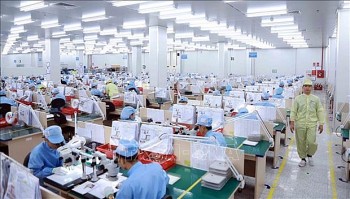 National
Vietnam News Today (Jan. 26): Vietnam - important partner of RoK; HCM City maintains growth momentum, reaps successes in 2022; Vietnam's tourism forecast to strongly rebound in five years; Many localities attract a large number of visitors during Tet.