Vietnamese 12-year-old artist sells art for US$150.000
At the age of 12, Xeo Chu is capturing the heart of art-lovers with his colorful abstract paintings which were sold at over US$150.000 and compared to masterpieces of American artist Jackson Pollock.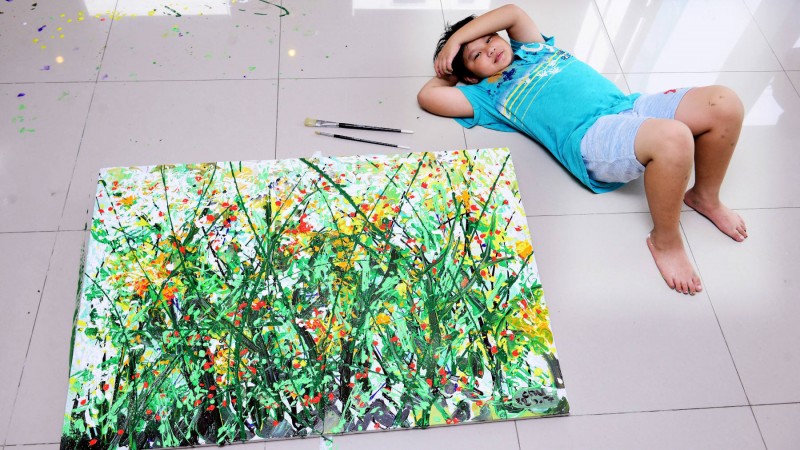 12-year-old artist Xeo Chu lies next to his painting. (Photo courtesy of Nguyen Hai Anh)
Six decades after American painter Jackson Pollock passed away, a 12-year-old Vietnamese artist often likened to the abstract-expressionist giant has opened a solo exhibition in the home of many Pollock masterpieces.
Georges Berges, whose Georges Berges Gallery in New York City is hosting Xeo Chu's "Big World, Little Eyes" show, is convinced that the boy is a young Jackson Pollock.
Since being introduced to Chu through a client in Asia, Berges has often wondered whether artistic ability can be taught or is inborn. And he believes that Chu has a natural gift, he told Nikkei at the gallery in Manhattan's SoHo district.
The seventh grader has already caught the eye of contemporary-art collectors in Asia. Collectors in Japan have acquired his work, and Vietnam and Singapore have hosted his solo exhibitions.
Nine of Chu's pieces are on display at Berges' gallery until Jan. 2. His biggest piece, "Ha Long Bay in Cave," measures 200 by 480 cm and carries a $150,000 price tag.
Many of the works are larger than the artist himself. "Ha Long Bay in Cave" was specially drawn for this occasion as Chu prepared a big piece for the big country, the U.S.
"I like to draw landscapes," Chu said in an interview. "I draw what I see."
"So, I travel around" and take pictures that he later skillfully transforms into paintings.
He depicts rolling blue waves in "Ha Long Bay Day Time," bright red foliage in "Autumn in Canada 3," and a burning golden sun in "Ha Long Bay Sunrise."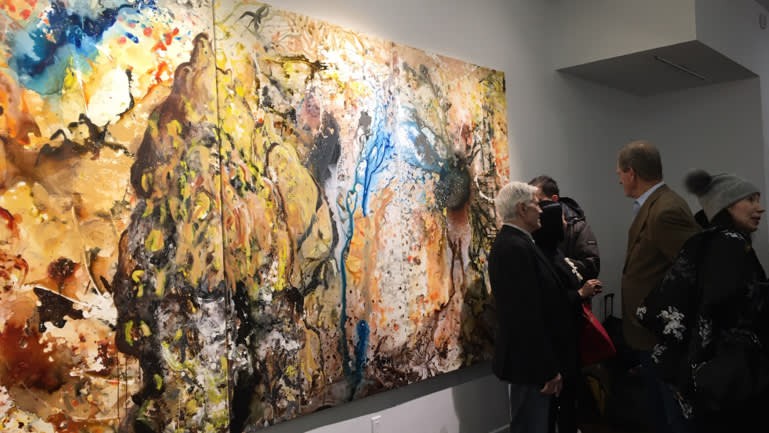 Xeo Chu's "Ha Long Bay in Cave,'' on sale in New York for $150,000. (Photo by Maho Kawachi)
Chu's youthful energy manifests in a dance of thick colors and strong brushstrokes. Scenes are atmospheric and capture the essence of what he sees in the real world.
Does he not draw cars, rockets and dragons as ordinary 12-year-old boys might? "I don't like to go into detail too much, because it's kind of tiring," he said. "I don't do it too much."
At age 4, Chu asked to join his two older brothers who were being taught how to draw by an art teacher. It did not take long for his abilities to shine.
"
His talent suddenly appeared," his mother said. His brothers eventually realized that drawing was not for them, but Chu continued. His mother runs a gallery in Vietnam -- and through her connections and enthusiasm, Chu's work began to bloom.
Today, he learns to paint twice a week. Chu's teacher treats him like a fellow artist.
"My teacher is also an artist," Chu said. "He has a special way of teaching."
"He lets me choose," Chu said. "I can draw what I want to draw, use this color, but sometimes he makes suggestions like, 'Oh, that would look better.'"
Despite the embrace by the art world, Chu has yet to decide his future and does not even know whether to go to art school.
"I'm not sure right now, because later when I grow, I might change my mind," Chu said. "Now, it's fun. But I'm not really sure yet."
For the time being, though, one thing is very sure: His pieces are becoming hot commodities. Perhaps Chu's work will grace the walls of the Metropolitan Museum of Art or the Museum of Modern Art the way Jackson Pollock's do.