Vietnamese aquatic exports reach US$2.39 billion in first 4 months of 2021
According to the Ministry of Agriculture and Rural Development, aquatic exports of Vietnam hit an impressive of US$2.39 billion during the opening of the first 4 months of 2021, representing an increase of 6.1% compared to the same period last year.
April alone saw the country's seafood export value stand at an estimated US$650 million, according to VOV.
The United States, Japan, China, and the Republic of Korea were the leading four consumers of Vietnamese aquatic products in the reviewed period, accounting for 57.2% of Vietnam's total seafood export value.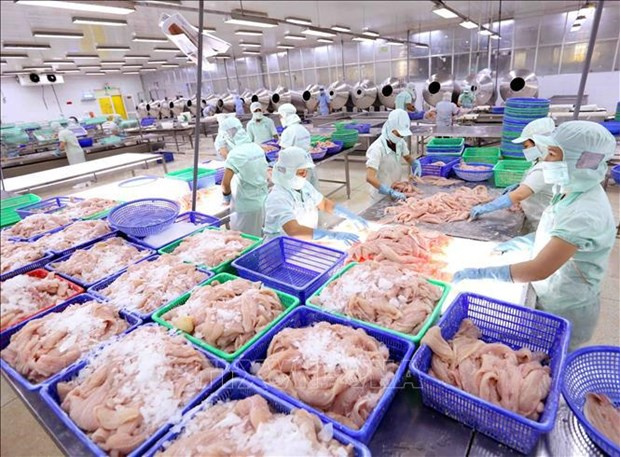 Vietnam's aquatic product exports increase by 3% in the first quarter of 2021. Photo: VNA
Most notably, seafood export value during the first quarter enjoyed a rise in the majority of markets. The strongest growth was recorded in Russia which rose by 55%, followed by the US, Japan, and the EU.
The reviewed period saw the aquatic import value surge by 22.1% to US$679 million against the same period from last year.
In contrast, the country's seafood imports over recent months have mainly come from the Indian market, accounting for 15%, trailed by the Norwegian and Chinese markets, which made up 11.3% and 9.2%, respectively.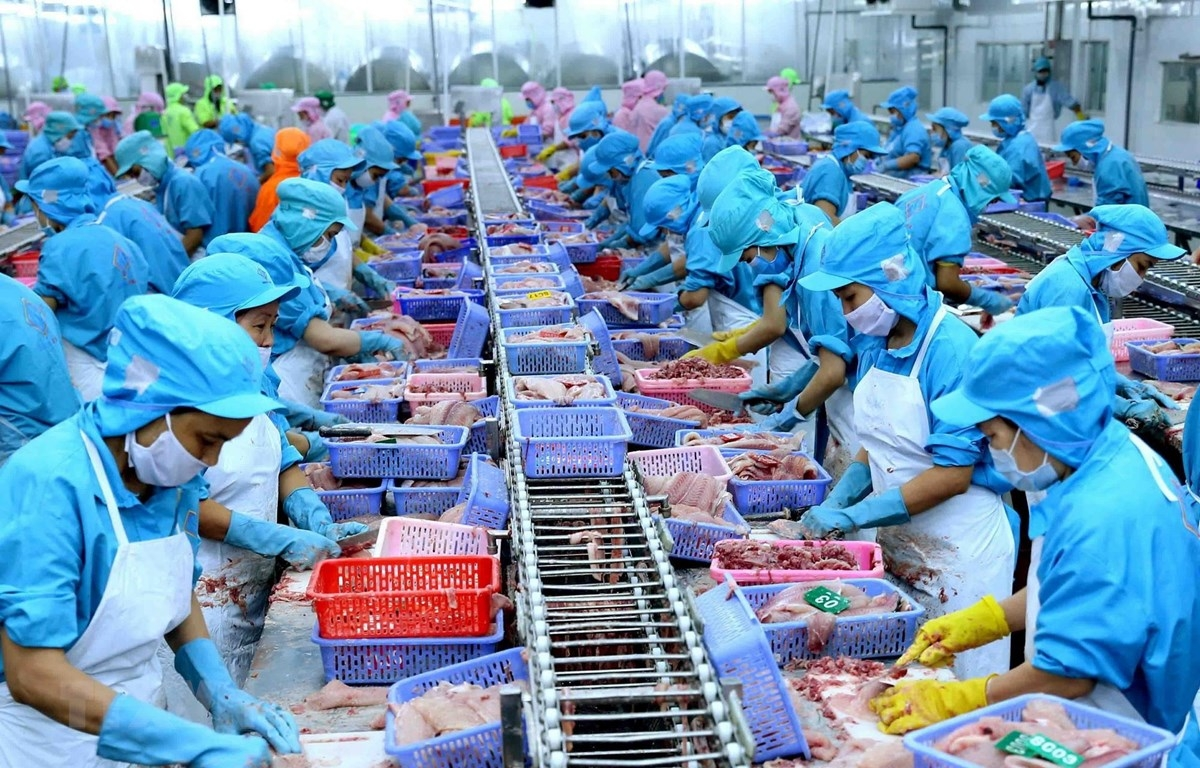 Photo: VOV
Vietnam's aquatic exports in March, first quarter and forecast for 2021
Vietnam's export turnover of aquatic products in March has been estimated at around 640 million USD, bringing the total for the first quarter of the year to 1.64 billion USD, up 3 percent year-on-year.
According to the Vietnam Association of Seafood Exporters and Producers (VASEP), the global shortage of containers began to improve in mid-March and China has loosened its pandemic control measures over imported goods, thus boosting Vietnam's aquatic exports.
Photo: Vietnamplus
After increasing by 16 percent in January, shrimp exports were down 10 percent in February but bounced back to grow 10 percent in March. Total export turnover is estimated at 646 million USD in the first quarter, up nearly 3 percent year-on-year, Vietnamplus reported.
Tra fish exports, meanwhile, enjoyed growth of 11 percent in March after falling 5.5 percent during January-February. Vietnam earned a total of 336 million USD from exporting tra fish in the first quarter, a slight rise of 0.6 percent year-on-year.
Thanks to preferences in the EU-Vietnam Free Trade Agreement, the export of squid and octopus to the EU market is also recovering, pushing up export value by 8 percent in March.
Aquatic businesses said the COVID-19 pandemic remains serious in many traditional export markets, causing demand for several key Vietnamese aquatic products to fall but opening up more opportunities for dried and canned products.
VASEP predicts that aquatic exports will not recover strongly in April, with growth reaching only 10 percent to 680 million USD.
Vietnam's aquatic product exports forecast to reach 9.4 billion USD in 2021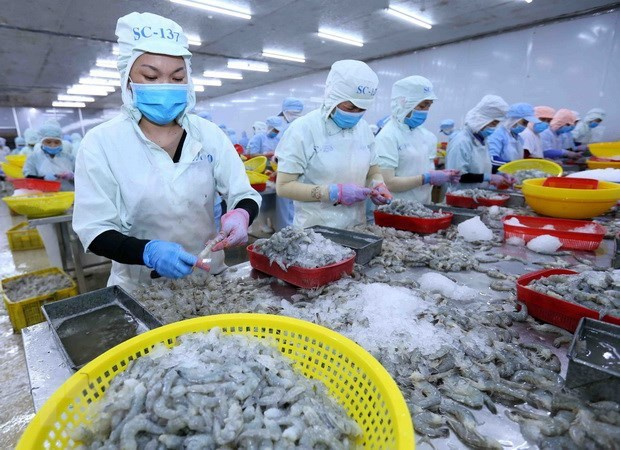 Aquatic product exports forecast to reach $9.4 billion in 2021. Photo: VNA
Vietnam's aquatic product exports are expected to rake in 9.4 billion USD this year, a surge from 8.5 billion USD in 2020, driven by a strong rebound in demand of export markets and the support of free trade agreements, according to the Vietnam Association of Seafood Producers and Exporters (VASEP).
Analysts of FPT Securities JSC (FPTS) predicted Vietnam to continue increasing shrimp output in 2021, reaching 730,000 tonnes, up 4 percent year-on-year.
Stable supply will be an advantage for Vietnamese shrimp exporters to expand their market shares in export markets.
The prices of exported shrimps are also forecast to rise slightly by 5 percent to an average of 9.6 USD per kg, according to an FPTS report.
Meanwhile, experts from BIDV Securities Company said that it is difficult for Vietnam's shrimp sector to enjoy high export growth in 2021, as the production of competitive countries such as India and Ecuador begin strong recovery, especially when the two countries' shrimp prices are 10-15 percent lower than that of Vietnam.
However, the shipment of shrimps to the EU, which accounts for 21 percent of Vietnam's total shrimp export turnover, is expected to be supported by the EU-Vietnam Free Trade Agreement (EVFTA).
The tariffs imposed on frozen shrimps were slashed to zero percent immediately after the EVFTA became effective on August 1, 2020, while those on processed shrimps will reduce to zero percent from January 1, 2027.
The output of Vietnam's tra fish is also forecast to maintain uptrend this year.
FPTS expects that the export will bounce back thanks to increasing demand of Vietnam's main importers such as China, the US, and the EU.
Vietnamese businesses' efforts to focus on value added processed products which meet all requirements on food safety and origin traceability of products will be paid off, with the export value of processed tra fish to surge in 2021.