Vietnamese Bride and Surprises in India
Do Thi Y's marriage to her businessman spouse in Bangalore, India, exemplifies hot cross-border romances can be passionate and loving.
According to Do Thi Y, Porithosh Shetty made the decision to visit Da Nang in October 2019. He unintentionally came upon her—a nurse employee at a medical facility in District 5—on a dating app while in transit in Ho Chi Minh City.
Porithosh Shetty confidently made his approach after being taken aback by the smile and the petite figure. After two years of social isolation due to the Covid-19 pandemic, they are finally united at a stunning wedding in India by honesty, tenacity, and charm.
Do Thi Y spoke with the press about the delights, joys, and surprises of being a bride in Bangalore, a foreign country she had never been to before.
The inability of Vietnamese brides to marry Indian men is mostly due to cultural barriers. How are things now that you're in Bangalore?
Of course, each country, each region, and even each family is different in culture and living habits. But that's not difficult for me.
I am fortunate to meet my husband and his family who are very understanding and do not force themselves to change anything. My husband said that if I change to fit and adapt to Vietnamese-Indian family life, both of us must change, not change from my side alone.
In Vietnam, my family only worships grandparents, here my husband's family is Hindu. I see that my mother-in-law burns incense every day, before burning incense, she will not eat salty food, so she always burns incense before eating time.
My husband goes to the temple once a year. Hindus do not eat beef, but my husband's family does not force me to follow, I still eat normal beef. My husband understands that I have to be far from my hometown, away from my family, and coming here to live is a great sacrifice and loss. He always thanked me for that and never demanded anything from me. Even the local language he didn't want me to learn.
My current life in Bangalore is very comfortable. My husband's family has a maid, only when I crave Vietnamese food, I cook it myself, and in my free time, I exercise.
The weather in Bangalore is cool all year round. As a businessman running a private hospital and resort business, my husband's family has many relationships and friends that make my life always happy.
I find that the energy of Indians is so great that outside of work, they can party and dance all night. Dancing has been an integral part of Indian culture and they can dance anywhere, anytime as long as there is music.
Do Thi Y's name is Yuly Shetty in India. Photo: NVCC
She is a very lucky Vietnamese bride to have such wonderful in-laws. However, to quickly integrate into life in India, Vietnamese brides must also prepare in advance for the necessary skills, right?
In my opinion, the first thing Vietnamese brides need to prepare is the language. In India, English is used as the primary language along with dialects. Children are bilingual from a young age (in India, each state uses a different language).
Currently, all administrative paperwork, working in offices, offices, movies, books... are in English, of course, there are versions of each local language but the quantity is very small. English is the first language to communicate here, so you just need to prepare well this language to communicate with people easily. Having the language, the opportunity to find a job is also more.
I have not seen any Indian sisters-in-law who have to learn the local language. Even though my current English is not very good, my husband is always encouraging like this, it's a lot of progress. When we first met, I couldn't even speak English and I have to use Google translate to talk to everyone.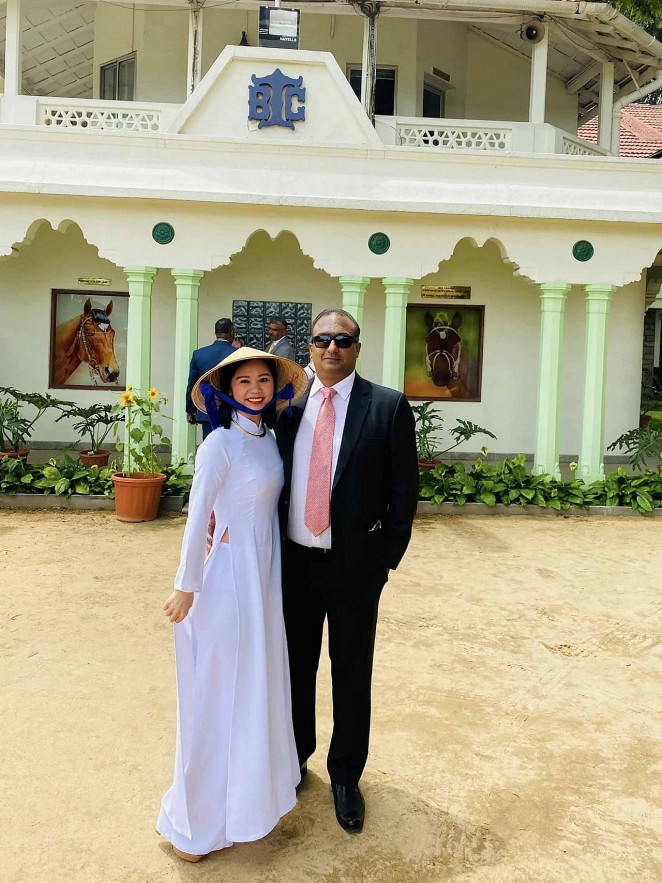 Italy and her Indian husband, Porithosh Shetty. Photo: NVCC
Being away from family and hometown to become a bride in a strange country, Vietnamese friends here must be another spiritual fulcrum for you?
Vietnamese women who have married Indian men participate in chat groups on social media to discuss, support, and/or just give tips on where to find the ingredients for Vietnamese cuisine. There aren't many green veggies, they're expensive, and you have to know where to get them. Indians often eat more veggies with roots.
In contrast to other nations, the number of Vietnamese-Indian partnerships is really relatively low. Due to the size of the nation, Vietnamese brides are dispersed throughout many states and towns. Since it is difficult to meet in person, we primarily communicate online.
However, Bangalore is also home to roughly 20 Vietnamese brides. Only three or four sisters who are near to one another have the chance to get together sometimes to prepare Vietnamese food or go outside to play since they are spread out so far apart. We just had a gathering to honor Vietnam National Day.
Have you also set up a number of personal channels on social networks and attracted many followers?
To show people the truth of bride life in India, I created the Indian Bride YouTube channel and Indian Bride Fanpage - Life in Bangalore, India because a lot of misinformation about Indian culture and people is untrue. When I first heard these tales in the past, I was likewise terrified, but once I moved here, I had a series of pleasant surprises.
Everything from the simplest details, such as how each household organizes their rubbish at home, to motorbikes being left on the street day and night, is being done to reduce the usage of plastic bags. You won't have to worry about getting pickpocketed if you leave it inside the home, walk outside, carry your phone, or wear jewelry.
I believe Indians to be quite civilized, courteous, kind, truthful, energetic, and welcoming. The nightlife is really colorful and energetic.
It is fully up to each person's preference in terms of food. Even though I enjoy eating a lot of Indian food, I only do it once or twice a week. The rest of the time, I continue to consume Vietnamese food (laughs). Additionally, I always introduce Vietnamese and Vietnamese food to everyone I meet in Bangalore as well as my husband's family, friends, and relatives.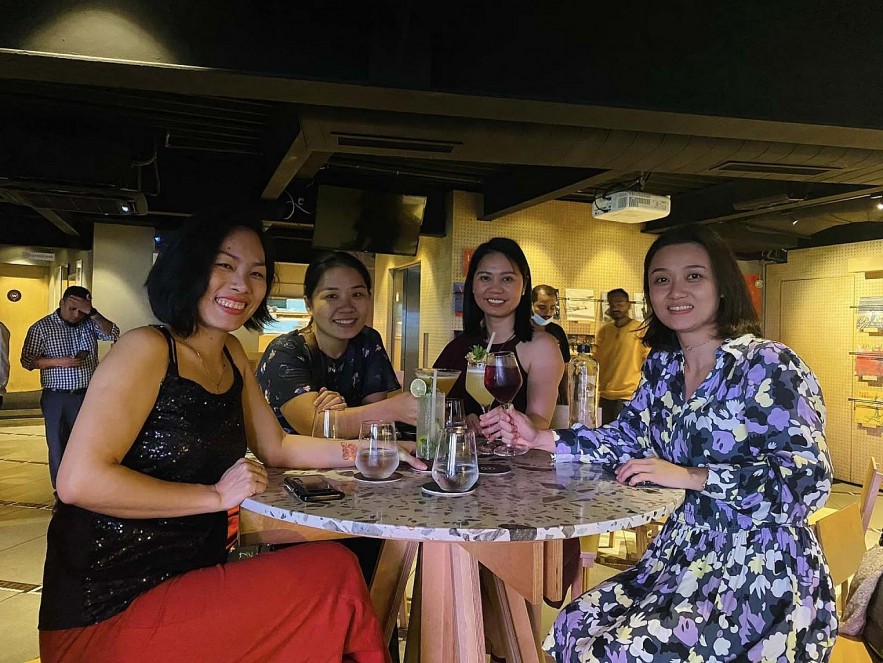 Vietnamese brides in India meet on the occasion of Vietnam's National Day September 2. Photo: NVCC
What are your family's and your Indian friends' opinions about Vietnamese food, culture, and people?
Many of the friends of my spouse have visited Vietnam. They say our nation is lovely, the people are welcoming, and the food is particularly delectable and healthy.
I cook Vietnamese food for everyone whenever my buddies come over here. Previously, my spouse was a decent cook who produced cuisine that everyone enjoyed. He still makes fun of me, though, saying that since I'm more well-known than he is, everyone enjoys the Vietnamese cuisine I make.
Vietnamese salads in particular are adored by everybody and have earned the moniker "woman salad" myself.
My husband always earns with spices and food so that I may prepare Vietnamese food because he is concerned about what I like and detest.
Thời Đại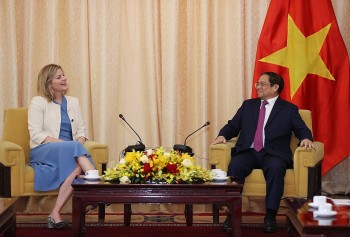 National
The Netherlands committed to cooperate with Vietnam, and together find innovative and sustainable solutions to accelerate green economy transformation.