Vietnamese laborers sweat to land well-paid jobs in Japan
They have to spend months on special training programs before starting their job overseas.
They have to spend months on special training programs before starting their job overseas.
In order to secure a highly-paid job in Japan, many Vietnamese laborers have to undergo strict, and unusual to some, recruitment and training programs as required by employers.
With an attractive salary of about VND30 million (US$1,320) a month, much higher than the average payroll in Vietnam, these jobs are of course highly demanding and require many special qualifications.
At a job center in the south-central Vietnamese province of Binh Dinh, a group of 30 candidates of Bien Dong Labor Export Company were waiting for their job interview with a Japanese recruiter.
After some formal introduction, Fujikawa Koji, labor union president of Business Networkcoop, started the session with a math test, aimed at evaluating the candidates' swiftness and accuracy.
They then moved on to other rooms where their Japanese speaking skills, eyesight, physical strength, and memory tested.
The Vietnamese candidates underwent challenges such as origami, solving puzzle pieces, and doing push-ups.
Vietnamese workers take part in a Japanese language class in Ho Chi Minh City. Photo: Tuoi Tre
After the hours-long interview, Koji selected six out of the 30 candidates to work at four agricultural businesses in Japan.
At another career center in southern Vietnam, some 20 female job seekers were sweating as they performed a test given by a representative of Kabushiki Gaisha Epoch Company.
The women were asked to pick up peanuts with chopsticks, sharpen pencils, and sew a pair of underpants in 10 minutes, as part of the test.
The firm was expected to recruit six Vietnamese employees, Kanawa, the company director, said, adding that only three candidates were qualified.
"I didn't think the test would be this strange," Truong Thi Thu Huong, a candidate from the Mekong Delta province of Ben Tre, said.
Once employed by businesses from Japan, Vietnamese employees are required to participate in special training sessions which equip them with necessary skills to begin their job abroad.
At a training center in Ho Chi Minh City, 12 workers were doing a series of tasks assembling an underground pipeline system, which was monitored by Jo Tetsuya, a representative from Japan's Real Construction JSC.
Vietnamese laborers practice assembling a pipeline system to get ready for their job in Japan. Photo: Tuoi Tre
The trainees have been learning for two months to basically master the skill.
According to Maezawa Masatoshi, general director of the firm, all recruits have to partake in training programs exclusively designed by their employers prior to their employment in Japan.
Such programs can cost up to $6,000 in Japan, Masatoshi said, adding that to reduce the expenditure, equipment is transported from Japan to Vietnam to facilitate local training sessions.
The Vietnamese laborers are given an opportunity to practice in an environment similar to one in Japan, he elaborated.
Following their recruitment, Vietnamese workers will live in a dormitory for six months, where they take Japanese classes, improve physical health, and learn about Japanese culture and etiquette, said Luu Viet Hung, head of the recruitment department of the Ho Chi Minh City-based Global Manpower Services JSC./.
VNF/Tuoitrenews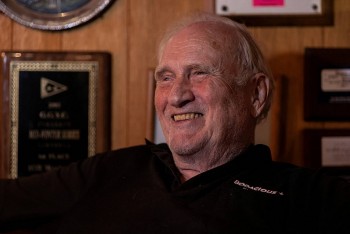 World
Alain Aspect, John F. Clauser, and Anton Zeilinger have won this year's Nobel Prize in physics for their work in quantum mechanics, Sweden's Karolinska Institute announced on Tuesday.