Vietnamese Lychee Available in US Market
The initial batch of fresh lychee grown in the northern province of Bac Giang province, which is dubbed Vietnam's kingdom of the fruit, has arrived in Houston, Texas state in the United States by air.
This year, Vietnam's combined lychee output is expected to reach 330,000 tonnes. Photo: VNA
The shipment was imported by LNS International Corporation and subsequently distributed by L&V Food Supply Company in Houston, according to VOV.
At present, fresh Vietnamese lychee is being sold at many locations in the area, including major supermarkets such as Hong Kong, Tan Binh, Viet Hoa, Linda's Tropical Fruits, and Ca Mau in June.
A representative of LNS Company noted that following the initial success of bringing fresh lychee shipments to the US, LNS will continue to co-operate with partners to import and distribute all kinds of Vietnamese agricultural products to several US states this month. This is along with encouraging Vietnamese enterprises to improve their reputation among US consumers moving forward.
Nguyen Manh Quyen, head of Vietnam Trade Office's branch in Houston, said the office has coordinated with the Consulate General of Vietnam in Houston and US partners in order to instruct and support businesses as they bring shipments of agricultural products, including fresh lychees to the most demanding market in the world.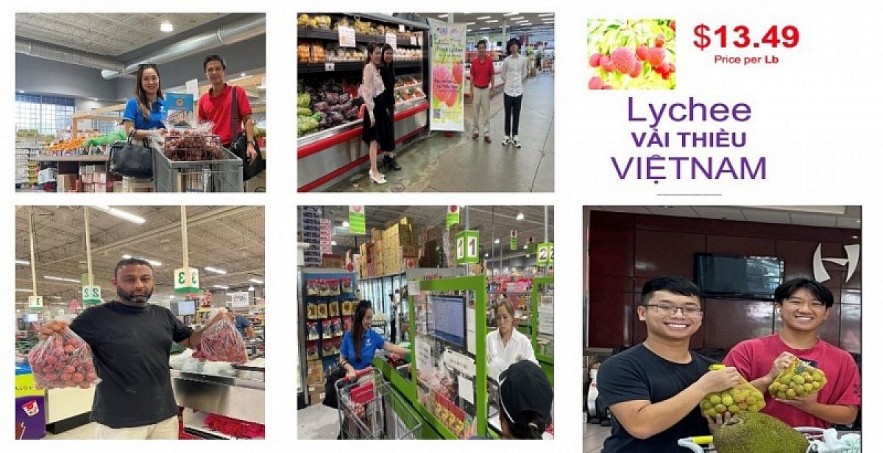 The initial batch of fresh lychee grown in Bac Giang province has arrived in Houston, Texas state in the United States by air. Photo: VOV
He therefore advised enterprises to conduct in-depth research on the market demand and devise a proper marketing strategy before exporting their products to the US market.
On June 16, the first batch of Vietnamese seedless lychees arrived in the UK, becoming the fourth specialty fruit of Vietnam exported via the official channel to the demanding market this year, VietnamPlus said.
The batch was imported by TT Meridian – a distributor of Vietnamese lychees and agricultural products in the UK. The seedless lychees were grown in the north central province of Thanh Hoa's Ngoc Lac district.
Thai Tran, managing director of the company, said the retail price of the seedless lychee ranges from GBP16-18 per kg, GBP 3-4 higher than the normal one.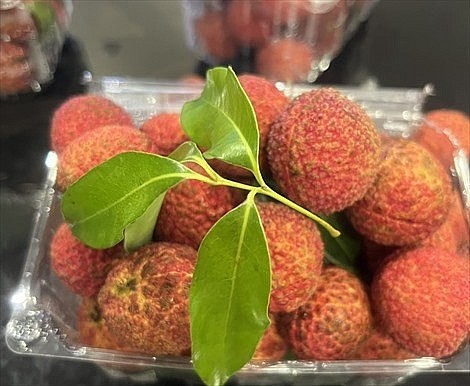 Vietnamese seedless lychees. Photo: VNA
If its quality and price are welcomed by the UK market, the company will import about one tonne a week in June and July – the harvest season of lychees in Vietnam, he noted.
He said that the company's whole process from harvesting the fresh fruits at farms in Vietnam to selling them in the UK takes only 36 hours.
According to Thanh Hoa's official portal, Ngoc Lac seedless lychees are produced following VietGAP, GlobalGAP, and organic standards qualified for export to Japan, Canada, and Europe. The fruit when ripen has a bright red colour, with its crispy pulp tasting slightly sweet. This variety, imported from Japan, has been grown across about 30ha in Ngoc Lac by Ho Guom - Song Am High Tech Agriculture Limited Liability Company since 2019. This is its first year of harvest with an estimated output of over 20 tonnes./.