Vietnamese man brings poor children to school on bike for past eight years
A brand new motor cart has been funded for him to continue his good deed
A man in a border town in southern Vietnam has been taking local children to school on his old motorcycle for the past eight years.
Nguyen Van Hoi carries children to school on the new motor cart in Phu Hoi Commune, located in An Giang Province. Photo: Pham Minh Hien
After the story of Nguyen Van Hoi was reported in local media, readers and benefactors across the country have expressed their admiration and funded a brand new motor cart for him to continue his good deed.
Hoi, a 40-year-old single man, lives with his elderly mother in Phu Hoi Commune, An Phu District, An Giang Province, which is next to the Cambodia-Vietnam borderline.
With the hope for all children in the locality to be able to go to school, Hoi has been using his motorcycle to bring local kids to school.
These young children are students of an elementary school. They mainly come from poor families and could not go to school due to a long distance from home.
The motor cart is specially designed for the transport of young students. Photo: Pham Minh Hien
"For these children, to study is to survive. I cannot just let them give up the education they deserve and continue living in such difficult circumstances," Hoi said.
The man starts his normal day at 4:00 am by preparing meals, tidying up the house, and taking care of his mother, before heading out at 5:00 am.
Hoi arrives at the houses of local kids and take them to school on his motorbike.
He carries three kids each turn and is able to bring all 60 students to the school before 7:00 am.
The man has done that during the past eight years.
Nguyen Van Hoi carries three children on his old motorbike. Photo: Pham Minh Hien
All the children he has been helping now call Hoi their "father."
Local residents have also showed great admiration for the man.
With the new motor car, Hoi's dream has come true as the vehicle will ensure safer journeys for the young students.
The motor cart is equipped with a roof to protect them from the weather.
"I thank you all for making my little dream a reality. This is the foundation for bigger dreams to be fulfilled," Hoi said./.
VNF/TTO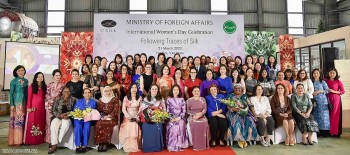 Friendship
Female ambassadors, representatives from diplomatic corps and international organizations, along with spouses of diplomats in Vietnam gathered together to find about more about silk weaving and silk products in Vietnam.