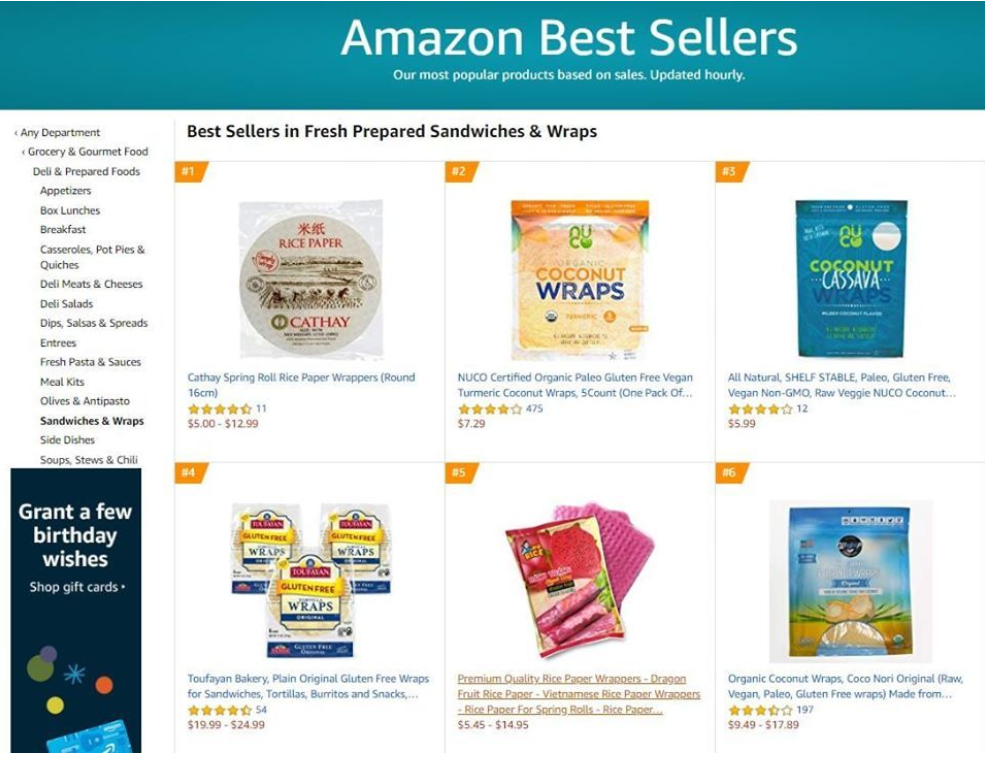 Vietnamese product on Amazon. Photo: Vietnam News
The small workshop first located in the attic with a limited number of only 4 employees has now transformed into one 300m2 factory with 35 employees. These rewards are accomplished after business finds a way to approach Amazon and sells hundreds of products to customers.
Bringing Vietnamese products to the international market
Being asked about the successful story when switching to selling products online on Amazon, Ms. Han Nguyen, the owner of one Vietnamese brand called Andre Gift Shop, shared that before going global and making their way onto Amazon, her main focuses were Vietnam market and wholesale to a number of foreign customers. However, limited direct communication with customers made it difficult for her to understand customers' interest and expand the business.
In 2013, Ms. Han discovered the opportunity to bring her products to international market vide Amazon. Even though e-commerce had not really been active in Vietnam at that time, Amazon is a worldwide well-known brand.
Ms. Han shared that foreign markets are potential playground for handmade products "made in Vietnam". Sales on Amazon account for 50% of the company's online sales. The small workshop first located in the attic with limited number of only 4 employees has now transformed into one 300m2 factory with 35 employees.
The owner of Ecomstone, another established handmade business on Amazon, believed that Vietnamese products are qualified in sophistication and are ready to compete to foreign products. Instead of importing, why don't we bring our Vietnamese goods to international markets? Pondering the question, Mr. Trieu decided not to take a traditional path and go global in e-commerce platform, Amazon to be specific.
With the support of Amazon Global Selling program, Ecomstone revenue has increased by 150% in only one year. The one and only benefit for him is more family time and bonding activities, since most of his work is conducted by Amazon.
These stories provide a vivid understanding of the potential of cross-border e-commerce. Studies show that by 2022, value of e-commerce worldwide will reach around 3300 billion USD, 6 times more than value of traditional business.
Crazing for straw soft brooms and conical hats
Vietnamese people have been very proud since many "made in Vietnam" products are available on Amazon. Recently, dry noodles and rice paper made by young owner Mr. Duy Toan appeared in the top keyword in research tools on Amazon after a short time being on the market.
The cooperation with Amazon is expected to promote export and expand markets for Vietnamese businesses, especially for small and medium-sized enterprises. Vietnamese agricultural goods is now having the opportunity to reach millions of customers across the world.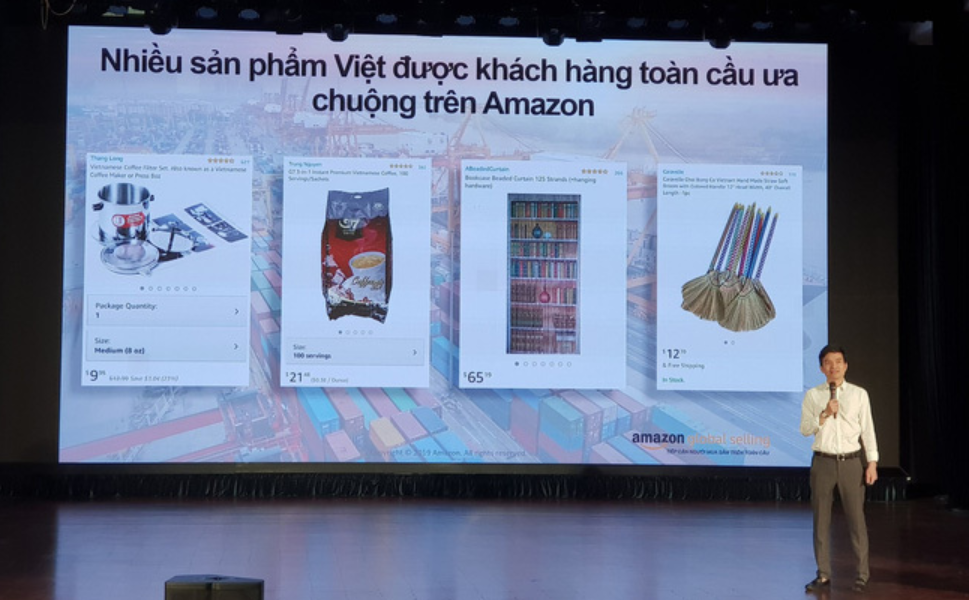 Photo: Vietnam News
Most recently, Trung Nguyen coffee has joined in with Amazon to open a coffee supermarket on this e-commerce platform. Leaders of Trung Nguyen brand said that this is a chance for this group to reach farther to customers in the US, China.
Interestingly, Vietnamese products on Amazon are not those of high-end segment, but are very close and bring high revenue, namely straw soft brooms, conical hats, rattan baskets, etc. Vietnamese tins of Golden Star Balm, top selling products on Amazon, cost dozens times higher than in domestic market. After 7 days on the market, "made in Vietnam" rattan baskets appear in Top 10 Best Selling Products and Top 3 Keywords in Searching Tool on Amazon.
According to Ministry of Industry and Trade, more than 200 Vietnamese businesses have sold their products on Amazon and this number will increase much more if taking individuals into account. Some Vietnamese products of high interest in this online platform include foods, functional foods, fashion and traditional handicrafts.
Exporting via e-commerce platforms is an inevitable trend and has become an important exporting channel for enterprises. Through Amazon, Vietnamese enterprises have the opportunity to expand their business in global market and build international brands. Currently, Amazon has e-commerce sites in 18 countries, supports in 27 languages and offers a wide range of merchandise. Selling businesses on Amazon come from more than 130 different countries. Significantly, Amazon has 175 order fulfillment centers around the world which provide assistance to sellers in delivering products to buyers in 185 countries and regions.
The COVID-19 pandemic is driving exporting activity down. In the meantime, e-commerce has developed at fast pace in some parts of the world. With no doubt, this trend will realize the desire to conquer global market in a shorter period of time.
Valerie Mai