Vietnamese student describes experience of lockdown at China school amid epidemic
A student from Việt Nam has spoken about her concerns as she remains locked down at a university in Zhejiang Province, China.
Đỗ Khải Ly is one of three Vietnamese students studying at Zhejiang Sci-Tech University in Hangzhou City, but her two friends have already returned home.
Zhejiang Province is the worst-hit region after Hubei Province, and 30 million residents there have been in lockdown since early February.
As COVID-19, the official name of the disease caused by the new coronavirus, continues to spread around China, Ly has been self-quarantined at her university, but says despite the epidemic, she feels safe.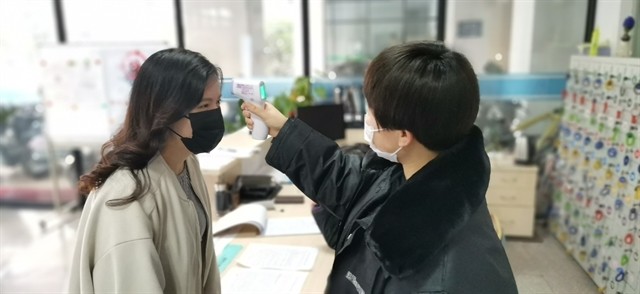 Đỗ Khải Ly has her temperature checked by staff at the Zhejiang Sci-Tech University. — Photo Asim Mushtaq
"My family call to check on me every day as they are all worried about the situation here," said 27-year-old Ly. "But I assure them I am fine.
"My university has taken good care of us. Here we can buy food and basic necessities from the school's canteen.
Ly, from Đà Nẵng, is in her final year of a Masters in Textile Chemistry, Dyeing and Finishing Engineering.
She said the city she lives in feels deserted, but is confident the authorities are doing all they can to fight the virus and ensure the safety of those living there.
Ly told Việt Nam News: "Hangzhou City is one of the 15 cities of China which is in quarantine and at present everyone has to follow the order of the government to stay inside at home.
"Our university had the order for all international students as well as Chinese students to stay in their home town or dormitory without going back to university before the opening time.
"All the outdoor activities are stopped, all public transportations are limited and every place is closed, especially the crowded places like the west lake, the shopping malls are totally closed to stop the spreading of coronavirus.
"We have to prepare our food and necessities and stuff inside our room. We have received one notice from our university that there is a possibility to return in the middle of March but it is not confirmed yet."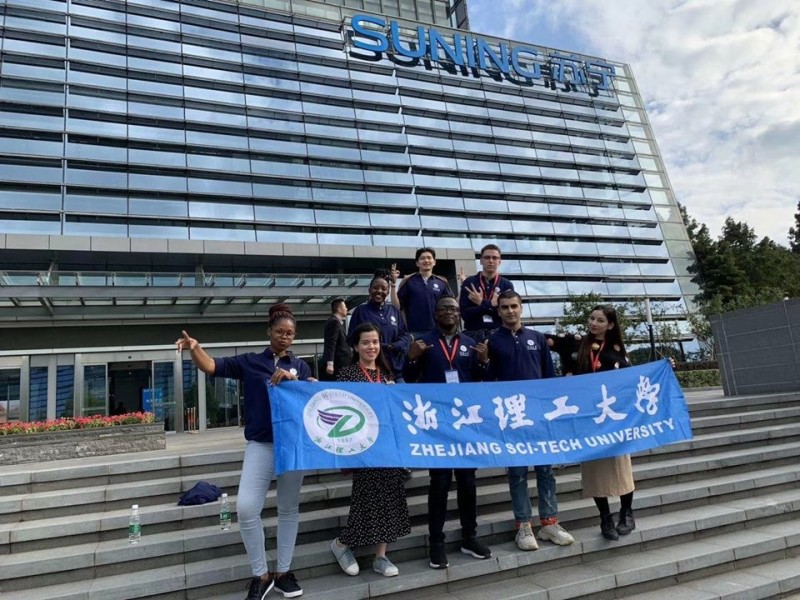 Đỗ Khải Ly and her friends in class before the COVID-19 epidemic broke out
She said: "Since the first day of coronavirus all the teachers have noted daily about the prevention, how to disinfect ourselves, how to avoid the crowded public places.Although the city's usual vibrant atmosphere is no longer there, Ly says all the residents are following the orders of the authorities to minimise the risks of spreading the virus.
"On the day the quarantine order was released by the government, one day before that our university teachers inform us to buy a lot of food, necessities and stuff and medical masks to survive for a minimum of two weeks.
"I really appreciate the co-operation of Chinese citizens and international students and foreign people here, they follow all the orders of Government to stay inside and will stop all the outside crowded activities.
"There are many students and most of us follow really strictly the order of the government and university to quarantine ourselves in the room. This is good and safe for our survival these days."
Ly believed that the Vietnamese embassy is doing its best to help students in affected regions, especially those living in Wuhan City, the epicentre of the epidemic. Some were given help to return to Việt Nam. but Ly says she has no intention to come back home at the moment.
"I want to finish my Masters' graduation thesis and the risk for infection is even higher if I travel back home now."
As of Feb 19, mainland China has recorded 74,185 infected cases and over 2,000 deaths./.
VNS