Vietnamese teacher honored at Microsoft Education Exchange
A Vietnamese English teacher from Hanoi was among several 'Microsoft Innovative Educator Experts' honored at the 2019 Microsoft Education Exchange (E2) held in France earlier this month.
Tran Huong Quynh holds a Vietnam's national flag at the 2019 Microsoft Education Exchange in Paris. Photo: Microsoft
The U.S. software giant hosted its fifth annual Education Exchange conference in Paris on April 3-4 with more than 300 educators and education system leaders from a combined 109 countries and territories exchanging ideas to develop innovative experiences in classrooms.
The attendees, called Microsoft Innovative Educator Experts, gathered at the annual event to exchange ideas of improving experimental classes and new teaching methodologies to form highly interactive classes as well as modern teaching and learning skills.
Over the course of three days, some of the innovative educators were recognized and celebrated for their achievements for combining content, pedagogy and technology in exemplary ways to prepare students for success in the digital age.
Tran Huong Quynh, an English lecturer of the Hanoi National University of Education, represented Vietnam at this year's event, as she joined five other Asian educators in Team 45, which took home top honors of the Educator Challenge with a higher-ed lesson plan titled "Collaborative and Inclusive Trip Planning."
"By focusing on pre-service trainee teachers, the lesson stood out as fully encompassing this year's themes of creativity, inclusion, student voice and collaboration," Microsoft said in the event's recap.
Through their innovative lesson plan, Quynh and her teammates showed how trainee teachers could develop their own understanding of inclusive teaching methods by integrating real-world spaces and landmarks into the virtual world of Minecraft and amplifying student voices through feedback in Flipgrid.
Other teams were honored with the Student Voice, Creativity, Collaboration, and Inclusion awards.
"Every educator is a change-maker, making an imprint on the lives of the students who will be the leaders, innovators and creators of the next generation," said Anthony Salcito, Vice President of Microsoft Education.
"Some truly go above and beyond, pushing into unknown territory to bring new technology and techniques into their classroom to inspire and engage their students and prepare them with the skills they'll need to thrive in the jobs of the future.
"It is a joy to host this event each year to celebrate educators who are changing education and changing lives."
VNF ( TTO )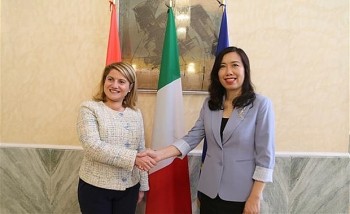 Friendship
The Vietnam - Italy political consultation is part of the occasion of the 50th anniversary of diplomatic ties and the 10th anniversary of the framework of the strategic partnership.