Vietnamese woman spends 10 years educating kids on health, environmental protection for free
A woman in southern Vietnam has spent 10 years of her life teaching kids about health, environmental protection, and other social skills to protect themselves.
A woman in southern Vietnam has spent 10 years of her life teaching kids about health, environmental protection, and other social skills to protect themselves.
It was a Sunday when more than 30 children aged from 6 to 14 excitedly flocked to the class of Nguyen Thi Le Huyen, also called Mrs. Hai, where they were taught basic knowledge of nutrition and disease prevention.
In the classroom located in Ba Ngan A Hamlet, Dai Thanh Commune, Nga Bay Town, Hau Giang Province, the 65-year-old teacher asked her students to review their previous lesson on HIV prevention before starting the new lesson on dengue fever.
Mrs. Hai and her students in her tuition-free class. (Photo: tuoitrenews)
"Dengue is dangerous because there is no vaccine against or antidote to it," Mrs. Hai told the students, emphasizing that children who are infected with this illness could lose their lives. "It is better to prevent it than cure it."
She then taught the children the development cycle of mosquitos as well as how to kill them and their larvae in the hope that the kids could tell their relatives about the disease after the three-hour class.
Besides giving the kids knowledge of the environment and health care, Mrs. Hai has also taught them other skills to protect themselves from social issues through activities including dancing, painting, and performing dramas.
Mrs. Hai said she studied nursing at a vocational school and has experience in working for the commune's medical agency.
The idea of establishing a class came 10 years ago when she held a small event on the occasion of Vietnam's Mid-Autumn festival for local children.
"Children living in rural regions usually suffer from a lack of many things, including education and playgrounds," Mrs. Hai recalled. "They're mostly from poor families and have to work to help their parents at a very young age."
A free class came into being with support from the local government, and it has run every Sunday for the last 10 years.
Mrs. Hai often pides her lessons into two parts: disease prevention and nutrition.
"The main target is teaching students basic knowledge of health and nutrition so that they can take care of and protect themselves," Mrs. Hai expressed. "Then they can later tell their family how to protect them from diseases."
"Since she worked at the local medical agency for many years, Mrs. Hai has many interesting ways to help provide students with helpful knowledge so they can protect and look after themselves, then transfer this knowledge to other people," Nguyen Van Nhan, an official, said. "Her effort has had a good effect on society."
"Our hamlet hasn't had an epidemic for years," he added. "Children know how to protect themselves so they haven't become victims of accidents or sexual abuse."
Nhan said the local government has supported the class as well as presented the children with sweets to create more motivation for the teacher and her students.
"I practice every lesson Mrs. Hai teaches me after finishing my class," Pham Vuong Anh Thuy, an 8th grader from Dai Thanh Middle School, said. "For example, after learning about dengue fever, I cleaned up my house so that mosquitoes cannot live there and I also started sleeping using mosquito nets."
"I also told my relatives what I'd learned so everybody would join hands to prevent diseases," she added. "It's always fun studying with Mrs. Hai since we can play and sing."
According to Nhan, Mrs. Hai has tried her best to teach her students, despite her disadvantaged condition and illness, for she thought they needed her.
"I only think of the day my kids can help society using what I taught them, as well as teaching their children later," she stated. "That's enough for me."
VNF/tuoitrenews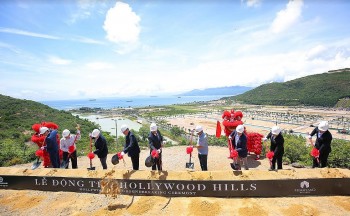 Economy
On October 2, at Hai Giang peninsula (Quy Nhon city, Binh Dinh), Hung Thinh Corporation held the groundbreaking ceremony of Hollywood Hills by YOO Inspired by Starck – a subdivision at MerryLand Quy Nhon. The event marks the first time that the world's No.1 ranked design and branded residence company YOO Inspired by Starck is officially present in Vietnam, with a collection of villas designed by creative director, Philippe Starck.