Vietnamese woman takes rural students to royal city in order to learn English
The trip is complimentary, organized solely for conversations with English speaking tourists
The trip is complimentary, organized solely for conversations with English speaking tourists
Nguyen Thi Hai Oanh (middle) accompanies students from her tour during the conversation with a tourist on the royal palace premises in Hue City, located in southern Vietnam. Photo: Tuoi Tre
A young woman in a province in Vietnam helps to improve the English command of students in her hometown by organizing non-profit tours to a former imperial city of nationwide popularity.
Nguyen Thi Hai Oanh, living in Quang Tri Province, single-handedly manages the so-called Amazing English Tour, which offers hands-on activities of talking with English-speaking visitors.
Elementary, middle and high school students participate in the tour in Hai Lang, which is the district Nguyen Thi Hai Oanh lives in.
The trip is free, which means the children pay nothing but bus fares and expenses on meals and drinks, but Oanh sometimes has to chip in her own money to cover unexpected costs.
The tour's destination is the royal palace inside a citadel in Hue City, which is located south of her home region. Hue was Vietnam's imperial capital.
Meeting at her house, the tour group consisting of children and led by Oanh departs in the early morning and travels back home before dusk falls.
The financially disadvantaged state of most families in the rural area requires simple means of transport.
The group rides on electric bicycles to a bus station about seven miles away, before catching a bus to the palace, where chances of meeting foreign tourists abound.
After their arrival, Oanh teaches several tips on striking up conversations to the students, before they disperse into smaller groups and seek dialogs with English-speaking visitors of their own accord.
She has maintained this practice since her idea was first translated into reality in May last year.
Initially she only took three children on the pilot tour, but the number rapidly increased thanks to the wide dissemination of the trip's information via Facebook.
She has to date arranged 26 trips, joined by 300 students all across the district in total.
This form of language learning finds its own merits.
Her approach admittedly compensates for the unavailability of native English speakers in rural classrooms, standing the students in good stead, according to Le Thi Huong, the director of the Quang Tri Department of Education and Training.
"The students not only learn language skills but also gain confidence," she said.
"We've studied English for many years but haven't talked directly with the native," said Duy Thinh, a regular tour member.
"My confidence in speaking English has increased a lot after all the trips."
Oanh used to work as a tour guide in Ho Chi Minh City, but now acts as a tutor at home.
By combining tourism and teaching, she conceives the Amazing English Tour as a break from usual grammar-bombarded lessons at school.
Oanh also brings authentic English sources within physical reach to the school kids.
Sometimes, she invites several foreign tourists who the children have met at the palace to visit her hometown.
Here, students of Amazing English Tour happily become their local tour guides./.
VNF/TTO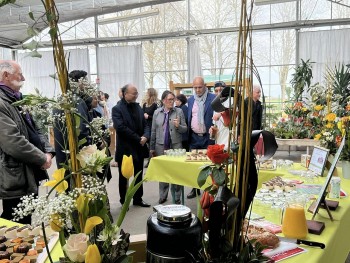 Overseas Vietnamese
Vietnamese Ambassador to France Dinh Toan Thang recently paid a working visit to Saintes, a city in southwestern France, to promote cooperation between the city and Vietnamese localities and attended the Vietnamese Culture Day, VNA reported.