Vietnamese workers in Japan maybe receive incentives
VNF - The Japanese government is aiming for bilateral agreements with eight Asian countries which includes Vietnam, on labor issues.
VNF - The Japanese government is aiming for bilateral agreements with eight Asian countries which includes Vietnam, on labor issues.
Prevent the profiteering of brokers
The seven countries that are in need of bilateral labor negotiations - including Vietnam, China, Indonesia, the Philippines, Cambodia, Thailand, Myanmar and the other one has been unknown.
The Nikkei Asian Review said on Dec. 12 that bilateral agreements no need to be ratified by the National Assembly. Instead, it is the result of requests from other countries, including Vietnam, to protect the rights of citizens working in Japan.
Under these agreements, the Japanese government wants to set up a framework that will allow police to gather information of brokers who are profiteering from foreign laborers in Japan.
Currently, brokers often rely on "trainee system" that has been applied to foreign workers for a long time to collect fees from workers, forcing them to pay a very high bail.
If bilateral agreements between Japan and eight Asian countries are passed, law enforcement agencies from Japan and the partner country will share information with each other to detect illegal brokers.
Thai laborers working in Gunma province, Japan - Photo: REUTERS
Improve living and working environment
Expected, a new visa program will be applied from April 2019. Lawmakers hope the new policy will improve the quality of life and work environment for foreign workers, as well as eradicate illicit employment.
Japanese Financial Services Agency is setting up guidelines for financial institutions to make it easier for foreign employees to own bank accounts. This is expected to facilitate laborers in wage management, which is an obstacle for those who work under the traineeship system, as they usually receive only cash.
In addition, new regulations require companies to pay wages at or above the wage of domestic workers.
If there is a wage conflict, paying via bank account will make it easier for the government to control and investigate.
The Japanese government is also expected to spend 20 million to 30 million yen (USD 177 million to USD 265 million) in Japanese language education and teaching facilities.
Mainichi said there would be about 100 counseling centers in all 47 areas in Japan. These centers will be the place to receive and solve all the daily life problems of workers.
VNF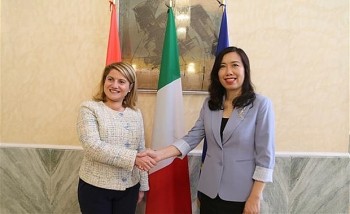 Friendship
The Vietnam - Italy political consultation is part of the occasion of the 50th anniversary of diplomatic ties and the 10th anniversary of the framework of the strategic partnership.