Vietnamese Youth Join World Cleanup Day 2022
On September 17, more than 700 Vietnamese volunteers attended the event "World Cleanup Day 2022" at Pham Hung street (Nam Tu Liem district, Hanoi) and Duong Lieu commune (Hoai Duc district, Hanoi).
The event was launched by the Let's Do It! Hanoi project with the participation of more than 700 volunteers of different ages. World Cleanup Day was held in Hanoi with the goal of raising community awareness and calling on the community to act together for the green environment of the city. The total volume of garbage collected at Pham Hung street was more than 1.8 tons.
The main types of garbage collected are plastic cups, plastic bags, containers of candy and sweets, and especially cigarette filters. Up to now, after the World Cleanup Day campaigns held in 2018, 2019, 2020, and 2022, there have been nearly 4,400 volunteers participating in the program and more than 16.8 tons of garbage were collected.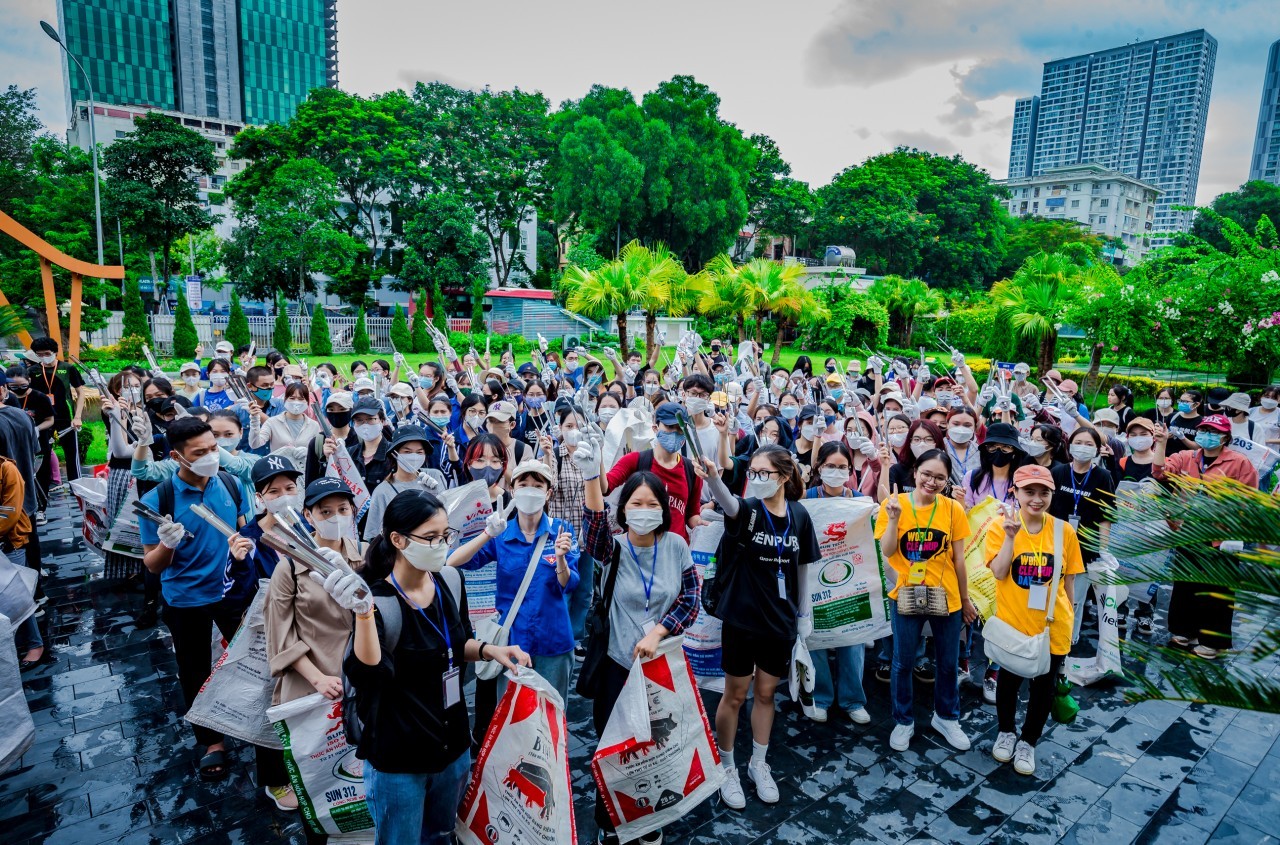 More than 700 people participate in World Cleanup Day 2022. (Photo: Thoi Dai)
Nguyen Thi Cam Tu, Project Manager of Let's Do It! Hanoi is happy with the city's progress.
"After being affected by the Covid-19 pandemic, Cleanup Day this year is proud to be one of the programs to encourage the community to contribute to environmental protection activities, making changes to a sustainable lifestyle," said Nguyen Thi Cam Tu.
"Thanks to the coordination of the local authority and the support of the community, the waste situation in the area has decreased markedly and people's awareness has gradually changed."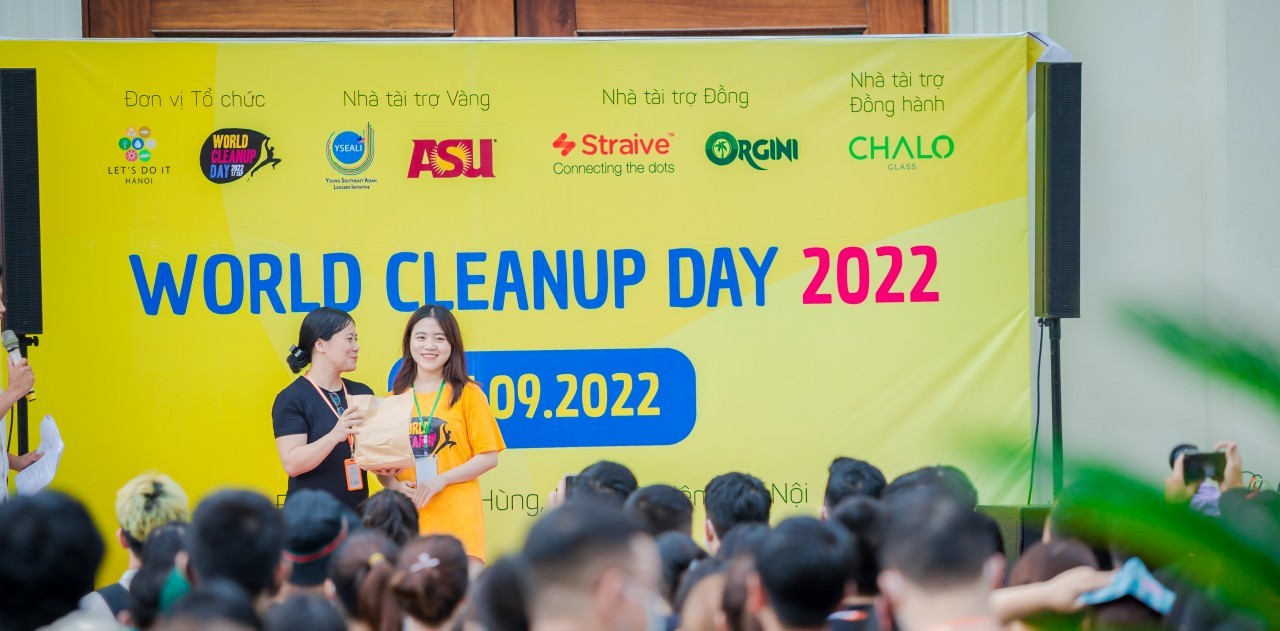 Nguyen Thi Cam Tu (right), Project Manager of Let's Do It! Hanoi speaks at the program. (Photo: Thoi Dai)
"This is a very meaningful and practical activity that contributes to cleaning the living environment in urban areas," said Nguyen Thuy Hien, a student at Hanoi National University of Education.
"This experience helps me to have more knowledge about taste, and know how to separate, recycle and reduce waste. Although it is not easy to clean up the whole city, I hope this activity will contribute to making a positive change in environmental protection, spreading the positive and meaningful message to every citizen living in the city."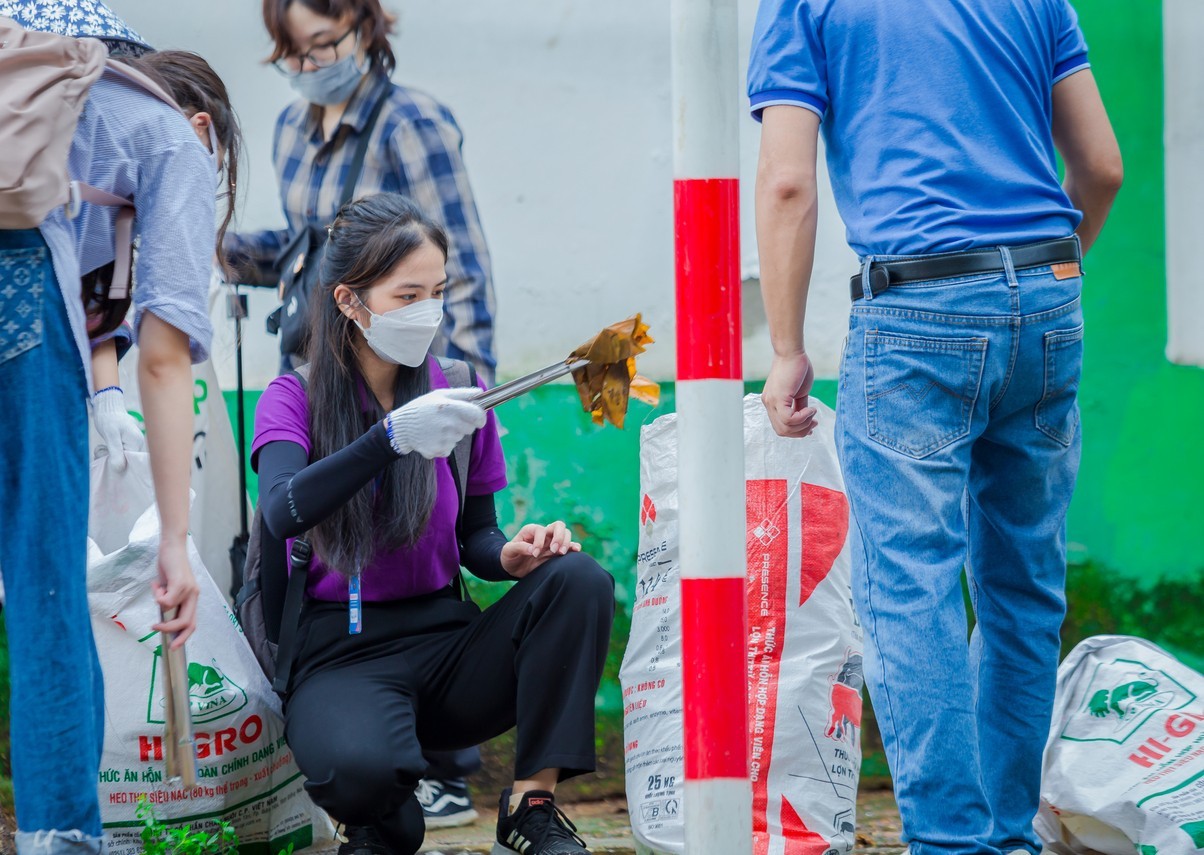 Volunteers pick up trash in World Cleanup Day 2022. (Photo: Thoi Dai)
Let's Do It! Hanoi is a member of Let's Do It! Vietnam, which is part of the Let's Do It! World. Founded in June 2018, through the main activity of cleaning up, Let's Do It! Hanoi's goal is to raise people's awareness of the current environmental situation, especially the problem of plastic waste and litter to the environment.
At the same time, the organization hopes to reduce the current "trash blindness" situation and direct people to limit the waste in the environment by specific actions such as limiting single-use plastics, disposing of garbage in the right places, properly classifying waste, and recycling and reuse at home. As a result, they wish to create a cleaner environment in Hanoi as well as improve the current environmental situation.
The World Cleanup Day 2022 campaign in Hanoi received the main funding from Arizona State University through the SEED Grant Award fund for US alumni. At the same time, the campaign also received sponsorship from SPi Vietnam Co. Ltd., Dai Phuc General Company Ltd. (Orgini), and Pinbrow Vietnam Co. Ltd.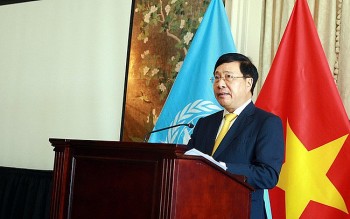 Friendship
Deputy Prime Minister Pham Binh Minh has asserted Vietnam's strong support for and commitment to the UN's role in leading and coordinating multilateral efforts to respond to global challenges.