Vietnam's efforts to mitigate and adapt to climate change
Vietnam has been one of the 10 countries hardest hit by climate change over the past 20 years. The country's Mekong Delta is one of the world's three deltas most vulnerable to sea level rise.
Climate change is one of the topics being discussed at the 42nd session of the UN Human Rights Council in Geneva. As a nation seriously affected by climate change, Vietnam has adopted policies and actions to minimize the consequences of climate change on human rights.
The 42nd session of the UN Human Rights Council is held in Geneva from September 10 - 27 (photo: VNA)
Climate change challenges Vietnam's poverty reduction targets, millennium goals, and sustainable development. Climate change also threatens food security and agricultural development. Over the past decade, natural disasters such as storms, floods, landslides, inundation, droughts, and salt intrusion have killed 9,500 people and caused heavy losses of property, worth about 1.5% of GDP annually.
Appropriate guidelines and policies
Being aware of climate change threats, the nation has issued a resolution on "active response to climate change, improvement of natural resources management and environmental protection". This has been a foundation for fine-tuning laws and distributing resources for a green economy and sustainable development.
A National Action Program to 2020 stipulates that Vietnam toward actively adapting to climate change, preventing natural disasters, reducing greenhouse gas emissions, making basic changes in natural resource exploitation, and using resources sustainably for a green and environment-friendly economy.
Vietnam has built a National Action Program to realize the UN 2030 Agenda for Sustainable Development by harmonizing economic growth and social development and natural resource protection. The Government has also issued a resolution on climate change resilience and sustainable development of the Mekong Delta.
Active response
Central and local agencies have responded to climate change by enhancing communications to raise public awareness, revising laws and policies on climate change, improving the state management apparatus, developing human resources, and promoting the application of science and technology. Vietnam has pushed ahead with international cooperation in climate change adaptation.
It has participated in international conventions and agreements, voiced its opinions at climate change forums, and enhanced cooperation with developed countries like the Netherlands to build a climate change response program in the Mekong Delta.
The country has developed flood-proof houses, combined irrigation systems and rural roads, turned seawater into fresh water, planted mangrove forests along coastlines, protected forests feeding upstream rivers, built disaster warning systems, and created livelihood opportunities for local residents. Communications have been enhanced to raise people's awareness on environmental protection and climate change.
Vietnam's laws on climate change aim to protect people's right to live in a safe environment and ensure livelihood, food, and health for people, particularly those seriously affected by climate change.
( VNF/VOV )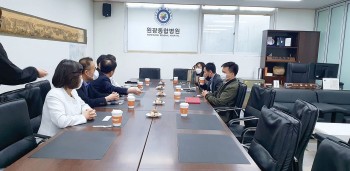 Overseas Vietnamese
A meeting was organized at the Wonkwang Hospital on the provision of medical support for the Vietnamese community in Korea in accordance with the signed cooperation agreement.