Vietnam's "New Normal" Entices Foreign Businesses
Many Japanese companies are considering a plan to move part of their production chains to Vietnam in the time ahead, according to the Vietnam Trade Office in Japan. While the homeland has suffered many losses this year, Vietnamese experts offer important solutions for keeping foreign investment in Vietnam.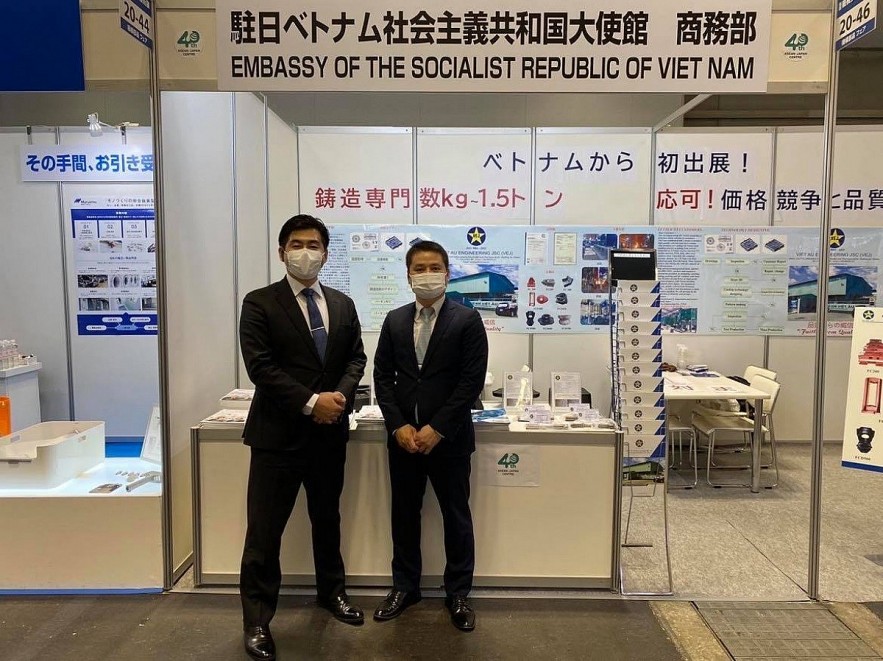 Ta Duc Minh (R)-Vietnam Trade Counselor in Japan. Photo: VOV
Numerous Japanese firms consider moving part of their production chains to Vietnam
On October 6, the M-Tech Osaka 2021 Annual Exhibition specializing in mechanical engineering opened in Osaka Prefecture. Attending this exhibition, Vietnamese enterprises will have a good opportunity to introduce their products, seek cooperation opportunities and participate in the global value chain, and at the same time have access to technologies and advanced, modern production techniques.
This year's exhibition, in addition to Japanese enterprises, also has the participation of many big brand manufacturers from industrial powers in the world such as the UK, France, Germany, the US, Korea, and China. In the context of being affected by the Covid-19 epidemic, it is difficult for Vietnamese businesses to attend this year's exhibition and deal directly with foreign partners.
However, with the guidance and support of the Vietnam Trade Office in Japan, Viet-Eur Mechanical Joint Stock Company successfully registered to rent a booth at the exhibition. The booth has attracted the attention of visitors to learn and seek cooperation opportunities with the Vietnamese company.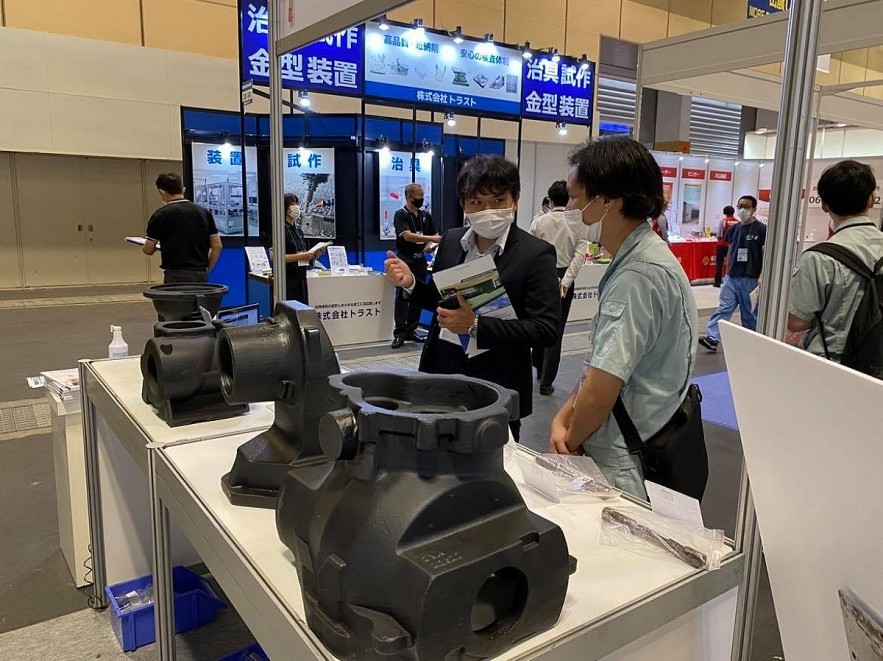 Visitors at Vietnam's booth. Photo: VOV
The three-day event running from October 6-8 offers Vietnamese enterprises the opportunity to introduce various products, seek cooperation opportunities, and engage in the global value chain, while simultaneously having access to advanced and modern production technologies, according to the VOV.
Vietnamese businesses find it difficult to attend this year's trade show and deal directly with foreign partners due to the impact of the COVID-19 pandemic.
However, with the support from the Vietnam Trade Office in Japan, Vietnam-Europe Mechanical Joint Stock Company successfully registered for a booth at the exhibition, which has drew the attention of visitors who want to learn and seek cooperation opportunities with the Vietnamese firm.
According to statistics, the export value of products relating to the support industry between Vietnam and Japan in 2020 reached US$ 1.1 billion, accounting for 5% of Vietnam's total export turnover to the East Asian nation.
This is considered a remarkable result from the efforts of the two Governments to promote bilateral cooperation in this field.
Of the six priority sectors of the industrialization strategy within the framework of Vietnam-Japan cooperation, three are three ones relating to the support industry, including electronics, agricultural machinery and automobile manufacturing.
The outbreak of the COVID-19 pandemic in early 2020 disrupted and broke some parts of the supply chain, causing a wave of Japanese businesses shifting their supply chains from China to neighboring countries in Southeast Asia like Vietnam, and Thailand.
According to the Vietnam Trade Office in Japan, Vietnam's support industry as well as businesses in this field need to stay active in order to seize new opportunities for investment attraction and business cooperation.
Solutions to remove obstacles and attract large FDI capital during difficult time caused by COVID-19
According to MA Tran Trong Triet in the People Army News, the complicated developments of the Covid-19 pandemic and anti-pandemic measures have caused many difficulties to investment and business cooperation activities of foreign enterprises in Vietnam. The problem now is how to both retain businesses and avoid supply chain disruptions.
Diminishing attractiveness
The current anti-pandemic approach is making Vietnam's investment environment inefficient. Orders have been given to start to move out of Vietnam. Many foreign investors' plans to boost investment and increase capacity remain stagnant. According to the latest data of the General Statistics Office, the total foreign investment capital (FDI) into Vietnam as of September 20, 2021 includes newly registered capital, adjusted registered capital and capital contribution value, share purchased by foreign investors reached US$22.15 billion, increased by 4.4% compared to the same period last year.
In which, newly registered capital has 1,212 licensed projects with registered capital of US$12.5 billion, decreased by 37.8% in number of projects and up 20.6% in registered capital over the same previous period; registered capital for adjustment has 678 turns of projects licensed from previous years, increasing by US$6.43 billion, rising 25.6%; registered capital for capital contribution and share purchased by foreign investors had 2,830 turns with a total value of capital contribution of US$3.22 billion, down 43.8%.
According to a Japanese newspaper, many Japanese businesses are withdrawing orders from Vietnam because their supply chains for the world market are broken. In the past, many Japanese and German enterprises had a policy of withdrawing from China and gradually moved to Vietnam and other countries, of which Vietnam is the top priority, but now a percentage of them do not withdraw from China.
Moreover, parts of good orders are transferred back to China, a part is still maintained in Vietnam but has the option of other countries. Vietnam is losing opportunities. At the end of last year, when Vietnam had very good anti-epidemic results, we were classified in the group of 5 beneficiary countries, but according to Nikkei assessment nearly a month ago, Vietnam's anti-epidemic effect has greatly affected the decisions of foreign investors.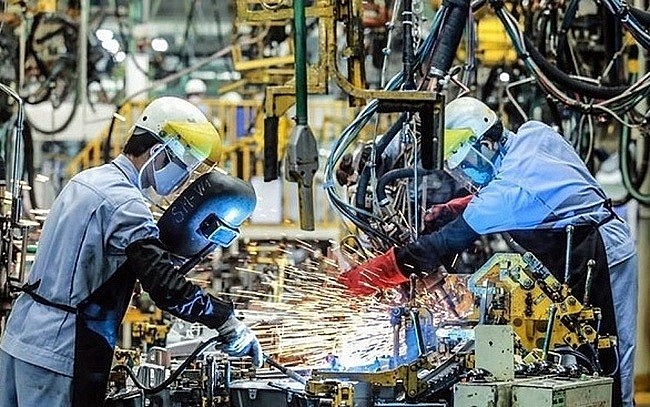 FDI is a very important capital source of the economy, a driving force contributing to the growth and development of Vietnam's economy. Illustration/
In order to effectively fight the pandemic and develop the economy, Vietnam needs to have specific regulations for those who have received 1 or 2 doses of the vaccine. There are measures to safely open the door to production.
After the pandemic, German companies expect to sharply increase production by mid-2022 to make up for lost time due to the pandemic. Therefore, the Government of Vietnam needs to have reasonable policies to maintain smooth production, help businesses achieve business goals, as well as help the Government achieve management goals. It is essential that Vietnamese businesses have enough local resources to supply German businesses, then retain German businesses.
Remove problems, restore production
Currently, the area that is most severely affected by the Covid-19 epidemic is Ho Chi Minh City and 18 southern provinces and cities, which account for more than 70% of the total FDI into Vietnam. When this area is affected, it is natural for foreign investors to worry. In such a difficult context, the number of new FDI projects into Vietnam has been maintained and has not decreased significantly compared to last year.
The factor we care about is not quantity but quality. Specifically, we need to attract large FDI projects in fields such as: Information technology, digital technology, artificial intelligence, Big Data, smart city, research and development...
Retaining large corporations: Need attractive long-term policies
According to experts, FDI investment is a long-term, strategic issue of multinational corporations, so Vietnam needs many medium and long-term policies to strongly attract foreign capital flows, even during the pandemic. These solutions must be applied urgently to maintain confidence with foreign investors.
Facilitation for traveling and entering the country
The report of the European Business Association (Eurocham) on the business environment has just been released, showing that the two factors affecting the production and business of enterprises the most are limitations in terms of transport, supply and market. Due to prolonged social distancing, about 18% of manufacturing enterprises have partially shifted their production needs and orders to other countries, and 16% of enterprises are also considering shifting production.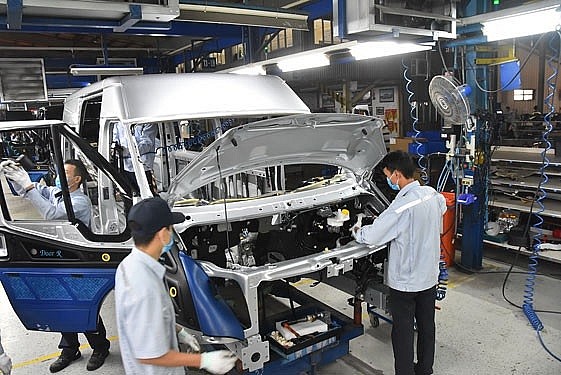 Foreign businesses still rate Vietnam as an attractive investment destination. Photo nld
Mr. Hong Sun, Vice Chairman of the Korean Chamber of Commerce (KoCham), acknowledged that many Korean investors and businesses are still facing difficulties in traveling and working between Hanoi and some neighboring provinces.
"Although the Ministry of Transport has requested not to over-tighten travel between provinces and cities, some localities still apply it, which is not only detrimental to the investment and operation environment of FDI enterprises but also to people in the country. In some countries such as South Korea, foreign experts who go to work are not quarantined for a long time like Vietnam, so it is recommended to have a policy to shorten the quarantine period for those who have had 2 doses of the vaccine and have negative results to create conditions for experts and foreigners in entry to return to Vietnam for work soon," Mr. Hong Sun suggested.
Minimize negative impact
Regarding whether or not to shift FDI capital out of Vietnam, many experts believe that investment decisions are considered by multinational corporations and foreign investors in the long run based on advantages and the attraction of the destination.
Vietnam in the medium - long term is still a destination with many advantages. Mr. Andrew Jeffries, ADB's Country Director for Vietnam, said that FDI investment is a long-term problem. Vietnam is currently a destination attracting FDI compared to other countries.
Mr. Hirai Shinji, Chief Representative of the Japan Trade Promotion Organization in Ho Chi Minh City, said that Japanese enterprises are very interested in the Government's Resolution 105 on supporting enterprises, cooperatives and business households during the pandemic, and how specific localities implement this policy and the real impact of this policy.
In order to retain FDI enterprises, Prof. Dr. Nguyen Mai, Chairman of the Association of Foreign Investment Enterprises, suggested that the Government took a holistic view from April 27 to present on pandemic prevention measures, to bring new and more appropriate policies and mechanisms without having to apply strict directives as in the past.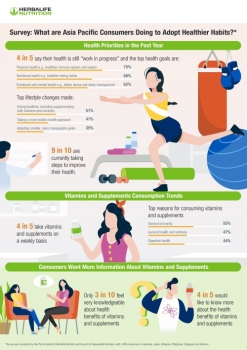 Economy
HONG KONG SAR - Media OutReach - 28 October 2021 - A new survey examining the awareness and usage of nutritional supplements in the Asia Pacific region revealed that four out of five consumers in believe their health is a "work in progress," and 86% have been taking steps to improve their health in the past year.