Vietnam's Ongoing Mission to Tackle Human Trafficking
Vietnam will continue to end human trafficking and protect the underprivileged.
A view of the workshop. Photo: IOM Vietnam
In this unprecedented age, the horrors of human trafficking still continue yet the practice is often ignored. Fortunately, more Vietnamese and international friends are aware of the issue and the homeland's plans to put an end to human trafficking.
Those are some of the remarkable results by the International Organization for Migration (IOM), British Council, World Vision in Vietnam, and local partners in the project "Tackling Modern Slavery from Vietnam" (TMSV) after three years of implementation (2018-2021), funded by the UK Home Office. On Nov. 29, the project closing workshop was held both in-person and online by IOM, in coordination with the Ministry of Public Security.
The workshop also welcomed Mark Holton, Second Secretary Migration and Immigration Liaison Manager, British Embassy in Vietnam.
With the support and funding of the UK Home Office, World Vision Vietnam, the International Organization for Immigration (IOM), and British Council in Vietnam have successfully carried out the project in five cities/provinces: Quang Ninh, Hai Phong, Nghe An, Ha Tinh, and Quang Binh. After more than two years of implementation, the project has changed behaviors and promoted alternative livelihood opportunities, strengthened access to the local justice system and victim services to maximize the impact of collective action in reducing vulnerabilities to modern slavery.
Senior Colonel Nguyen Hong Nguyen, deputy chief of Office, Ministry of Public Security, delivered the opening speech. According to him, to implement the Memorandum of Understanding on cooperation in preventing and combating human trafficking between Vietnam and the UK, on August 26, 2019, the Minister of Public Security issued Decision No. 6463/QD-BCA approving the project which aims to concretize the content that the Government, ministries and branches have committed to implement and implement in 3 areas of impact: prevention, prosecution, trial and protection.
Vietnam is located in a hot spot of human trafficking. According to the UN Office on Drugs and Crime and Interpol), human trafficking has become complicated in the Asia-Pacific, especially the Greater Mekong Sub-region, in recent years.
From 2010 to June 2021, Vietnam uncovered nearly 3,500 cases involving 5,000 traffickers and some 7,500 victims across all its 63 cities and provinces.
After three years of planning, more than 80,000 target audiences were reached through community events to raise awareness about human trafficking and modern slavery; more than 1.400 relevant stakeholders trained in safe migration and modern slavery and 1.5 million people reached through the communications campaign Think Before You Go. Moreover, more than 300 victims and people at risk are supported.
Speaking at the workshop, Park Mihyung, head of IOM delegation to Vietnam, co-chair of the workshop, said that the Covid-19 pandemic has the potential to increase human trafficking. The global health crisis has exacerbated poverty and the vulnerability of disadvantaged groups in society.
The project revealed that Vietnamese are the third likeliest victims of modern slavery in the UK, with around 800 such people detected between 2009 and 2020. Most of them came from northern or north-central Vietnam.
People are much more likely to become victims of labor and sexual exploitations as economic prospects worsen, Park said.
Building upon the deepened multi-stakeholder partnership and the lessons learned from the 2018-2021 phase of the project, IOM will continue its efforts to enhance cooperation with the partners, while advocating for safe and regular migration and protecting the vulnerable. IOM is committed to facilitating dialogues and multistakeholder engagement to continue exploring areas for partnership to promote safe migration and combat human trafficking and modern slavery.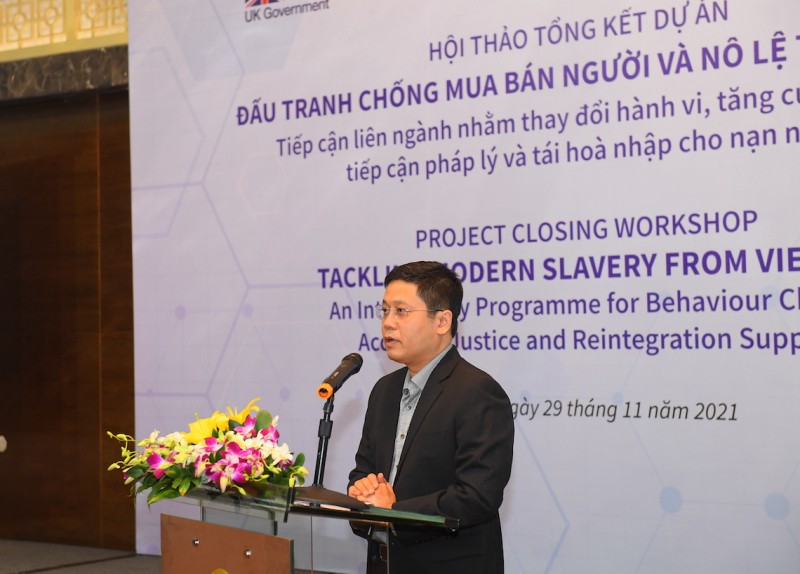 Senior Colonel Nguyen Hong Nguyen, Deputy Chief of Office, Ministry of Public Security, delivers the opening speech. Photo: IOM Vietnam
At the end of the workshop, Senior Colonel Nguyen emphasized the positive results of the project. In which, behavior change communication campaigns to prevent vulnerable groups from becoming victims of human trafficking, actually come to life in many different forms.
With the goal for better lives, the project has effectively promoted the investigation, prosecution, trial of cases and law enforcement on human trafficking. Many activities to support, verify and identify victims and people at risk of being trafficked and reintegrated into the community in accordance with the provisions of Vietnamese law. Thereby, many beneficiaries have been supported. help with urgent and essential needs, develop livelihoods.
In order to implement the project more effectively in the coming time, Colonel Nguyen Hong Nguyen wishes that IOM and its partners will continue to research, pay attention to and support activities in response to the National Day to prevent and combat human trafficking (July 30) in Vietnam. At the same time, he recommended UK authorities to organize training courses to share professional knowledge and experiences with Vietnamese authorities to improve Vietnamese law enforcement capacity in prevention and human trafficking combat.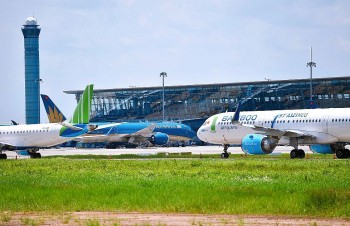 Economy
Vietnam Business & Weather Briefing (August 9): Vietnam's economic growth is expected to reach 7.5% in 2022, new securities accounts hit a near two-year low in July.