Vietnam's Performance in UN Peacekeeping Operations Praised
UN Under-Secretary-General for Peace Operations Jean-Pierre Lacroix praised the services of UN peacekeeping forces from Vietnam
UN Under-Secretary-General Jean-Pierre Lacroix has lauded Vietnam's active engagement and strong performance in UN peacekeeping activities as well as the country's commitments to implementing UN targets, espcially the ratio of female Vietnamese peacekeepers, VNA reported Tuesday.
The praises reflect the international recognition of Vietnam's engagement in peacekeeping operations over the past years, as well as the country's contributions to ensuring human rights globally as peace and living in peace is a basic human right and the most important pillar for the protection and promotion of human rights.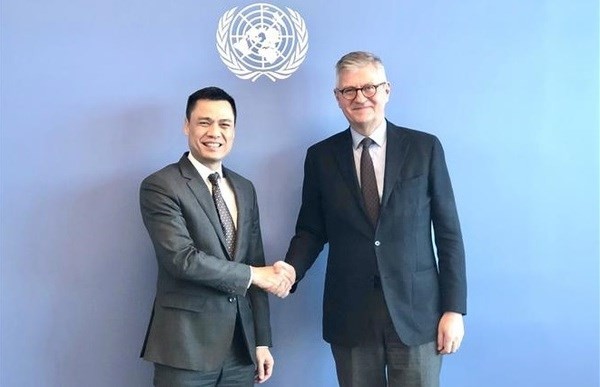 Ambassador Dang Hoang Giang (R), Permanent Representative of Vietnam to the United Nations UN meets with Under-Secretary-General Jean-Pierre Lacroix in New York on January 16. Photo: VNA
Lacroix, who visited Vietnam last month, made the praise while meeting Ambassador Dang Hoang Giang, Permanent Representative of Vietnam to the United Nations (UN) on January 16 to seek measures to further promote cooperation between Vietnam and the UN.
The UN Deputy Secretary-General said that he witnessed and was impressed by the Vietnamese Engineering Unit's successfully completion of difficult tasks assigned at the United Nations Interim Security Force for Abyei (UNISFA).
He said that the UN is willing to support Vietnam during the process of preparing forces, training and carrying out pre-feasibility assessment as well as building necessary capacity that Vietnam needs.
He said that the two sides should coordinate closely in defining areas for cooperation, which are of the UN's demands and Vietnam's experience and capacity, thus further bolster the Vietnam-UN partnership.
Ambassador Giang thanked the UN for assisting Vietnam's efforts in participating UN peacekeeping.
He underlined that promoting cooperation with the UN, including the increase of its involvement in peacekeeping activities, is one of the priorities in Vietnam's external relations. Vietnam will continue to support targets and programmes of the UN within its capacity, including its commitments in increasing the number of women peacekeepers joining peacekeeping operations.
On the occasion, Ambassador Giang proposed that Under-Secretary-General Jean-Pierre Lacroix and UN agencies continue to give Vietnam support in building capacity, especially for military and police forces joining peacekeeping operations, as well as other practical assistance, thus enabling Vietnam to better meet requirements and demands of the UN in carrying out UN peacekeeping operations.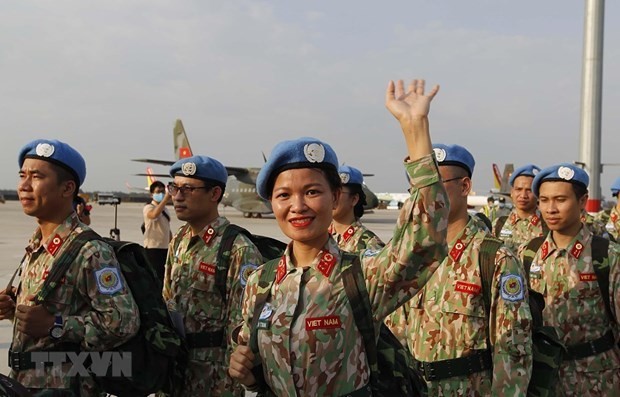 Vietnamese "peace ambassadors" have practically contributed to settling security issues, safeguarding peace and stability in the region and the world. Photo: VNA
Since Vietnam officially joined the UN peacekeeping operation in June 2014, the country has sent more than 500 officers and soldiers to "hotbeds" in Africa.
Over the past eight years, Vietnam has increased the number of its peacekeepers in UN operations, maintaining the presence of a level-2 field hospital at the UN Mission in South Sudan since 2018. In particular, the percentage of Vietnamese female participants is always higher than the level called for by the UN.
Vietnam has been actively engaged in international cooperation in this field and organized many international conferences and seminars on peacekeeping. Vietnamese officers have completed their tasks well, and are much appreciated by the UN and the host country for their capacity and professionalism.
Apart from performing UN peacekeeping tasks, the Vietnamese soldiers and officers have also played a role in promoting human rights in host countries through a range of humanitarian activities such as taking care of and educating children, guiding locals to plant vegetables and fighting the Covid-19 pandemic.
Vietnam's Engineering Unit Rotation 1 has been deployed to UNISFA with 184 sappers, three times more than a Level-2 field hospital and the biggest of its kind to join UN peacekeeping operations.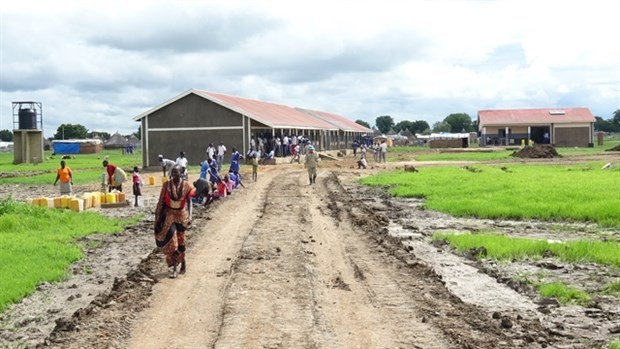 A new road in the African town of Abyei, which was reconstructed with the help of the Vietnamese Engineering Unit Rotation 1. Photo courtesy of the Vietnam Department of Peacekeeping Operations
Endeavours of the Vietnamese "peace ambassadors" have been reflected through various figures, with nearly 20 road rescue operations conducted in security emergencies, and nearly 30 kilometres of canals and 200 metres of sewers built, helping more than 3,000 households escape from flooding in rainy seasons, among others activities.
The unit also coordinated with Pakistani soldiers to provide charity health checkups and treatment for local residents in the Amiet market area.
In April 2022, 63 members of Level-2 Field Hospital Rotation 4 headed to South Sudan. Three months later, the hospital inaugurated an obstetrics clinic and launched an action plan for the health of women in Bentiu. This is the first obstetrics clinic built by the hospital in UNMISS.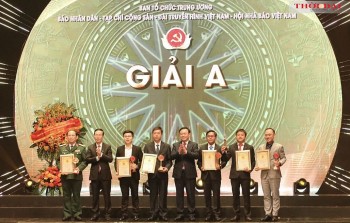 Viet's Home
The 7th National Press Prize on Party Building (named Golden Hammer and Sickle) - 2022 has been bountiful with thousands of entries on a variety of topics, rich in genres, closely following hot topics, outstanding events, key tasks of the political system and the country. Content relating to party building process was clarified and further exploited compared to previous years.