Vietnam's seafood sector looks to long-term growth
Vietnam's seafood exports have seen rapid growth over the past 11 months and this year's total revenue is expected to reach an all-time high, but more efforts are needed to ensure this growth is sustainable.
Vietnam's seafood exports have seen rapid growth over the past 11 months and this year's total revenue is expected to reach an all-time high, but more efforts are needed to ensure this growth is sustainable.
Unsustainable growth
According to VASEP, the association of seafood exporters and producers, seafood exports in November reached US$733 million, up 11%, raising the total revenue for the first 11 months of 2017 to US$7.6 billion, up nearly 18% over the same period last year. The revenue for the full year is projected to reach US$8.3 billion.
However, a number of main seafood items have seen a slowdown in their revenue growth towards year-end, with shrimp exports seeing a rise of only 17% in November, compared with a 25% increase in October.
Illustrative photo (source: NDO)
The growth of seafood exports to major markets has also decreased or even fallen slightly. Vietnam's seafood export growth to the EU, for instance, slackened off to 28% in November from nearly 38% a month earlier due to the EU's issuance of a yellow card warning to Vietnam over illegal fishing. Seafood exports to the EU are projected to continue to decline in the coming months as a result of this warning.
Seafood exports to the United States and Japan also fell by 1.3% and 6.4% respectively in October while export growth to other markets such as China, ASEAN, and the Republic of Korea was also weaker than in previous months.
According to the Ministry of Industry and Trade, Vietnam's seafood sector is facing a number of challenges, such as mounting protectionism in the US through the use of technical barriers to trade and trade defence instruments, as well as incorrect news published by European media agencies. In addition, exports to China, a market with huge potential for growth, are not yet stable because the majority of seafood products are exported through cross-border channels.
At the same time, rising prices of raw catfish and shrimps have led to higher production costs, with the effect of making Vietnamese seafood less competitive.
The key is maintaining quality
The challenges facing Vietnam's seafood sector are inevitable. Therefore in order to ensure seafood export growth is sustainable, the Ministry of Industry and Trade has been actively choosing notable seafood items for promotion in various markets during specific periods so as to persify Vietnam's portfolio of export markets.
Concurrently, measures are being taken to maintain and expand the shares of Vietnam's seafood products in established markets and markets with which Vietnam has signed free trade agreements (FTA) such as the Eurasian Economic Union, the EU, and ASEAN.
The ministry has also taken action to better inform domestic enterprises about preferences in current FTAs and ways to take advantage of them, especially the rule of origin, while making it easier to grant certificates of origin (C/O) to enterprises with such measures as simplifying the issuance process and expanding the issuance of C/O through the internet.
Efforts of competent agencies aside, the ministry warns that the greatest obstacle to Vietnam's seafood sector is inconsistent quality, which is the source of frequent food safety complaints. This is the key issue that enterprises must address in order to ensure seafood exports are sustainable for the future.
VASEP Secretary General Truong Dinh Hoe stated that inconsistent quality is one of the biggest weaknesses of Vietnam's seafood sector. In addition to proof of origin and marketing efforts, seafood exporters need to guarantee the quality and safety of their products if they want to overcome the challenges currently facing them, as these are factors which foreign partners attach great importance to.
The National Assembly recently adopted the Law on Fisheries promising a new approach focused on reducing administrative procedures and facilitating enterprises in their production and business activities. The new law is expected to facilitate sustainability in the sector's export growth for the years ahead./.
( VNF/NDO )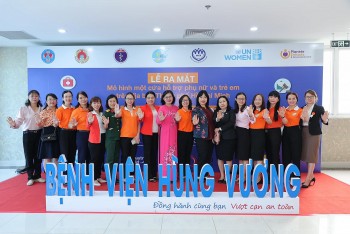 Viet's Home
What is the one-stop centre for women and children experiencing violence?