Vietnam's soft power in present-day
Former Vice Minister of Ministry of Foreign Affairs and former Vietnamese Ambassador to the US, Pham Quang Vinh shared that Vietnam's soft power is constructed by values throughout history and by the hope of developing continually.
Former Vice Minister of Ministry of Foreign Affairs and former Vietnamese Ambassador to the US Pham Quang Vinh.
Soft power held by Vietnamese
Joseph Nye Jr., Professor Service at Havard University was known as a "father" of the term "soft power". He defined soft power was "The ability to get what you want through attraction rather than coercion or payment". The source of soft power was "culture, political values and foreign policies".
US and China are now considered as having most of soft power, currently, are the World's top largest economics and military (hard power). Referring from this example, did soft power accompany hard power in every cases?
Q: Do you think Vietnam has soft power?
A: I do not claim myself as the "first-rate" diplomat. However, as in my 40 years diplomatic experiences, I recognized definition of soft power itself is different from using to distinguish from smart power and hard power.
According to Nye, soft power has 3 elements: culture or national value, regime and diplomatic tool. In my opinion, soft power of Vietnam should be comprehended as the positive term. I think about the Vietnam's identity and "New Vietnam" in the international friends' eyes.
I affirmed that we have soft power because of our reputation and position in international level which was built from our national history's length and our integration. International friends came to Vietnam were not only politicians who attended in the conferences hosted by Vietnam such as Francophonie 1997, ASEAN Summit 2010 when Vietnam was previously chair of the bloc, APEC 2017 or 2019 DPRK –US Hanoi Summit, but also the tourist and investors.
As the former Vietnamese Ambassador in US, I learned that Vietnam was attractive to American people and enterprises. Over 500.000 American traveled to Vietnam annually with perse purposes, for example, visiting famous sights, discovering Vietnam that they only heard from the media, US veterans returned to battlegrounds or some others came to explore Vietnam's cuisine.
In your opinion, what are the factors that form Vietnam's soft power?
The first factor was the attraction of the country and people. Visitors were impressed by the friendliness and hospitality of Vietnamese.
Secondly, Vietnamese were peaceable to other people in the region and the world in spite of unconquerable and stout spirit throughout history. We converted our rivals in the past to our partners, include comprehensive and strategic partners. Therefore, they respected us due to our peaceful solutions in many cases, especially, in the Vietnam – US relation which proved Vietnam's humanitarian diplomacy.
Thirdly, the improvement of legal framework help people strengthen their potential creation and studying to contribute to national development.
The fourth element of our soft power was the integration. From being devastated by the war and the economic sanctions, Vietnam gradually passed the challenges by integration. As a result, we now has relations with nearly 200 countries in the world and continue to enlarge our relations by participating actively, responsibly and effectively in global and regional organizations, contained United Nation (UN), WTO, APEC, ASEAN, ASEM,… Not only we took part in more deeply and contributed to shape the rules of the game of international organizations, but also we are ready to integrate in higher quality
Mentioning about soft power, I identify the difference of soft power and hard power which was presented by military or economic tool. The soft power of Vietnam's diplomacy was expanding our position, our reputation and our image of integrated Vietnam - a friend, a partner of other countries for mutual respect and interest, for regional and global peace and development.
To sum up, soft power was a result of many factors and the position and reputation of Vietnam was in hands of not only the Government, but also Vietnamese people.
Today, I also use two terms "nation building" and "nation branding" to illustrate narrowly to soft power. We firstly build the prosperous nation – state (nation building) to give happiness and fulfillment to people. We afterwards make a good relationship to other countries from neighbor countries in the region and extend to the world as a confident partner.
Relations with powerful countries
Over the years, Vietnam became a highlight in some aspects such as economic development, place for investment, trading, tourism, having reputation in bilateral and multilateral forums, particularly Vietnam was successful to hold the second summit between the Democractic People's Republic of Korea (DPRK) and the US, participating in the election for non-permanent members of United Nation Security Council (UNSC) and assuming the ASEAN Chair in 2020. This consolidates the soft power's demonstration of Vietnam – the country aims to peace and prosperity.
As a leader of Vietnamese delegation in ASEAN Senior Official's Meeting (SOM), what do you appreciate the Vietnam's participation in multilateral system and the role of Vietnam in forming international rules of the game?
In 2010, Vietnam held the Chair of ASEAN and was thought as a simple rotated activity. Nevertheless, ASEAN was in the new era at that time. The ASEAN charter was signed in 2007 and came into force in 2008 and the roadmap for ASEAN Community was launched, based on three pillars (the ASEAN Political – Security Community, the ASEAN Economic Community, and the ASEAN Socio-Cultural Community).
Taking the Chairmanship and all the main activities of ASEAN in one year was an important task to make Vietnam have concentrated plan in relation not only between countries inside ASEAN, but also between ASEAN and other partners in the world and directions for constructing the new institution of ASEAN. In that year, we complete our task successfully with roadmap of two summits, let the roadmap of ASEAN Charter and ASEAN Community to the reality. We provided our role in the positioning ASEAN in last years and supports are going to raise our national reputation in depth.
What Vietnam do to use ASEAN as a source of Vietnam's soft power to balance the relation between ASEAN and China and U.S?
Vietnam will continue pursuing a policy of befriending all countries, multilateralising and persifying relations on the basis of independence, self-reliance and international law; and is a friend and trusted partner with countries around the world. Vietnam aims to foster common interests of all nations to maintain peace and stability.
Vietnam will also promote its relations with other countries, especially neighbours and those with important roles in the world, particularly China and US. On the other hand, Vietnam will settle disputes by peaceful measures via negotiations. I think we should not aim to have a balanced relations with them, instead, we should have good relation with every countries. Thus, to expand the in-depth relations depended on the mutual interest and potential of each countries. However, our priority in foreign policy is neighbouring countries and those with important roles in the world. If we more open and enlarge these relations, it is prosperous to Vietnam's security and development.
Vietnam hope to be a friend of every countries means we are constructing our soft power under the fundamental principle of neutrality?
I do not think the word "neutral" can describe Vietnam's foreign policy. Although Vietnam is an integrated and innovated country that hopes to be a friend of all countries, we are not silence if there are violations of international law. We are raising the voice to promote cooperation for common peace and prosperity between countries as well as upholding the international laws…I consider those voices demonstrates a stoutness, unbendingness and peaceable Vietnam – the country desires to raise up for peace and prosperity.
Translated by Thanh Van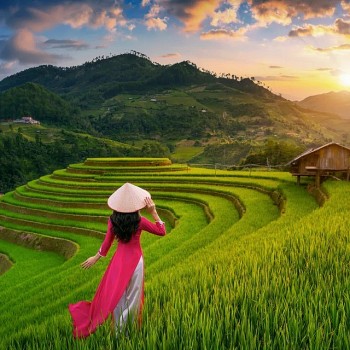 National
UK travel magazine Expedia has named Vietnam among the top five international destinations that visitors should visit this summer.