Vinamilk Chairwoman receives Nikkei Asia prizes
Mrs. Mai Kieu Lien, Chairwoman and CEO of the Vietnam Diary Products Joint Stock Company (Vinamilk) has been awarded the Nikkei Asia's prize for her contribution in the field of "Economic and Business Innovation."
Mrs. Mai Kieu Lien, Chairwoman and CEO of the Vietnam Diary Products Joint Stock Company (Vinamilk) has been awarded the Nikkei Asia's prize for her contribution in the field of "Economic and Business Innovation."
So far, she is the only Vietnamese winner honoured by Nikkei Asia.
As part of the awards programme, hosted by Nikkei Asia on May 20th, in Japan, Mrs. Lien also took part in an international seminar entitled "Asia's Prospect" with the participation of scholars, politicians and well-known businessmen from different countries in the region.
Japanese Prime Minister, Shizo Abe attended the event and had talks with Mrs. Mai Kieu Lien and other prize winners.
After the presentation ceremony, the CEO of Vinamilk donated the value of her prize at JPY3 million through UNICEF in Japan to the children in Nepal who are suffering the aftermath of the devastating earthquake.
The Nikkei Asia Prizes are designed to recognize outstanding achievements that contribute to the region's sustainable development and to the creation of a better future for Asia. The prizes are awarded annually in three areas of achievements, to acknowledge the works of winners in today's fast-changing Asia. This year the titles of the three categories are "Economic and Business Innovation," "Science, Technology and Environment" and "Culture and Community./."
( Hoang Quan )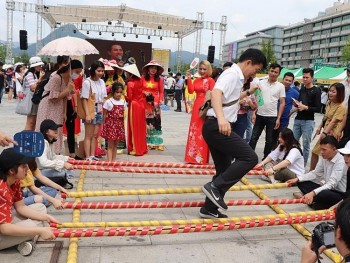 Focus
Vietnam Days Abroad is an annual national promotion program hosted by the Ministry of Foreign Affairs since 2010.