Visit Beautiful Georgia – The Europe's Wine Country
When we think of wine, Italy, France or Spain will come in mind, but its birthplace, according to a lot of researches, it's in Georgia, the tiny Caucasian nation that's been making wine longer than anywhere in the world.
Having gone from backpacker secret to mainstream darling in just a decade, Georgia today is by far the most visited country in the South Caucasus, and it's easy to see why: its rich culture and astonishingly diverse landscapes make it an ideal destination for anyone loving history and nature on the grandest of scales.
From its green valleys spread with vineyards to its old churches and watchtowers perched in fantastic mountain scenery, Georgia (Saqartvelo, საქართველო) never disappoints. In recent years Tbilisi has emerged as one of the coolest cities in Europe, with a burgeoning club scene, world-class restaurants and a selection of natural wine bars that easily make it the hippest spot in the region. Equally special are its proud, high-spirited people: Georgia claims to be the birthplace of wine, and this is a place where guests are considered blessings and hospitality is the very stuff of life. Gaumarjos!
History of Georgia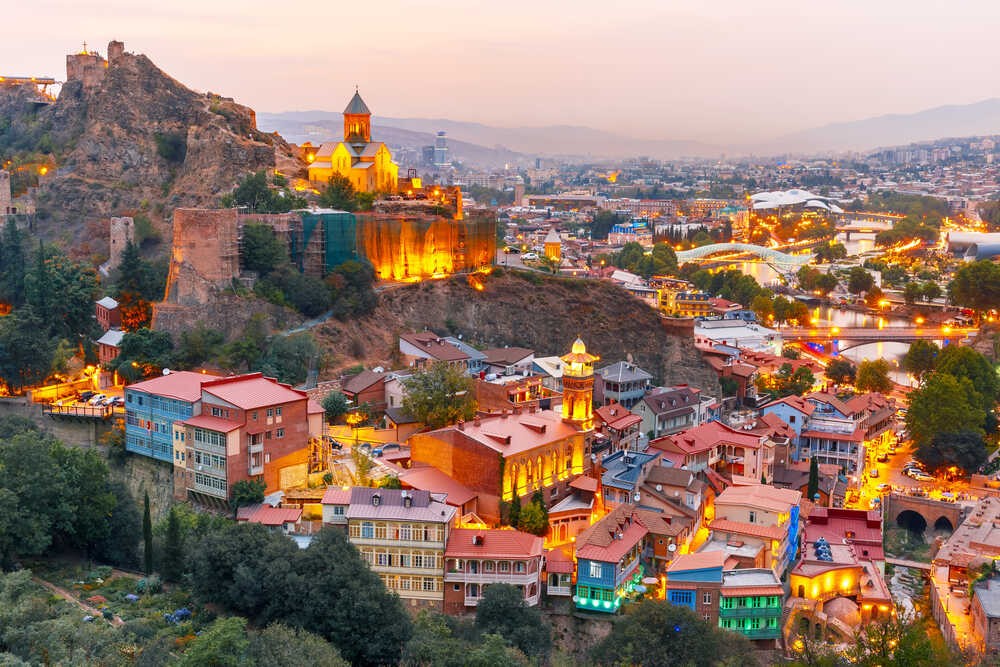 Photo: Shutterstock
The largest of the U.S. states east of the Mississippi River and the youngest of the 13 former English colonies, Georgia was founded in 1732, at which time its boundaries were even larger—including much of the present-day states of Alabama and Mississippi. By the mid-19th century, Georgia had the greatest number of plantations of any state in the South, and in many respects epitomized plantation culture and economic dependence on slavery. In 1864, Union General William Tecumseh Sherman invaded Georgia, captured Atlanta and began his infamous March to the Sea,cutting a 200-mile-wide swath of fire and destruction reaching all the way to Savannah. Georgia's landscapevaries greatly as it sweeps from the Appalachian Mountains in the northto the marshes of the Atlantic coast on the southeast tothe Okefenokee Swamp on the south.
Georgian art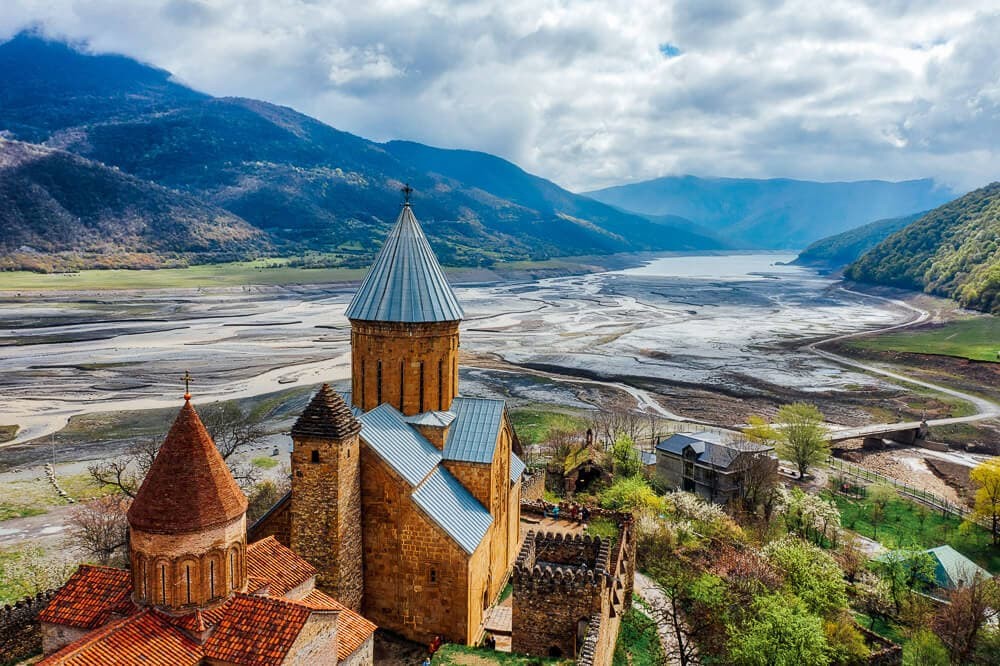 Photo: Wander-Lush
Georgia has a solid artistic heritage and you'll see works of Georgia's renowned primitivist painter Niko Pirosmani on many a poster or restaurant sign. You can also peruse his work at the Sighnaghi National Museum in Kakheti or at the National Gallery in Tbilisi, as well as check out Tbilisi's small contemporary art galleries that promote modern Georgian artists.
Myths & storytelling
Whether it's the country's heroic version of Prometheus, Amirani, or Jason's trials with the Golden Fleece, the advent of Christianity did next to nothing to dampen the myths, legends and Slavic folklore tales recounted on Georgia holidays. New Shuamta Nunnery, Alaverdi Church and Davit Gareja Monastery and caves all hold their own fascinating stories, whilst Stalin's birthplace and museum in Gori offers an authentic glimpse of life back in the USSR.
Eating & drinking in Georgia
Diverse and delicious, Georgian food has been shaped by outside influences throughout the centuries, from the Mediterranean world, to Arab, Persian and Mongol kitchens.
Georgian food and wine culture is exemplified through supra – a traditional feast lasting several hours and featuring a mindboggling array of dishes and accompanied by huge amounts of wine.
Georgia's Kakheti hills are a wine producing hotspot. Georgians boast that their country invented wine some 8,000 years ago, and many rural people make their own wine in a qvevri, or clay pot.
Kakheti, Georgia's foremost wine region with 4,250 square miles of rolling vineyards, is the best place to get acquainted with this ancient tradition, thanks to its welcoming wineries, standout local cuisine, and well-priced hotels—not to mention 1,500-year-old monasteries and man-made cave cities.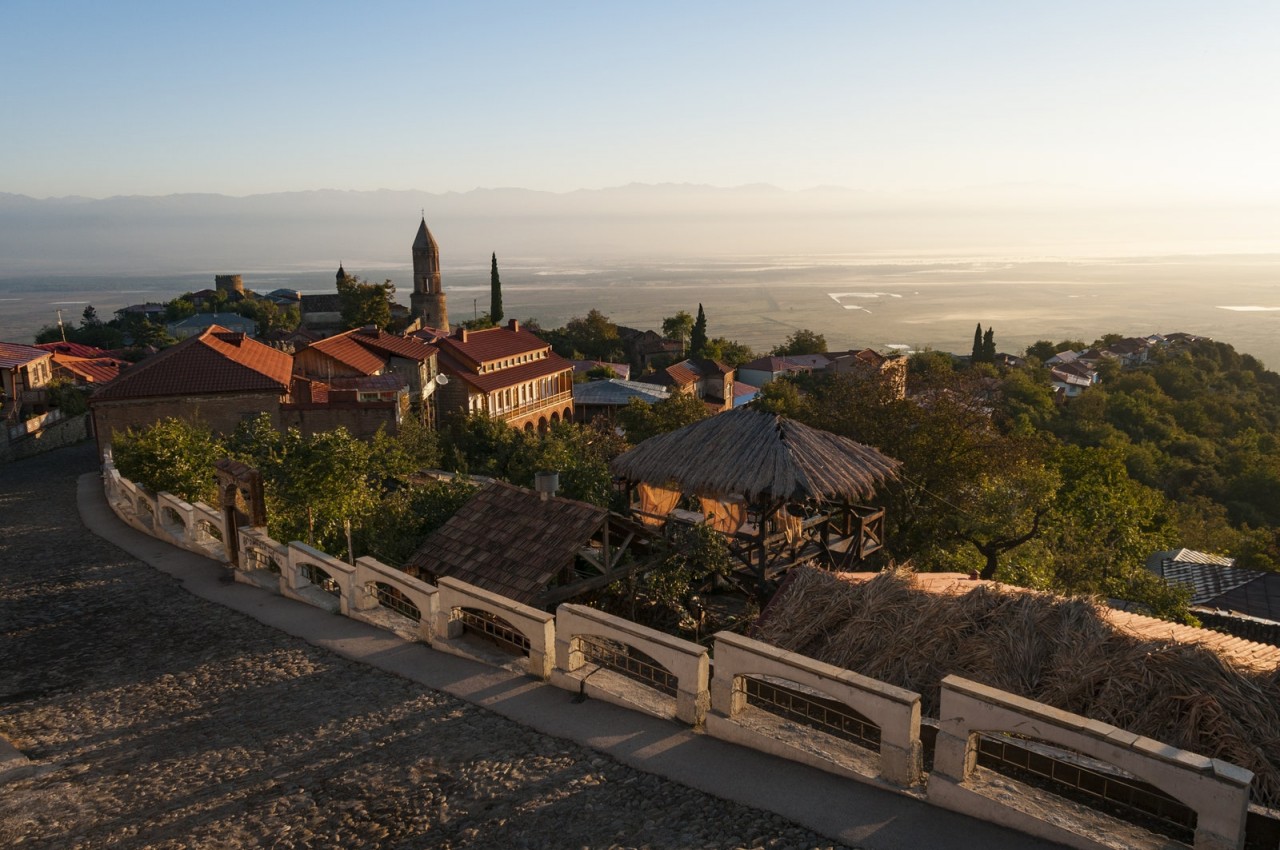 St. Stephen's Church in the cobblestoned village of Sighnaghi. Photo: Getty
Getting There
Kakheti is a two-hour drive from Tbilisi through the leafy, winding Gombori Pass, but don't rent a car unless you have an anarchical streak—reckless, white-knuckle driving is the norm in Georgia. Opt instead for a guide with InterGeorgia Travel ($150 daily flat rate), a family-run tour company whose professional, English-speaking drivers can finagle access to private wineries and local supras, invitation-only Georgian feasts.
Budget travelers can save time and money by hopping on the Donkey Express, a minibus service geared toward wine tourists that launched in 2017 and leaves from Fabrika art hostel in Tbilisi ($32 round-trip). It makes hour-long stops in Telavi, Gremi, and Kvareli and lingers an extra hour or two in Sighnaghi, the region's most notable wine town, before heading back to the Tbilisi.
Where to Taste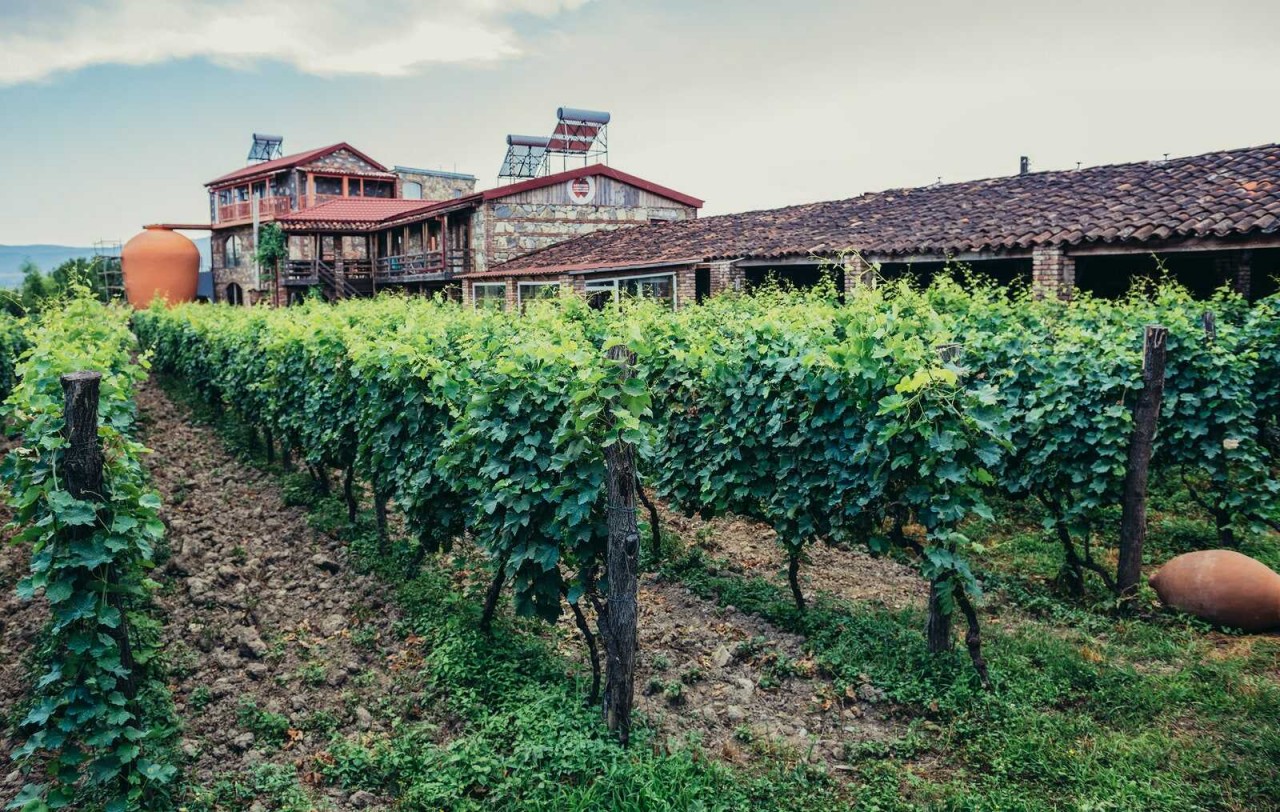 Napareuli village is home to Twins Old Cellar, which is a mandatory stop in the country. Photo: Getty
Twins Old Cellar's two-story-tall kvevri (the largest in the world) soars above the ramshackle brick houses of Napareuli village and is a mandatory first stop for its pear-scented rkatsiteli and plummy, inky saperavi. Get a primer on how Georgian wine is made at the region's best wine museum with life-size mannequins, detailed placards, and a collection of farm tools that Fred Flintstone might call avant-garde.
Wine lovers with a penchant for history should then take the 15-minute drive to Georgia's winemaking mecca, Alaverdi Monastery, which just celebrated its 1,017th—no, that's not a typo—vintage. It's worth paying $25 (65 GEL) to wander the 104-variety "vine library," sample a glass of nutty amber khikhvi, and marvel at the cobwebbed original wine cellar, all of which are included in the fee.
Twenty minutes south toward Telavi, meet a new generation of winemakers at Ruispiri, the biodynamic winery helmed by Giorgi Aladashvili, a Swiss-trained vigneron who's so committed to his wines that he sleeps among them. Though the vineyard was founded in 2014, Aladashvili foregoes modern agricultural practices in favor of horse-drawn plows and fertilizers extracted from bark, nettles, and lilies. His whites—rkatsiteli and mtsvane—are rustic yet remarkably complex with a long, floral finish.
What to see in Georgia
1. Gelati Monastery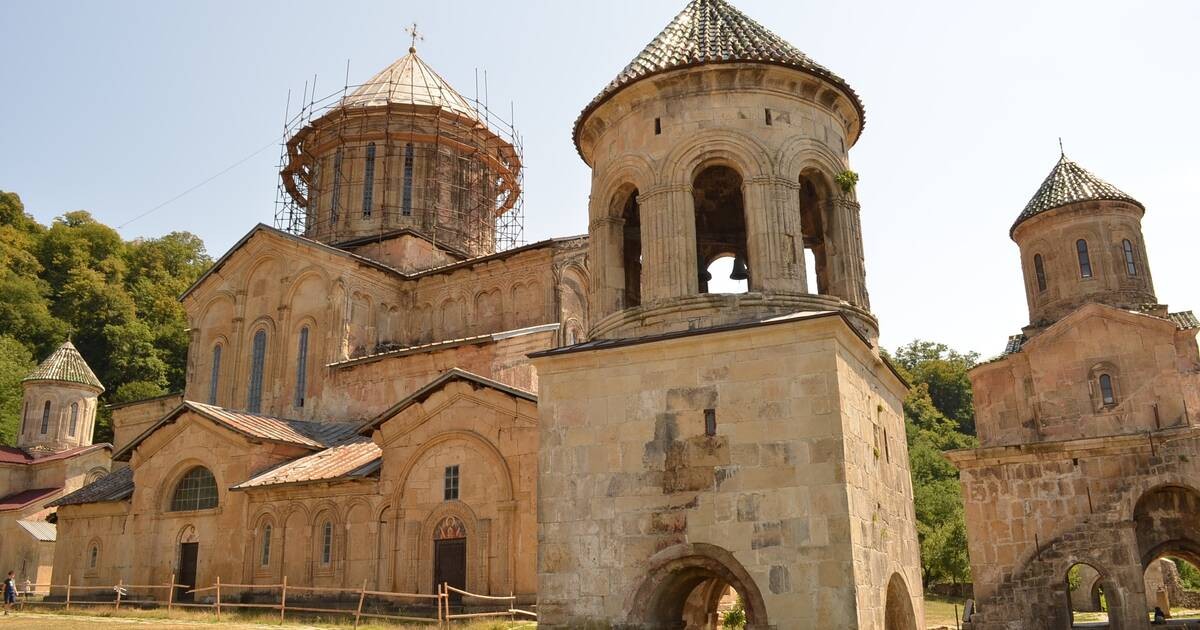 Photo: UNESCO
This Unesco World Heritage–listed monastery complex, on a wooded hillside 8km northeast of Kutaisi, is an outstanding example of Golden Age architecture and one of Georgia's most important churches. Gelati was a cultural hub of Georgia's medieval renaissance, and many Georgian rulers were buried here, including the great 12th-century king, David the Builder. The interior of the main Cathedral of the Virgin is among the brightest and most colourful in Georgia, with fascinating frescoes.
King David founded Gelati in 1106 as a centre for Christian culture and Neoplatonist learning. Medieval chroniclers described its academy as a 'second Jerusalem' and a 'new Athens'. In 1510 the Ottoman Turks set fire to the complex, but Bagrat III of Imereti subsequently restored it. The monks were cast out by the communists in 1922, but the churches were reconsecrated in 1988.
The first building you come to as you enter the complex is the Church of St George, which contains multiple colourful frescoes. Outside the cathedral's west door is the smaller Church of St Nicholas, built on an unusual arcaded base, and beyond that, the recently rebuilt Academy, where philosophy, theology, sciences and painting were studied, and important chronicles and translations written. David the Builder's grave lies inside the south gate: David wanted all who entered the monastery to step on his tomb, a notably humble gesture for such a powerful man. Ironically, reverent visitors today take great care not to step on it.
The frescoes in the main Cathedral of the Virgin were painted between the 12th and 18th centuries: the line of six noble figures on the wall to your left as you face the altar includes David the Builder (holding the church) and Bagrat III of Georgia (with a cross over his left shoulder). A famous 1120s mosaic of the Virgin and Child, with Archangels Michael and Gabriel to the left and right respectively, looks down from the apse ceiling. If you visit during the Sunday-morning service from around 10am, you'll be treated to beautiful Georgian chants.
2. Vardzia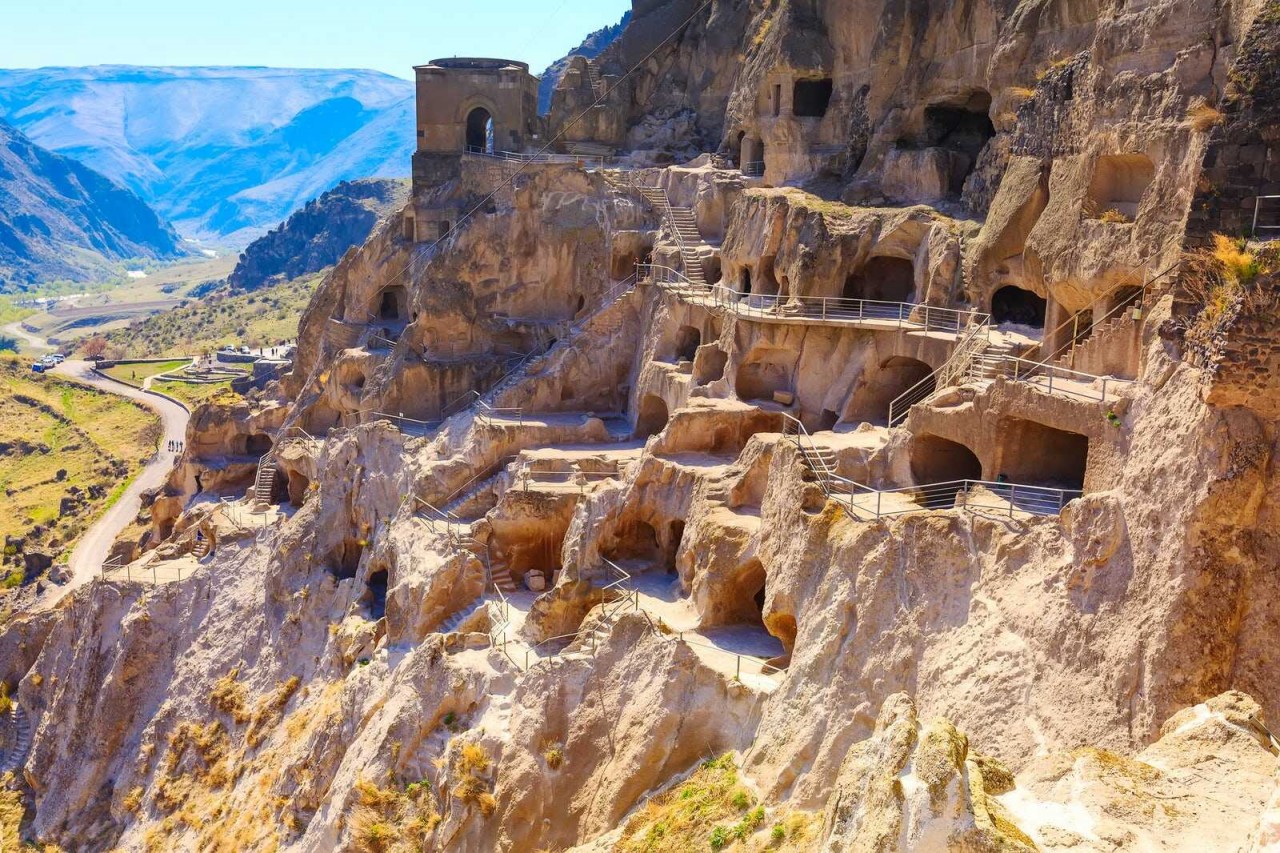 Photo: Itinari.com
The remarkable cave city of Vardzia is both a cultural symbol and a spectacular natural phenomenon with a special place in Georgian hearts. King Giorgi III built a fortification here in the 12th century, and his daughter, Queen Tamar, established a cave monastery that grew into a holy city housing perhaps 2000 monks, renowned as a spiritual bastion of Christendom's eastern frontier. Altogether there are over 400 rooms, 13 churches and 25 wine cellars, with many more still being discovered today.
Its inhabitants lived in rock-hewn dwellings ranging over 13 floors, a scale almost impossible to imagine at the time. A major earthquake in 1283 shook away the outer walls of many caves and the cave city began its long decline. In 1551 the Georgians were defeated by the Persians in a battle in the caves themselves, and Vardzia was looted. Since the end of Soviet rule Vardzia has again become a working monastery, with some caves inhabited by monks (and cordoned off to protect their privacy).
3. Svetitskhoveli Cathedral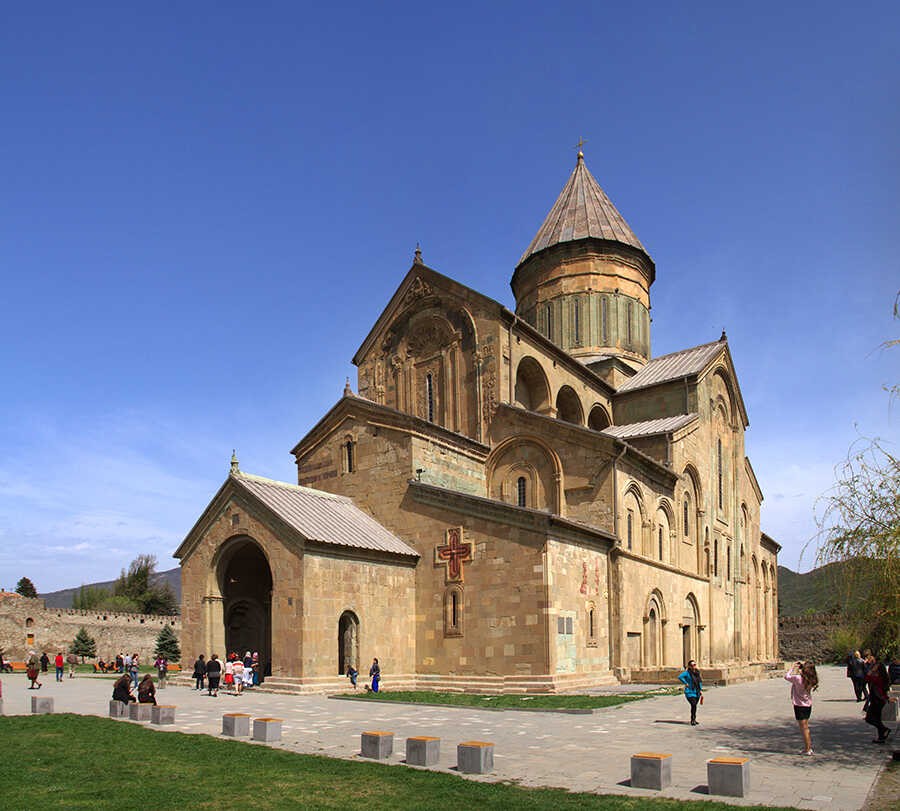 Photo: Wikipedia
This extraordinary (and for its time, enormous) building dates from the 11th century, early in the golden age of Georgian church architecture. It has an elongated cross plan and is adorned with beautiful stone carving outside and in. Christ's robe is believed to lie beneath the central nave, under a square pillar decorated with colourful if faded frescoes of the conversion of Kartli.
The story goes that a Mtskheta Jew, Elioz, was in Jerusalem at the time of Jesus' crucifixion and returned with the robe to Mtskheta. His sister Sidonia took it from him and immediately died in a passion of faith. The robe was buried with her and as years passed, people forgot the exact site. When King Mirian built the first church at Mtskheta in the 4th century, the wooden column designed to stand in its centre could not be raised from the ground. But after an all-night prayer vigil by St Nino, the column miraculously moved of its own accord to the robe's burial site. The column subsequently worked many miracles and Svetitskhoveli means 'Life-Giving Column'.
In the 5th century Vakhtang Gorgasali replaced Mirian's church with a stone one, and the present building was constructed between 1010 and 1029 under Patriarch Melqisedek. Now a millennium old, it's still one of the most beautiful churches in the country.
4. Stalin Museum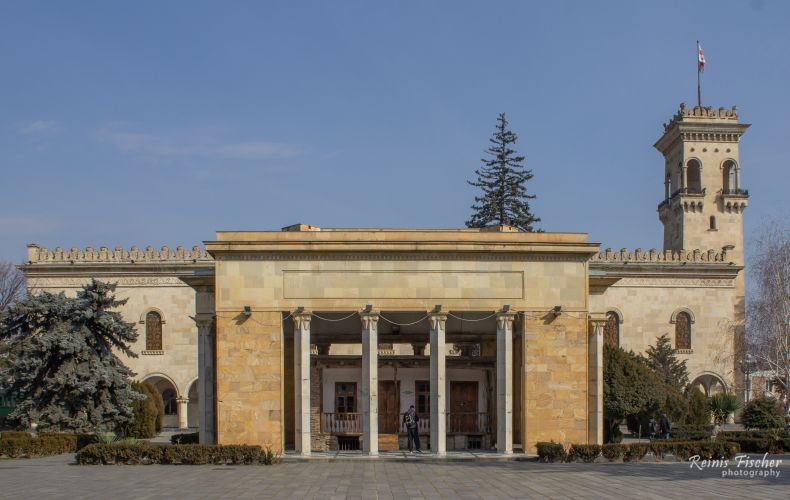 Photo: Reinis Fischer
This impressively designed museum makes no serious attempt to present a balanced account of Stalin's career or deeds. It remains, much as when it opened in 1957, a reverent homage to the Gori boy who became a key figure of 20th-century history – although displays do now at least refer to the purges, the Gulag and his 1939 pact with Hitler. The Dzhugashvili family's wood-and-mud-brick house where Stalin lived for the first four years of his life is reverentially preserved outside.
One room is devoted to a bronze copy of Stalin's eerie death mask, lying in state. The next has a large collection of gifts from world leaders and other Bolsheviks. Off the staircase is a reconstruction of his first office in the Kremlin, plus personal memorabilia such as his pipes, glasses, cigars and slide rule. One small two-room section beside the foot of the stairs deals with political repression under Stalin.
To one side of the museum is Stalin's train carriage, in which he travelled to Yalta in 1945 (he didn't like flying). Apparently bulletproof, its elegant interior includes a bathtub and a primitive air-conditioning system.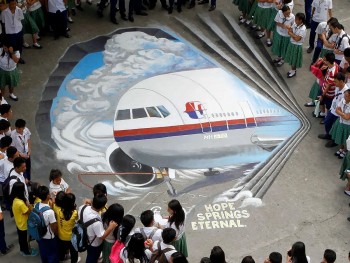 World
The world might never know what really happend when these planes went off the radar. Let's take a look at some of the unsolved mysteries of aircraft disappearances.