VN, Nigeria eye closer investment, trade ties
There is great potential for trade between Việt Nam and Nigeria and investment in many sectors like agriculture, agricultural processing, garment, footwear, mining, and production of construction materials, a bilateral trade and investment forum heard in HCM City yesterday.
Nigeria - Vietnam investment forum. Photo: VOH
Speaking at the forum, Nguyễn Thế Hưng, deputy director of the Việt Nam Chamber of Commerce and Industry (VCCI)'s HCM City branch, said many African countries, including Nigeria, had become increasingly important economic partners of Việt Nam.
Trade between Việt Nam and Nigeria has shot up from US$250 million a year in 2012-16 to $433.5 million in 2017, with Việt Nam running a deficit.
Việt Nam exports 52 items to Nigeria including mobile phones and components, textiles, footwear, cigarettes and tobacco, plastic products, chemicals, machinery and spare parts, computers, and electronic devices.
It imports raw cashew nuts, wood and wood products and cotton yarn, with the first two accounting for over 80 per cent.
Sunday Edet Akpan, permanent secretary at Nigeria's Federal Ministry of Industries, Trade and Investment, highlighted some of the investment opportunities.
Nigeria has a large domestic market, the largest in Africa, and the 27th largest economy in the world and a large population of over 190 million.
"The Nigerian Government is implementing an Economic Recovery and Growth Plan (ERGP) in 2017 - 20 to create inclusive growth in the economy by improving human capacity, promoting economic persification, investing in infrastructure, and building a globally competitive economy.
"To deliver on the vision of this economic programme, the Government is executing critical reforms which have unlocked a lot of investment opportunities and we invite you today to take advantage of the investment opportunities in the ERGP."
A lot of investment opportunities exist in mining and processing of solid minerals, agricultural sector, large-scale commercial agricultural production and other sectors, he said.
"Nigeria's trade with Việt Nam is characterised by primary commodities, mainly cashew nuts and wood. However, we strongly believe that this can be improved upon and expanded to include other processed commodities and manufactured goods in line with the developmental aspirations and economic policies of our countries.
"It is clear for example that, given Nigeria's vast resources in land, minerals and agricultural produce, the opportunities for product manufacturing and produce processing are limitless.
"Fortunately for Việt Nam, it is strategically located in a region where it can take full advantage of recent technological advances in developing its own economy.
"The various manufacturing and processing factories now springing up in Việt Nam could be brought to Nigeria, where raw materials abound to the benefits of both countries."
Hưng said: "Nigeria is an important gateway for Vietnamese firms to penetrate the African market. It is forecast that by 2050 Nigeria will be the third most populous country in the world; so this will be a big market for Vietnamese enterprises."
He said the business community on both sides should take advantage of each other's strengths, especially in the field of raw material production, human resources, technology, processing and exports to take their trade and investment relations to new heights.
Organised by the VCCI and the Nigeria-Việt Nam Chamber of Commerce and Industry, the forum was followed by a business-to-business meeting to enable further exchange of information and co-operation opportunities.
VNF ( VNS )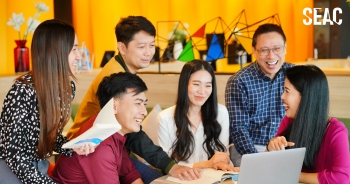 Economy
SEAC, a leading corporate and lifelong education innovator, is shaking up the Thai and ASEAN education market with significant investment to expand its SMART learning solutions across the ASEAN region.