VN Real Estate: Startup biz boosts demand for office rental
A self-employed real estate broker who request to be addressed only by his first name Tan, shared he paid $5,000 monthly rental fee for a six-story building in downtown Ho Chi Minh City. He then turned it into 15 office rooms with polished tiled floors, private bathrooms and internet connections. 
(VNF) - Startup entrepreneurs have sparked the demand for small-sized office space in Vietnam's big cities like Ho Chi Minh city and Hanoi.
The offices, ranging from 25 to 40 square meters, are now rented out to startups at between VND5 million and VND10 million ($220 - $440) per month, said Tam.
According to Tan, 10 companies are now his tenants, earning him a return of 20-25 percent.
Local brokers said some estates in the city's downtown areas are becoming mini-hubs for startups. These small-sized offices, besides offering sufficient infrastructures and facilities for startups to operate, at the same time, are available at reasonable prices. As many landlords in Ho Chi Minh City and Hanoi struggle to fill space, these young companies have boosted the demand needed, they stressed.
Saigon Coworking - one of startup's favorite working space in Ho Chi Minh city (source: cafebiz.vn)
However, according to Le Huu Dung, chief executive at brokerage Weland Investment, the rising demand does not guarantee profits for all office-rental businesses. He explained his point by saying: No one who starts out in such a tiny office expects to stay there for long, as when startups get bigger, they will move to larger offices.
Another flip side of the business is that this segment mainly relies on idea-stage companies, and some of them may not survive after a few months. If the occupancy rate is lower than 80 percent, the investor will start losing money, Dung added./.
( VNF/VNE )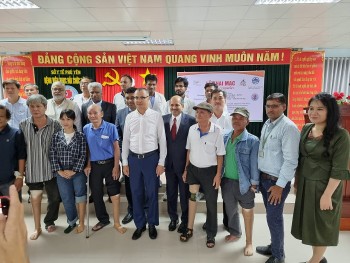 Friendship
This is the 5th time the Jaipur Foot Artificial Limb Fitment Camp has been held in Vietnam since 2018 by the Indian Ministry of Foreign Affairs, Indian agencies and organizations.