Vo Ta Han - Overseas Vietnamese Donates Precious Books to Homeland
Over the past thirty years, doctor Vo Ta Han and his associates have sent many containers of precious books on science and technology to universities, colleges, and research institutes in Vietnam.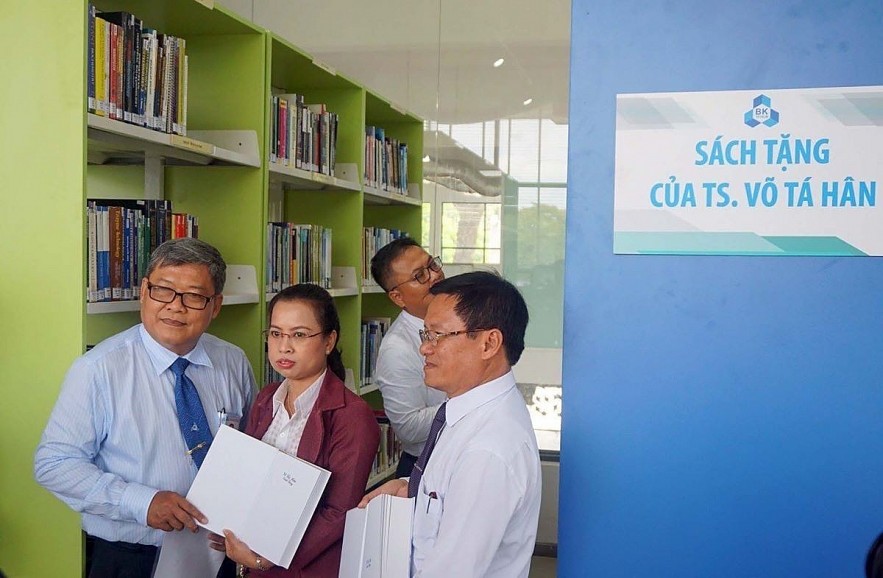 Photo: Vo Ta Han
"When I was a kid, I didn't have many books to read," recalls Dr. Vo Ta Han. "It wasn't until high school did I have the opportunity to read a lot. In addition to the books that I borrowed via my library card, on weekends, I used to shop for secondhand books on Le Loi Street. On average, I read two books on different topics per week. I usually only read each book once, but when it comes to good and important ones, I read them over and over again. At that time, I read works such as "Learning to be a Human" by Nguyen Hien Le and Nguyen Duy Can. Those are precious books that forged my will and mold other young people in many aspects. They can make a big impact on our lives."
His wish is for Vietnam's younger generation to take advantage of books and to have more book fairs in cities and remote areas so that knowledge can be spread everywhere. With better access to information, the Vietnamese people will develop on par with other countries in the region.
He returned to Ho Chi Minh City in 1988, after twenty years of studying abroad. Back then, this city was not as developed as now. Cultural and entertainment activities were sparse. The bookstore in the city center was boring with a rudimentary and monotonous layout. When he visited some of the top research institutes and universities, he asked to see the library and was shocked that they only had a few old books.
When his plane took off back to Singapore, he was puzzled. This Vietnamese expat asked himself how he could help his beloved homeland?
Initially, he translated a number of books on economics and finance to send back home. Having translated one or two books, he realized this task would take too much time. In another attempt to assist his countrymen, he bought books all over the world and started the "Books4Vietnam" program.
Han shared that he strongly believes that, if equipped with the knowledge, and the opportunity to learn and apply new knowledge, Vietnam will progress very quickly and that is his motivation to persistently send more books back home.
He wrote 100 letters all over the world and collected 1,500 books for the Institute of Economics in Hanoi and Ho Chi Minh City. From there, Han became acquainted with the publisher Simon & Schuster - Prentice Hall (SSPH). When he visited their Asia-wide bookstore in Singapore, he discovered a "mountain of books" at the bottom of the warehouse that was brand new but was piled up due to over-importing.
"It took me more than a year to convince them to resell tons of books on engineering, economics, finance, medicine, law, business administration, and education for a cheap price," says Han. "I have set the only condition that the books must be put in a sealed container and then shipped directly to Vietnam, leaving no books behind in Singapore. The container of 20,000 Singapore books must be shipped with a list of books when brought across the border."
After many hardships, the first books were delivered to the Institute of Economics in Ho Chi Minh City. The book donation ceremony and book exhibition took place solemnly in 1990.
Phan Van Khai, then Chairman of the State Planning Commission, visited the exhibition and wrote a letter to thank and commend Han's work. "The books that I saw with my own eyes during the exhibition are extremely precious for researchers and managers in Ho Chi Minh City and the whole country." It was that letter that helped the book donation program go smoothly later on.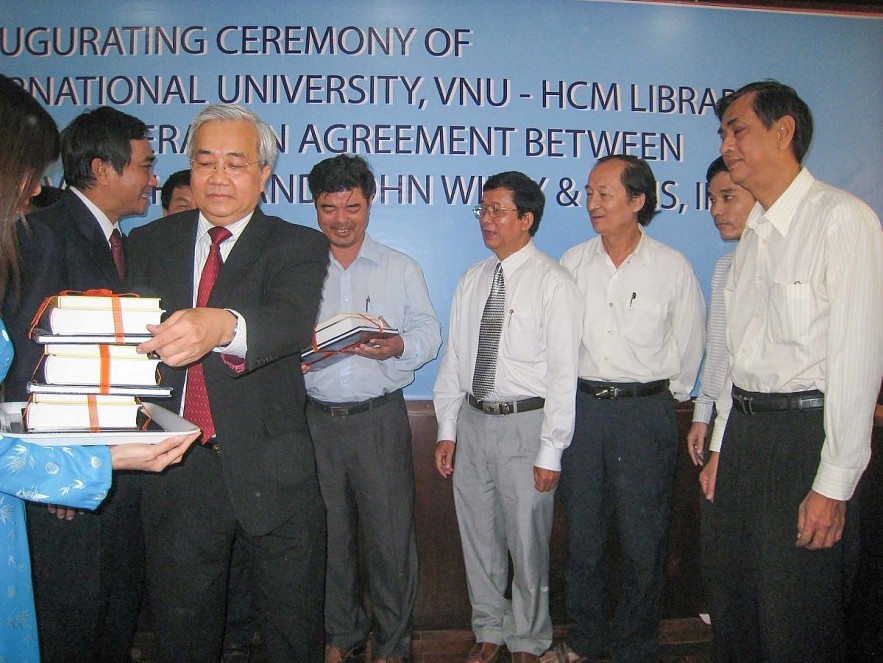 Photo: Vo Ta Han
Enhancing the reading culture for readers nationwide
Over a thirty-year journey of implementing the Books4Vietnam Program, he experienced difficulties every step of the way. When the book reached the right place, safely, as he wanted, his heart was filled with joy. Han wishes that, in addition to increasing the number of books in the library, schools should find solutions to bring these books to a wide range of students, and reach out to as many readers as possible. In line with the new trend, schools can convert these scientific-technical books into e-books in their electronic libraries so that they can spread books more widely to readers.
"As President of the Canadian Chamber of Commerce in Singapore, I brought Singapore's official trade mission to Vietnam in December 1991 and one of the ten proposals in the testimony written to former Prime Minister Lee Kuan Yew, I advise them to give more scholarships to Vietnamese students to study in Singapore," he said.
He founded the Vietnamese Professional Association in Singapore in 2007 with members being Vietnamese students who received scholarships to study at three major universities in Singapore. Besides, he also has the Vo Ta Han Scholarship Fund, which aims to help poor students in remote areas in Vietnam.
When he was just 20 years old, Vo Ta Han received a USAID scholarship to study at the Massachusetts Institute of Technology, USA in 1968. In 1972, he graduated and went on to earn a master's degree. Since 1974, he has been an international banking expert at the Bank of Montreal (Canada).
He worked for Hong Leong Group, Singapore's largest private trading group in 1986, holding senior positions in the group's real estate, hotel investment, technology, and finance companies. After that, he worked as a senior advisor at UBS AG Switzerland in Singapore.
He is also a member of the Board of Directors of UniSIM University - Singapore Institute of Management. In 2010, he retired, settled in the US, and continued teaching. In addition, he is involved in fields such as music, publishing such as publishing the book "Pearl before the wind" (2004), composing more than 500 popular songs, and has released thirty CDs.
Doctor Vo Ta Han was honored by Ho Chi Minh City at the fifth "silent but noble role models" program in 2022. Up to now, he has donated nearly two million books to his hometown.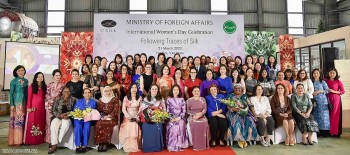 Friendship
Female ambassadors, representatives from diplomatic corps and international organizations, along with spouses of diplomats in Vietnam gathered together to find about more about silk weaving and silk products in Vietnam.