Winners of Haiku poem writing contest announced
(VNF) - Winners of the 15th Haiku poem contest for children were announced yesterday in Hanoi.
Ambassador of Japant to Vietnam, Umeda Kunio speaks at the ceremony (photo: Quang Viet)
Japanese Ambassador to Vietnam, Umeda Kunio; Vice President of the Vietnam-Japan Friendship Association, Nguyen Phu Binh, President of the Hanoi Haiku poem club Hanoi, Dinh Nhat Hanh and representatives of the Hanoi city Department of Education and Training attended the awarding ceremony.
Vice President of the Vietnam - Japan Friendship Association speaks at the awarding ceremony (photo: Quang Viet)
The Haiku Poem Writing Contest 2018 was jointly held by Embassy of Japan in Vietnam, and the Japanese Airlines, to bring to children the joys of writing poems, help them gain insights of Japan - the cradle of Haiku, the shortest form of poem in the world.
Winning entries displayed at the event (photo: Quang Viet)
Speaking at the awarding ceremony, Ambassador Umeda Kunio said: "Haiku poem has become the medium conveying the Japanese culture, Japanese souls to Vietnam, and vice versa. The contest is organized to bring to children the pleasure of writing Haiku poem, nourishing their talents in literature and humanity. The contest also helps deepen the understanding of Vietnamese students on the culture of Japan."
This is the third time the contest is held in Vietnam, as one among the various activities to celebrate the 45th anniversary of Vietnam-Japan diplomatic ties (1973-2018).
This year contest, themed "Living Creatures" received 1,228 entries from secondary and primary school students in Ha Noi and other cities, provinces where Japanese is taught.
Delegates and contestants in a group photo (photo: Quang Viet )
38 entries were shortlisted by the judge panel to enter the final round and 8 best entries were awarded.
The origins of haiku can be traced back as far as the 9th century. Haiku is more than a type of poem; it is a way of looking at the physical world and seeing something deeper, like the very nature of existence.
Haiku started out as a popular activity during the 9th to 12th centuries in Japan. A haiku poem consists of three lines, with the first and last lines having 5 moras, and the middle line having 7. (A mora is a sound unit, much like a syllable). Since the moras do not translate well into English, it has been adapted to where syllables are used as moras./.
( Translated by Phi Yen )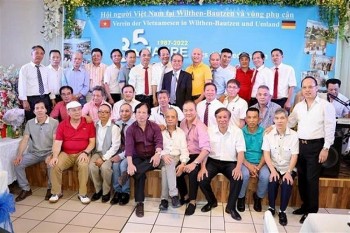 Economy
The Overseas Vietnamese Association in Wilthen - Bautzen and surrounding areas in Germany held a get-together on the occasion of the 35th anniversary of Vietnam - Germany labour cooperation.