Woman plays violin as surgeons remove brain tumor
A patient at a British hospital played Mahler and Gershwin on the violin while a tumor was removed and helped surgeons avoid damage to her brain, the UK hospital where she underwent the procedure said.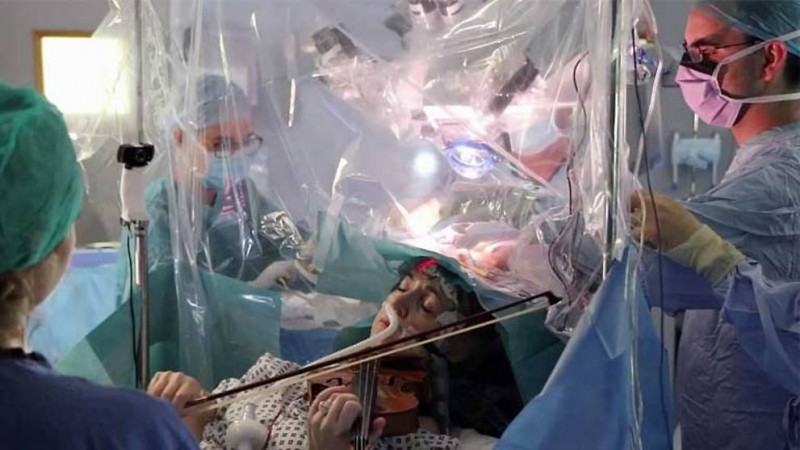 A still image released on Feb 19, 2020 and recorded on Jan 31, 2020, shows musician Dogmar Turner playing the violin during brain surgery at King's College Hospital in London. (KING'S COLLEGE HOSPITAL/AFP)
Dagmar Turner, 53, played her violin during an operation to remove a tumor from the right frontal lobe of her brain - close to the area that controls the fine movement of her left hand.
Surgeons came up with the novel approach to ensure that areas of Dagmar Turner's brain responsible for intricate hand movements were not affected during the precision procedure.
Turner with the Isle of Wight Symphony Orchestra in southern England, was diagnosed in 2013 with a slow-growing tumor after suffering a seizure during a concert.
Professor Keyoumars Ashkan, consultant neurosurgeon at King's College Hospital in south London, hit on the plan to protect vital cells located in the right frontal lobe of her brain.
The area is close to the part of the brain that controls the micro-movements of the left hand required to regulate a violin's pitch and timbre.
The medical team proposed that Turner be woken up midway through the procedure so she could play and be monitored to make sure her coordination was not being affected.
Video footage of the operation showed Turner playing the violin as doctors monitored her movements on screens.
While surgeons cut away part of her brain, Turner played music by Gustav Mahler, George Gershwin's jazz classic "Summertime" and pieces by Spanish songwriter and singer Julio Iglesias.
"We perform around 400 resections (tumour removals) each year, which often involves rousing patients to carry out language tests, but this was the first time I've had a patient play an instrument," Ashkan said in a hospital statement on Tuesday.
"This was the first time I've had a patient play an instrument," said Ashkan. "We managed to remove over 90 percent of the tumor, including all the areas suspicious of aggressive activity, while retaining full function in her left hand."
"The violin is my passion; I've been playing since I was 10 years old," she said. "The thought of losing my ability to play was heartbreaking."the "thought of losing my ability to play was heartbreaking".
"Ashkan ... and the team at King's went out of their way to plan the operation - from mapping my brain to planning the position I needed to be in to play.
"Thanks to them I'm hoping to be back with my orchestra very soon."
Last year, the Hanoi-based Viet Duc University Hospital also performed Vietnam's first brain surgery during which a patient sang in full alertness.
As the tumor was located in a brain region related to movement control and speech functions, a medical operation with the patient remaining completely unconscious under the effects of general anesthetic would make it impossible for surgeons to detect possible problems with the functions, according to Dong Van He, head of the infirmary's neurosurgery department.
The person chosen, who underwent the surgery, is a businessman whose brain tumor had not been excised as doctors feared adverse effects on his brain might pass unnoticed during a general anesthesia surgery.
During his own surgery, the businessman was asked by doctors to sing so that they would know whether his speech brain function was damaged at all./.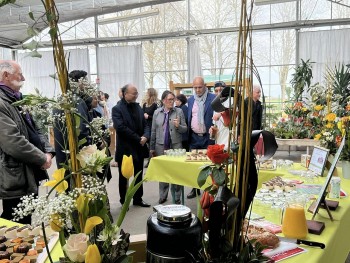 Overseas Vietnamese
Vietnamese Ambassador to France Dinh Toan Thang recently paid a working visit to Saintes, a city in southwestern France, to promote cooperation between the city and Vietnamese localities and attended the Vietnamese Culture Day, VNA reported.