Women at the helm of multimillion-dollar businesses in Vietnam
Forbes has announced Vietnam's four billionaires a few days ago, and indeed it is an honour for the country, acknowledging the critical role of the private sector and raising Vietnam to the level of many nations around the world. Among these big shots, Nguyen Thi Phuong Thao, the CEO of Vietjet Air, has secured the 55th spot on Forbes' list of The World's 100 Most Powerful Women, taking over even Hillary Clinton.
Forbes has announced Vietnam's four billionaires a few days ago, and indeed it is an honour for the country, acknowledging the critical role of the private sector and raising Vietnam to the level of many nations around the world.
Mai Kieu Lien - CEO of Vinamilk
Mai Kieu Lien, CEO of Vinamilk (source: vnexpress)
Dubbed as the Vietnamese Margaret Thatcher, Lien has made a bold mark in the development path of Vinamilk following its equitisation. As soon as she graduated from Moscow University in 1976, Lien joined the dairy giant as an engineer in charge of the condensed milk unit of Truong Tho Milk Factory. 16 years later she became the CEO of Vinamilk.
Dedicating 42 years of her life to milk, she has helped turn Vinamilk from a state-owned enterprise into a regional dairy empire exporting products to 43 countries around the globe. Vinamilk's market capitalisation has reached over $13 billion by far and Lien holds some 4 million shares, equivalent to VND847 billion ($37.2 million), at present.
Le Thi Bang Tam - Chairwoman of Vinamilk and HDBank
Le Thi Bang Tam, chairwoman of Vinamilk and chairwoman of HDBank (source: an ninh tien te)
Chairwoman Tam deserves an elevated place on this list, who serves as the chairwoman at not only Vinamilk, but HDBank—one of the fastest growing banks in Vietnam—as well. Tam does not show up often in the media and with her soft and reserved appearance, hardly anyone would know that she has once held several senior state positions in finance-related government agencies in Vietnam. Her resume includes posts like the State Treasury director general, deputy minister of Finance, and chairwoman of State Capital Investment Corporation (SCIC).
Given her operating experience at the macro level, Tam and her associates have been able to bring HDBank from a small-size bank to one of the eight largest commercial banks in the country in merely five years.
HDBank's outstanding loans have grown over 40 per cent on average over the last five years, while profit has grown at some 28 per cent a year. In 2017 alone, the lender's profit has doubled on-year and according to local securities firms, its profit in 2018 will be up some 63 per cent.
Its total assets as of December 31 has added up to over VND191 trillion ($8.68 billion), and total deposits were reported at VND168.8 trillion ($7.67 billion), with more than 11,000 employees at the time.
The cooperation of the two female leaders, Lien and Tam, has elevated Vinamilk to become the largest company in terms of market capitalisation in the stock market and the only local firm made it among the top 50 listed companies in the Asia-Pacific, as voted by Forbes Asia.
Nguyen Thanh Ha - Chairwoman of Vietjet
Nguyen Thanh Ha, chairwoman of Vietjet (source: VIR)
Born to a family of reputation and great contributions to the country, prior to joining Vietjet, Ha had held an important role as deputy director of the Civil Aviation Authority of Vietnam. Under Ha's leadership, Vietjet's very first flight took off in November 2011 and after seven years, Vietjet now has a fleet of 51 aircrafts flying on 82 routes, including 44 international ones.
It is little known that Ha picked the colour of the national flag and the golden star to be printed on the aircraft engines. She was also the one who accompanied the first Vietjet Air aircraft to Noi Bai International Airport. The ladies in lead at Vietjet have strengthened the values of the new-generation airline in the local market and helped it improve its image in the international one.
Nguyen Thi Phuong Thao - CEO of Vietjet Air and vice chairwoman of HDBank
Nguyen Thi Phuong Thao, CEO of Vietjet Air and vice chairwoman of HDBank (source: an ninh tien te)
On board with Tam at HDBank, Thao acts as vice chairwoman of the board of directors. However, Thao is more associated with Vietjet.
"I don't think global connection is overly ambitious," she shared her vision of being globally connected. "Someone has told me to dream big and act like an angel. And indeed, we have made the impossible possible, made our dream come true. Millions of people have enjoyed travelling for the first time on an airplane and we are even happier when they are not just Vietnamese. I have seen many Korean or Chinese passengers on board at Vietjet to travel by air for the first time in their lives."
The female billionaire has over 25 years of business experience in Vietnam and other countries in different areas, particularly finance and banking.
At the age of 26, the vice chairwoman of HDBank was also the founder and director of a number of commercial banks across the country. She also took part in the management of several banks overseas.
Her talent in the financial sector, as such, has been tested over time prior to joining HDBank, where Thao is the architect who builds the management team for the lender's operations, which includes the parent bank and its consumer finance unit HDSaison, recruiting a great deal of bankers from local and international peers.
Nguyen Thi Mai Thanh - Chairwoman and CEO of Refrigeration Electrical Engineering Corporation (REE)
Nguyen Thi Mai Thanh, chairwoman and CEO of Refrigeration Electrical Engineering Corporation (source: Zing News)
At the age of 30, Thanh was given the most important role at REE: the CEO. Responsibility, burden, and pressure were thought to weigh her down, yet during some 33 years at the wheel, Thanh has helped turn a small electrical factory into a VND11.6-trillion ($527.27 million) market capitalisation group. People call her 'a pioneer woman' as she dares to think, act, and change things. REE was one of the first two businesses listed on the stock exchanges, receiving attention from foreign funds like Dragon Capital and VinaCapital at the early stage.
At REE's annual general meetings, Thanh is often overshadowed by the westerner shareholders that have accompanied the company since the early days. She shared her vision by saying, "Doing business is similar to riding a bike, if we stop at any point, the bike may fall."
REE, as such, has turned into a big player in the Vietnamese energy sector after it expanded to hydropower, clean water, and coal.
According to Thanh, being a woman has its advantages, such as the knowledge harmonised by sophistication, thoughtfulness, and gentleness. Yet when it comes to decisiveness, women can be unwavering.
Truong Thi Le Khanh - chairwoman of Vinh Hoan Corporation
Truong Thi Le Khanh, chairwoman of Vinh Hoan Corporation (source: doisongphapluat)
Khanh's assets so far have soared to VND2 trillion ($90.9 million), ranking 33rd on the stock exchange's rich list. Khanh has been with Vinh Hoan for 20 years, driving the company to stand among the country's top 10 pangasius exporters, accounting for 15 per cent of the market segment, with a network of 300 clients in 40 countries.
In 2017, Vinh Hoan reported a revenue of VND8.173 trillion ($371.5 million), up 10 per cent on-year. Its post-tax profit was recorded at VND539 billion ($24.5 million) and total exports added up to $299 million.
Talking about Vinh Hoan's mission, Khanh said, "I started my career with a passion for food processing, bringing high-quality and wholesome food to consumers, and this remains the company's mission until today."
"I believe in the potential and the future of sustainable farming practices that will supply a healthy food source without having to compromise the environment. Vinh Hoan, therefore, believes that consumers do not have to choose between good food and environmentally friendly food, we should bring together the two to stand apart from others."
These women are not ordinary. They are strong on their own, intelligent, and lenient. They have all helped Vietnamese businesses to go far beyond the country's borders. Their strength comes from their will and the talent of Vietnamese women who can overcome difficulties in any circumstances. At home, they are mothers and wives, yet when it comes to business, they are great warriors./.
( VNF/VIR )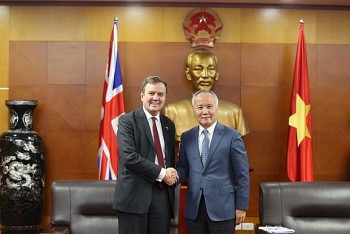 Economy
UK ready to boost CPTPP's economic firepower, said the Trade Minister on Vietnam visit