Women's leadership on natural disaster and climate change
From November 7 to 9, the results evaluation of implementing the water purification pilot using aquatic system was taken place at 1,2,9 hamlets and Kinh Lon hamlet, Long Duc commune, Tra Vinh province.
Photo: AAV
The consultant from ActionAid Vietnam collected water samples at each pilot locations to check the quality of environmental efficiency, economic efficiency, assess the difficulty and advantage levels of the pilot. In addition, the consultant met and discussed with each household who directly benefits and participating in the pilot to listen to the people's feedback.
Huynh Thi Dep, 72, a direct beneficiary, shared, "After 2 months of implementing the pilot, my income has gradually stabilized, the water source is also more purified. Next time I will plant another 300 square meters of water lily to increase the harvest quantity."
The activity is part of the project "Women's leadership on natural disaster and climate change" costing a total of 4.9 billion VND (213,000 USD) funded by the Sweden's Forum Syd and ActionAid Sweden.
The project is underway in Wards 8 and 9 in Long Duc commune, Tra Vinh city, from January 2019 – June 2020.
It aims to help women in areas affected by natural disasters and climate change and raise their awareness of climate change adaptation and disaster risk management, towards building resilient communities and improving their access to public services on water drainage via policy dialogue.
Its activities include promoting water purification using solar power, multiplying effective models via policy impact, among others.
Tra Vinh province and Tra Vinh city in particular is one of the Mekong Delta localities hardest hit by climate change, particularly drought, rising sea level and salinisation.
As a member of the ActionAid International, the ActionAid Vietnam has carried out development programmes in Vietnam's poorest and most remote areas since 1989. Its activities aim to raise public voice to ensure the rights of the poor and the disadvantaged, improve the role of the government and other relevant parties in programmes directly affecting local lives.
Founded in 1995, Forum Syd is a politically and religiously unaffiliated development cooperation organisation with around 140 member organisations from Swedish civil society. It also advocates fair and sustainable development./.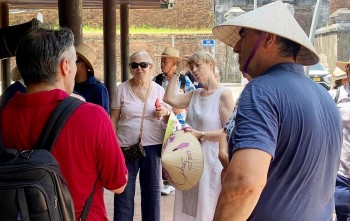 National
Vietnam News Today (Mar. 29): Vietnam to issue e-visa to foreigners of all countries; Vietnam, China beef up defence ties; Outbound tours prove popular during April holiday; Vietnam International Travel Mart 2023 to spotlight cultural tourism.