Xuan Oanh: A Vietnamese Patriot with a Musical Soul
The valuable lesson taught by President Ho Chi Minh about people-to-people diplomacy is always remembered by musician Xuan Oanh. From that experience, he drew guidelines for his more than 50 years of work in this field.
Musician Xuan Oanh (Full name Do Xuan Oanh, 1923-1990) is a multi-talented person. He is also known for his famous song "August 19" praising the success of the Vietnamese August Revolution.
In 1990, the world celebrated the 100th birth anniversary of President Ho Chi Minh. At that time, musician Xuan Oanh was Vice President and Secretary General of the Vietnam Peace Committee. Although he was a man who rarely talked about himself, during a work exchange, he passionately shared with young officers many memories he had with Uncle Ho. One of them is the touching story about his first meeting with the President.
The values ​​gained from the meeting were the driving force that led Oanh to pursue people-to-people diplomacy. President Ho Chi Minh's explanations about this work helped him understand the unique ideological vision and operating motto of the President. That is also the reason for musician Oanh to focus on people-to-people diplomatic activities during the next years of his life.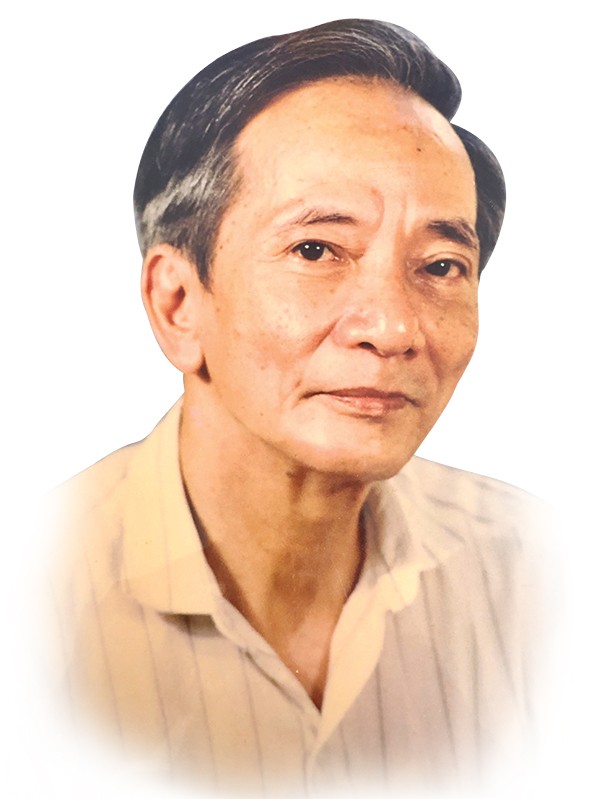 The late musician Xuan Oanh. (Photo: CAND)
In 1950, while working as a reporter for the National Salvation Newspaper, he was sent to report on the congress of establishing the World Peace Protection Committee of Vietnam on November 19, 1950, and then chosen to be an interpreter for the Committee's delegation to the Asian Peace Conference in Beijing in October 1952.
When working on the procedures for the delegation, he learned that President Ho directed the delegation to have representatives of all classes, from workers, farmers, soldiers, and intellectuals, of all religions and mass organizations. The delegation was led by Dr. Le Dinh Tham, Chairman of Vietnam's World Peace Protection Committee. Before the departure day, the delegation visited and reported the situation to President Ho Chi Minh in the Viet Bac war zone. Everyone was extremely moved and excited about this opportunity. For most members, this was the first time meeting the President.
In the meeting, President Ho Chi Minh kindly talked to each person about the delegation and preparation for the departure day. Uncle suddenly asked: "For what reason is the delegation going to Beijing to attend the Conference?" Hearing the answer given by a member of the delegation, saying that the trip is to join international friends in the struggle against imperialism to protect world peace, Uncle Ho smiled and said immediately: "Then we are not going".
Everyone silently looked at each other and Uncle Ho. After a while, he laughed and explained that the first and foremost reason for sending a delegation was to represent the war of justice in Vietnam. Vietnamese fight for peace and independence is also contributing to the cause of fighting against imperialists for national independence and peace in Asia and the world.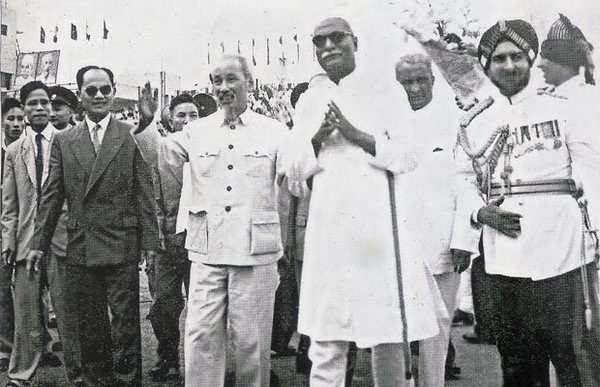 President Ho Chi Minh and Indian President Rajendra Prasad. (Photo: Thoi Dai)
The meeting was exciting again because everyone understood the President's message. Besides, Uncle Ho asked the delegates to understand what Vietnam had been doing and the contributions it had made to the Resistance to introduce to international friends so that they would understand better about the resistance for independence and peace in Vietnam, therefore agreeing and supporting the Vietnamese cause of resistance.
After that meeting, Xuan Oanh, as an interpreter, also met President Ho Chi Minh at several receptions of delegations of the World Peace Council and international friends to visit Vietnam. In every meeting with the President, the musician learned many new and useful things in people-to-people diplomacy. Musician Xuan Oanh recalled that his first time meeting Uncle Ho had left many vivid and unforgettable memories about the thoughts and motto of Ho Chi Minh's people-to-people diplomacy.
That beautiful memory has always been in his mind for more than 50 years of working there. It is concluded that for a Vietnamese working in diplomacy, especially people-to-people diplomacy, he must first understand as deeply as possible about his own country, introduce himself to international friends and enlist support and promote solidarity amongst them.
Picasso and His Famous Dove of Peace

Pablo Ruiz Picasso (1881-1973) is honored as one of the most outstanding painters of the 20th century. He had a collection of many paintings of ...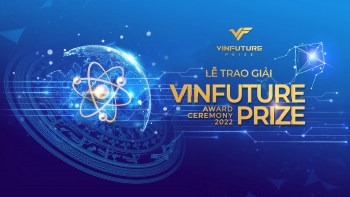 Economy
HANOI, VIETNAM - Media OutReach - 2 December 2022 - The VinFuture Foundation officially announces that the VinFuture Prize Award Ceremony 2022 will be held on December 20, 2022 in Hanoi, Vietnam to celebrate four groundbreaking scientific innovations that contribute to promoting global recovery and post-pandemic restructuring. As part of the Award Ceremony event series, VinFuture will organize a Sci-Tech Week from 17-21 December with inspiring academic activities for the scientific community, businesses, startups, and the public.