107 Outstanding Laotian, Cambodian Students in HCMC Receive Scholastic Awards
The Ho Chi Minh Communist Youth Union of Ho Chi Minh City rewarded many outstanding Lao and Cambodian students who are studying in local universities at a ceremony in the city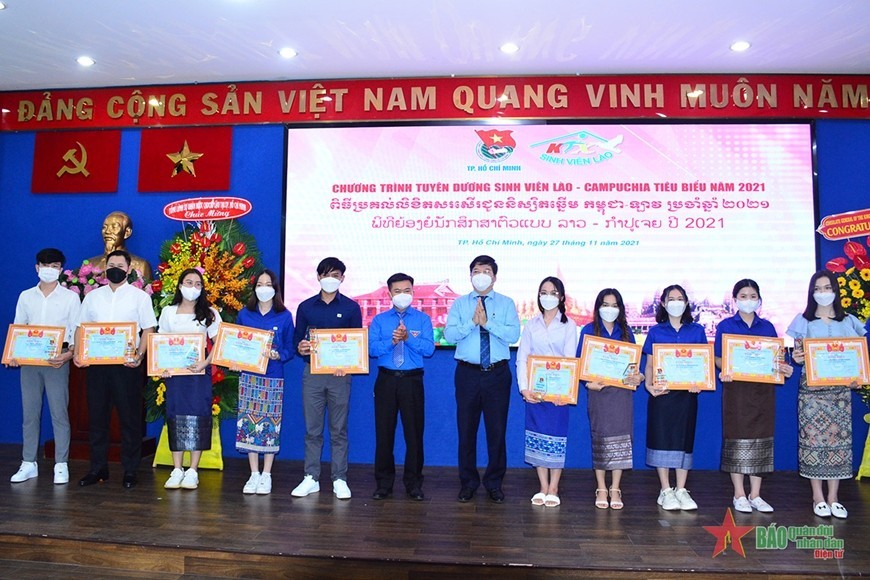 A total of 107 outstanding Lao and Cambodian students were honored at the ceremony. Photo: PANO
The municipal Ho Chi Minh Communist Youth Union on Nov. 27 held an event to honor outstanding Lao and Cambodian students in the city, consisting of 86 from Laos and 21 from Cambodia.
With good academic performance and active participation in youth campaigns, the students were selected from 111 submissions from 16 universities and academies across the city.
As part of the ceremony, the HCM City University of Economics and Finance offered the Lao and Cambodian students 40 scholarships.
Over the past 16 years, the Youth Union of HCM City has honored over 900 Lao and Cambodian students.
Ong Thi Ngoc Linh from the municipal Youth Union said the union now manages 490 out of 1,000 Lao and Cambodian students studying at 25 educational facilities in the city. In 2021, the city welcomed 145 more students from the two nations, up 11% on-year. In the condition of studying away from home, away from family, plus differences in culture, language and especially amid the Covid-19 pandemic, overseas students faced many initial difficulties. However, each of them are always aware of their responsibilities, constantly striving every day, trying their best to achieve impressive achievements in learning and training.
For example, Linda Phothilard, a Lao international student, a student of Nguyen Tat Thanh University has received the title of "Outstanding Laotian Student" in HCM City for four consecutive years. Linda is currently a fourth year student majoring in General Medicine. In addition to good academic performance, she is also actively participates in activities of her school.
Linda shared that over the past time, the complicated Covid-19 situation in HCM City has greatly affected people's lives, but the city government has promptly supported and cared for foreign students in many aspects; providing food, necessary necessities and look after their spiritual wellbeing. Linda herself and fellow Laotian students also seriously implemented the Covid prevention and control regulations, and contributed together with the city government and people to soon fight the pandemic.
Meanwhile, Seng Sambath, a student at Vietnam Aviation Academy, is a outstanding Cambodian student for two consecutive years. She is known by his teachers and friends as an agile and energetic student with good academic records. She is also a dynamic and creative student leader who organizes many practical and meaningful activities for Cambodian students in the city, helping them to adapt and integrate better in the new environment.
According to Seng, who's also President of the Cambodian Student Association in HCM City, the 2020-2021 school year takes place in the context of the complicated development of Covid-19 that has affected the study and daily life of Cambodian students. Facing that situation, the Cambodian Student Association in the city has advocated and supported to create favorable conditions for Cambodian students to actively participate in online history and culture learning activities and volunteer activities locally. Thereby, creating motivation for them to actively study and practice, overcome the difficult period to achieve high results.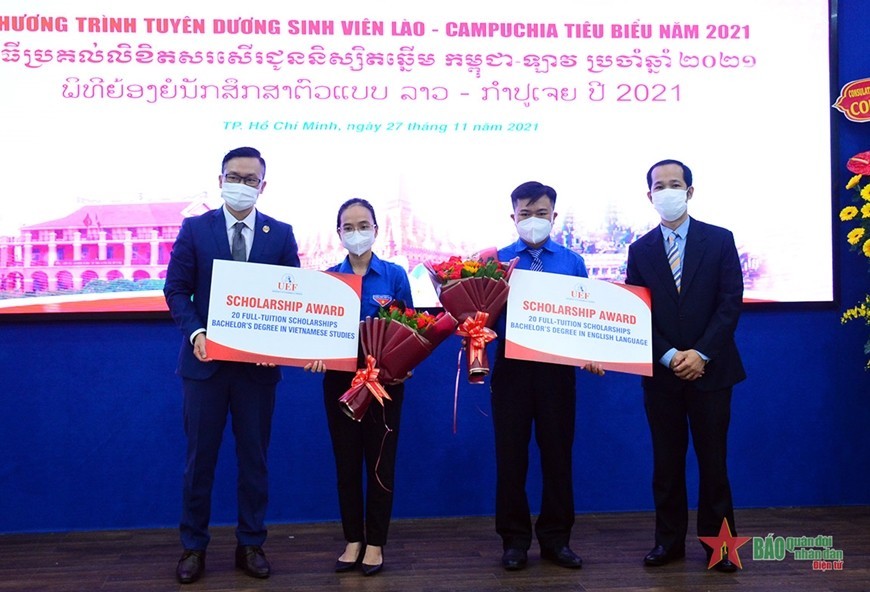 Ho Chi Minh City University of Economics and Finance offers 40 scholarships to students from Laos and Cambodia. Photo: PANO
Within the framework of the program, the University of Economics and Finance of HCM City will offer 40 scholarships for admission to Vietnamese studies and English majors in the 2021 course to outstanding Lao students and Cambodians are studying in the city.