130 kg Vietnamese potbellied living indoors with a Scottish family
Franciso, a three-year old Vietnamese potbellied cross, who was rescued from a family that was falsely informed him as a "micro pig", happily living indoors with Morag Sangster and John Ryan, a family in Carluke, Scotland, as the two run a sanctuary for animals.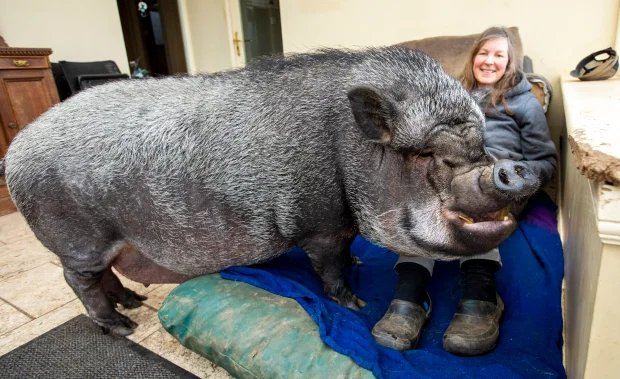 Vietnamese potbellied cross Francisco sleeps in the spare bedroom and curls up with Morag SangsterCredit: SWNS:South West News Service
A family is sharing their home with a 20st pig who loves to chill out in front of the fire, roam around upstairs and scratch the furniture.
Morag Sangster, from Edinburgh, and husband John Ryan founded Tribe Sanctuary in Carluke, South Lanarkshire, and have four 'failed micropigs' in their care as well as more than 100 animals.
Among them is Francisco, a three-and-a-half year old Vietnamese potbellied cross, was falsely sold as a micropig to the family of a 15-year-old girl, after he caught her eye on Instagram, according to DailyMail.
The teen begged her parents for the cute piglet and the family, from Glasgow, travelled down to England to buy him - but three months later he was given to the Tribe Sanctuary after growing too big for the family.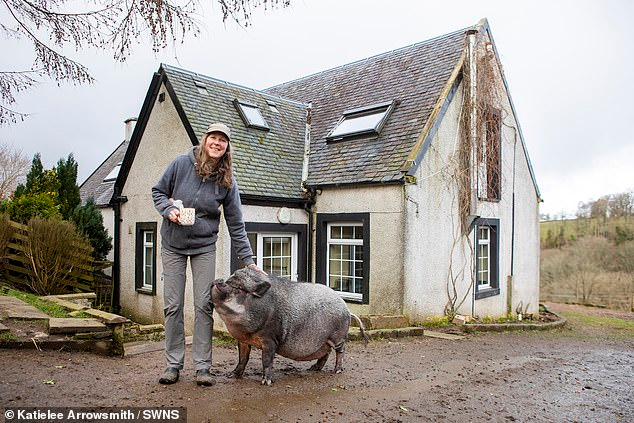 Photo: Katielee Arrowsmith
Francisco now weighs 20 stone, twice the weight of a healthy adult, and is 1.2m long. Morag and her husband John Ryan founded Tribe Sanctuary in Carluke, South Lanarkshire, and have four 'failed micropigs' in their care as well as more than 100 animals.
Morag, 54, said: "Having a pig in the house is fun, but not for people who cherish furniture."
She added: "He has bitten a few things and he loves to scratch. Standards go out the window and he goes wherever he wants to.
"He is quite chatty - he grunts and squeaks and is as rewarding as any cat or dog.
"They are clean animals, he doesn't go to the toilet in the house."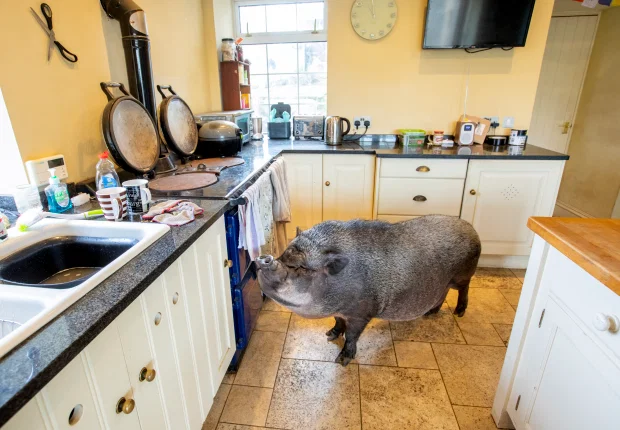 Morag said: 'Having a pig in the house is fun, but not for people who cherish furniture' Credit: SWNS:South West News Service
The giant hog is living in a three-bedroom house after getting used to creature comforts with his old owners.
Francisco is the only pig who lives in the house, after arriving during a cold winter three years ago - and hating snow when he was sent out.
The pampered pig enjoys being in front of the fire or near a radiator, and has his own duvets and quilts.
Every morning he has a banana for breakfast, and also likes grapes and nuts and chewing on straw and hay, and is fed in the conservatory away from the dogs.
He eats special potbellied pig pet food which costs £15 for 15kg, eating a lot of fruit and vegetables, and is usually fed in the conservatory, away from the couple's four dogs.
All the six other pigs - including Elvis, also bought as a 'micropig', who weighs 31 stone, and Max and Vera, former micropigs who were given up - live in stables.
Morag believes the 'giant porky' being peddled to well-intentioned punters is a cruel con.
She said: 'Around 50 "micropigs" a month are given up as they are actually piglets.
'A small piglet will cost between £25 and £40, but a micropig can cost around £800.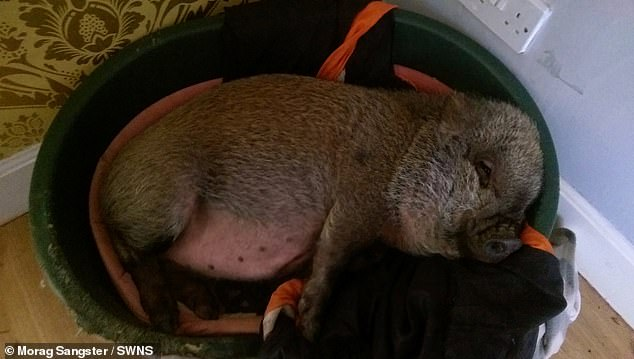 Photo: Morag Sangster
'It is wishful thinking, these people will cash in if people believe what they are telling them.
'If they think people are stupid enough to believe it, they willl sell them. It's a big problem. There is no such thing as a "micropig" breed.
'There is a piglet or a smallish pig. It is an animal welfare problem.
'There is no rehoming market for pigs, I'm sure a lot of them end up at the slaughterhouse.
'There are no rules for pigs being sold newborn, you can do what you want with pigs.
'People have them in the house because they are cute. They can apply for a walking license but you can only walk them on certain routes, not past livestock.
'You can't take them to the beach and stuff like that which is what they thought.
'The pig is in the house, it starts growing. They will trash the garden, then it ends up in a pen.
'Pigs miss other pigs, they get lonely.'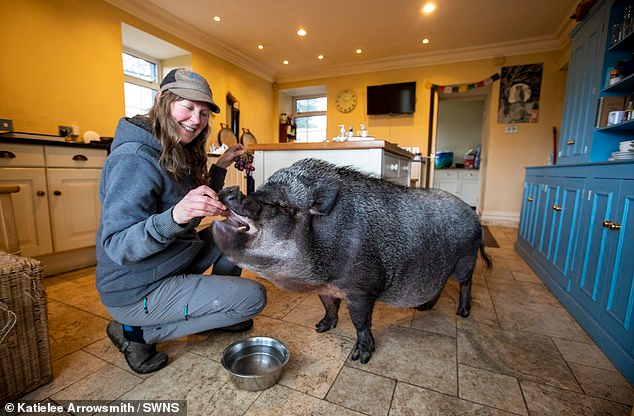 Credit: SWNS:South West News Service
Is there a "micropig" breed?
The novelty of petite pigs in the U.S. began in 1986, when a few dozen Vietnamese potbellied pigs were imported to American zoos. Private breeders took notice. Some began to breed (or inbreed) and underfeed their potbellies and other small-breed lines, such as New Zealand's kunekune and the state of Georgia's Spanish-descended Ossabaw Island pigs.
These strategies produced pigs much smaller than, say, a thousand-pound farm hog (455 kilograms). But they're never the size of a Chihuahua, as some breeders promise. And their weight is impossible to predict.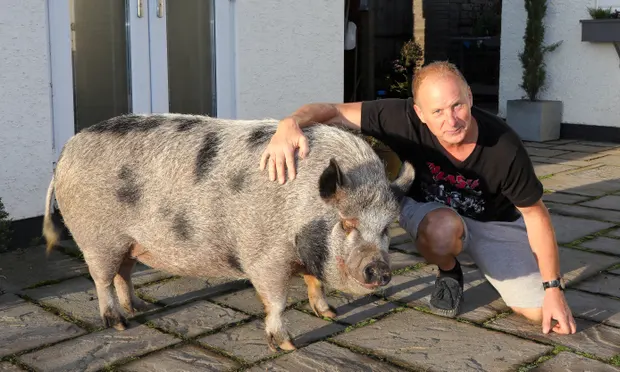 Nigel Graham with Grace. She weighs 178kg. Photograph: Dave Evitts/SWNS
Until now, the mini-pig trade in North America—and to a lesser extent Europe—has been a hazy, unregulated industry, with few if any rules. But some individuals and nascent organizations are trying to change that, according to National Geographic.
The craze for small pigs, known as micro or teacup pigs, took off about a decade ago. The Beckhams were reported to have bought mini pigs in 2009; Paris Hilton was regularly photographed with a tiny pig in her handbag around the same time. Micro pigs were thought to be the perfect pets – as intelligent as dogs; good for people with allergies to (conventional) pet hair. But as more and more tales have emerged of pigs growing well beyond their promised mini size, the notion of the micro pig has gradually been exposed as a myth, The Guardian reported.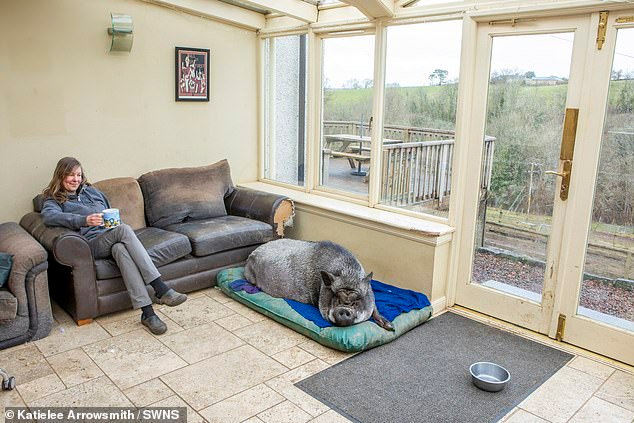 Photo: Katielee Arrowsmith
In 2012, as a favor to a friend, Canadians Steve Jenkins and Derek Walter adopted a three-pound (1.4-kilogram) "mini-pig" named Esther. Or so they thought. Within two years Esther wasn't so mini. In fact, she weighed 500 pounds (227 kilograms).
"We didn't want to believe it," says Jenkins, "but at four months it became painfully obvious she would be larger than we thought. She grew about three-fourths of a pound a day. And she's still growing now."
Like thousands of others before them, Jenkins and Walter had been duped into thinking that their tiny pig would stay tiny—perhaps small enough to fit in a teacup—and make as good a house pet as any dog or cat.
But as the couple soon learned, those promises are essentially marketing ploys—ones that unscrupulous breeders have been using more and more frequently over the past 15-plus years. Since 1998, the number of "mini-pigs"—a catch-all term that characterizes just about any small-breed pig—in the United States and Canada has risen from 200,000 to perhaps as many as a million.
To keep the animals' size down, many breeders have been inbreeding and underfeeding their pigs, telling buyers that piglets are actually adults, or—as in Esther's case—passing off commercial pigs originally intended for food as a smaller breed of pig.
Most of these animals end up in overburdened shelters or are euthanized once they outgrow their suburban habitats.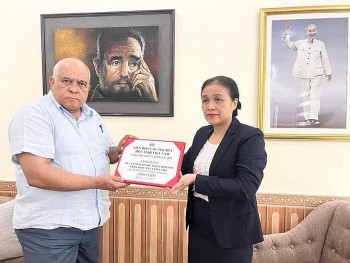 Focus
According to Cuba's News Agency Prensa Latina, on August 16, President of Vietnam Union of Friendship Organizations Nguyen Phuong Nga said that Vietnamese people will always stand by and support Cuba no matter what difficulties our friend is facing.