15 US veterans returns to Vietnam after nearly half century
Fifteen men gathered at an airport in Los Angeles on Friday morning, shook hands, chatted and then boarded a plane bound for the one place each had once desperately wanted to escape forever — Vietnam.
Most had never met before, but they shared a bond few can understand.
Fifteen men gathered at an airport in Los Angeles on Friday morning, shook hands, chatted and then boarded a plane bound for the one place each had once desperately wanted to escape forever — Vietnam.
Veterans of one of America's bloodiest wars, these men were returning to battlefields they left in uniform decades ago. Some were searching for closure; others had more complex reasons to go back.
Landing in Danang
In a convoy of rusty, olive drab Jeeps bearing U.S. military insignia, 15 American veterans who some 50 years earlier served in or around this coastal Vietnamese city cruised through its streets Sunday, attracting waves and cheers from locals.
For most of the group of 14 Marines and one Navy hospital corpsman who served in central Vietnam before or during the Tet Offensive in 1968, Sunday marked their return to Vietnamese soil since leaving decades ago in uniform, when they departed one of America's bloodiest wars. Stars and Stripes is traveling with the group, brought back to Vietnam by the nonprofit The Greatest Generations Foundation.
"I'm telling you that's going to be one of my prime memories of this trip," said Steven Berntson, who served in 1967 and 1968 as a Marine Corps combat correspondent in Danang and other parts of what is today central Vietnam. "What beautiful people — that little group of people standing alongside the road and waving as we went by, all smiling and waving and happy. How amazing to see that."
Fifty years after Berntson left, Danang looks strikingly different, he said from just off Red Beach, the site outside the city where the first American Marines arrived in March 1965. Decades after the war, when Danang was home to multiple American military bases including an air base, a Marine helicopter post, a rest and relaxation site and Marine surface-to-air missile batteries, Danang has grown into a modern city of more than 1.3 million people, boasting high-rise buildings and bustling, paved streets filled with locals on motorbikes.
Marine Corps veterans Jorge Azpeita, left, and Steven Haas are driven by a Vietnamese national Sunday, February 25, 2018 through Danang, where both served during the Vietnam War. Corey Dickstein/Stars and Stripes
Still, some of his "old stomping grounds" remain apparent, said Berntson, who was medically evacuated from Vietnam as a sergeant and received a Bronze Star with "V" device for valor and two Purple Hearts.
On Sunday, the veterans were wearing Marine Corps ball caps or T-shirts, which attracted questions from some of the Vietnamese people.
"I'm just amazed at how friendly they are," said Jorge Azpeitia, a retired Marine who served in Danang in 1968, 1969 and 1970. "It's been 50 years … but, I think they were happy we were here."
Azpeitia, who retired from the Marine Corps Reserve as a master gunnery sergeant in 1998, said he was struck by emotion Sunday as he spotted locations around Danang that he remembered. But he was even more stunned by the welcome the vets received, especially as they cruised in the old Jeeps.
"What I see from the Vietnamese people today — it's what we didn't get when came back home, with people calling us killers and all that," he said. "To see people here greeting us in such a way — it brings me a sense of ... closure."
Hill 55 and Camp Reasoner
Little evidence remains of the thousands of American troops who served in and around this central Vietnamese city five decades ago, but for 15 U.S. veterans, the sight of the Marine Corps' Eagle, Globe and Anchor emblem on an old structure Monday proved worth the trip.
Although faded, the famous emblem built into a stone structure on a hill overlooking Danang at a former Marine reconnaissance base immediately caught the attention of Joe Silva, a Vietnam War veteran who served as forward observer in 1968.
"It's the first thing I saw when we were driving up here," said Silva, recalling the time he spent at Camp Reasoner, before he was sent to fight farther north. "It was a cool little thing — like, 'Just look, the Marine Corps emblem.' "
The emblem and a nearby sign marking the entrance to Camp Reasoner, where the 1st and 3rd Force Reconnaissance battalions were stationed, are among few remaining relics of the American military presence in the country, said Jim Hackett, a Vietnam War veteran who is helping to lead the group of Marines traveling with The Greatest Generations Foundation. The nonprofit sponsors free trips for veterans back to the battlefields where they once fought. The majority of American structures and insignia throughout the country was eradicated by the Communist party after North Vietnam's victory over the South in 1975.
It is unclear why remnants of Camp Reasoner remain at what's now an active rock quarry.
Vietnam veterans salute in honor of servicemembers killed in action on Monday, Feb. 26, 2018 on Hill 55, a former Marine encampment about 10 miles southwest of Danang. Corey Dickstein/Stars and Stripes
"It's weird," said Bob Bayer, who served in Vietnam in 1967 and 1968 as a Marine combat correspondent assigned to the 1st Marine Division. "I really wonder why they left it."
The area, near the old Freedom Hill — a site that boasted a massive post exchange, movie theater, beer garden and frequent USO shows — is nearly unrecognizable, Bayer said.
Camp Reasoner was named for the first Medal of Honor recipient of the Vietnam War, Marine 1st Lt. Frank Reasoner, who was posthumously awarded the nation's highest honor for battlefield heroism for his actions as a platoon leader in 3rd Recon Battalion in July 1965. Reasoner was leading an 18-man patrol about 11 miles southeast of Danang when it was ambushed by 50 to 100 Viet Cong forces, according to his award citation.
Reasoner "repeatedly exposed himself to the devastating attack … skillfully providing covering fire, killing at least two Viet Cong and effectively silencing an automatic weapons position in a valiant attempt" to evacuate his wounded radio man, according to the citation.
While the Camp Reasoner sign remains in place, faded by decades of exposure, other former American-held landmarks show no signs they were ever occupied by U.S. troops.
On Hill 55, where Marines once held a headquarters base and an artillery battery, the only sign of the war is a massive monument dedicated to North Vietnamese soldiers.
Today, the United States and Vietnamese militaries appear to be working toward closer ties. The U.S. Navy hospital ship USNS Mercy is expected to visit Vietnam as part of the annual Pacific Partnership exercise. The Asia-Pacific's largest humanitarian-assistance and disaster-relief preparedness exercise begins Friday and will run through June.
The ship's visit is expected to come after March, when the USS Carl Vinson aircraft carrier is set to stop in Danang — the first American carrier to port in Vietnam since the war ended.
An Hoa
Nearly 49 years after arriving at An Hoa Combat Base on his first day in Vietnam, Paul Baviello stood in the middle of what remains of the runway that ran through the encampment, scrolling through old photographs on his iPad that showed what the Marine base looked like during the war.
Today, the cracked asphalt runway is all that is left of the base that served as a place to rest for Baviello — known as "Doc Buzz" — and thousands of Marine grunts who fought in the volatile Quang Nam province.
"This is weird," the 70-year-old former Navy corpsman said Tuesday, as he and other veterans who served at An Hoa pointed out where buildings and a helicopter landing zone once stood. "This is too weird. Oh my God."
Steven Berntson, a Marine veteran who served as a combat corespondent in the Vietnam War, looks through a Vietcong cemetery near Goi Noi Island, where he fought in 1968. Corey Dickstein/Stars and Stripes
Despite the lack of any American structures -- replaced by thick groves of trees and homes of the locals -- the area felt familiar, he said, pointing out the "unmistakable" shape of Charlie Ridge, a notorious Viet Cong stronghold in the distance.
"This was a special place — it was just kind of a place to come in, get rejuvenated a little bit, grab a hot meal," said Baviello, of Eastvale, Calif. "So, we didn't spend much of our time here; most of our time was out between here and the mountains, which was called the Arizona.
"That's where most of my Marines took their casualties."
Baviello is among 15 Vietnam veterans traveling the battlefields where they fought as youngsters. The program is run by The Greatest Generations Foundation, a nonprofit that provides free trips for Vietnam veterans.
He said he was surprised at his willingness to travel back to Vietnam, where he served from 1969 to 1970 and where he earned a Navy Commendation Medal with "V" for valor. He was unsure whether he wanted to join the group, which arrived this week in Vietnam and will continue its trip through March 7. Baviello, with a slight push from his wife, decided the return would be worthwhile.
The trip, he said, was in honor of the Marines he worked with, fought alongside and treated on the battlefields.
"That's basically what I'm doing here. ... I hope it just gives them some closure for what they went through," he said.
U.S. Marine Corps veterans Richard Prince and Joe Silva examine a plaque in a cemetery for Vietcong soldiers who they fought against in Vietnam on Tuesday, Feb. 27, 2018. Corey Dickstein/Stars and Stripes
The trip will last until March 7.
Complied by VNF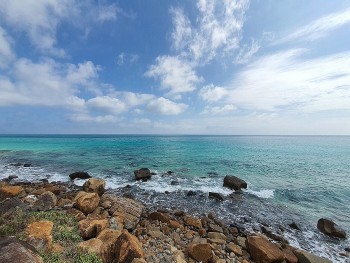 Viet's Home
Con Dao, a historical and famous island situating in the southern province of Ba Ria - Vung Tau, has been named among the top 16 best island vacations in the world, as compiled by tourism magazine Condé Nast Traveler (CNTraveler) of the United States.