16 Mekong Delta dishes to eat before you leave (part II)
In the second part of series on Mekong Delta Food Adventure, we'll share the next 6 best local foods of the Mekong Delta region.
In the second part of series on Mekong Delta Food Adventure, we'll share the next 6 best local foods of the Mekong Delta region.
Palm sugar steam rice cake.
10.Chau Doc's palm sugar steam rice cake
There is one particular plant that has been living with the people here forever, the Palmyra tree or as the locals call it – Thot not.
Palm leaves are often used for roofing, fuels. Old trees are used to make house pillars, tables, chairs. Particularly, palmyra palm brings to foodies an unforgettable taste by simple but amazing dishes such as palm rice, palm juice, palm sugar, and palm sweets. Among these dishes, the one to impress tourists most in the harvest season is steamed rice cake with palm sugar.
Holding hot small cakes with the yellow of palm then tasting it will make you feel the tastiness, puff, sweetness and greasy from sugar and coconut mixed with the significant smell of palm sugar, which is not hard to recognize.
11. Grilled chopped crab
Thanks to abundant swamps on the riverside, people in Ca Mau has gained great benefit from feeding crabs. Crabs in Ca Mau are amazingly available and cheap as compared to other places.
As a result, people in Ca Mau have created a long list of dish with main ingredient of crab: Crab soup, fried crab with tamarind, fried crab with salt among which grilled chopped crab is amazingly delicious. It takes many steps to make a grilled chopped crab.
At first, we need to clean up crabs and then boil them. When crabs turn into red, we will take out crab flesh and mix it with minced meat, eggs, rice flour, fried garlic and seasonings. This mixture will be steamed with some chives on the top. Grilled chopped crab is often served with spinach and some kinds of herbs together with a mixture of salt, pepper and lemon juice. Grilled chopped crab has irresistiblearoma, flavor of as soft as delicious which will absolutely seduce your taste.
Palmyra sweet soup.
12. Palmyra sweet soup
Thanks to the popularity of Palmyra palm, An Giang people has made a variety of dishes from palmyra: palmyra sugar, palmyra cake, ice palmyra water, among which palmyra sweet soup is one of the most favored junk food in summer in An Giang in particular and Mekong Delta in general.
It is quite easy to cook palmyra sweet soup. People peel palmyra tree fruit to take its flesh. Then, they will cook palmyra sugar together with coconut milk till it becomes a thick mix. At last, they pour palmyra fruit's flesh into this mix. It is more delicious to enjoy palmyra sweet soup with coconut jelly.
Palmyra sweet soup has natural sweet flavor which will bring diner great taste. The fatty flavor of coconut milk and the soft, aromatic and sweet flavor of palmyra fruit's flesh will absolutely satisfy even the most demanding diners.
Bac Lieu's Spicy beef noodles.
13. Spicy beef noodles
When Hanoi beef noodles have been known by many foreigners and become the symbol of Vietnamese cuisine, Bac Lieu also has spicy beef noodles with characterized flavor of Bac Lieu.
Actually, spicy beef noodles are the "cover" of stewed beef and instead of cooking with carrots and turnips, it is cooked with satay, chili and beef. Spicy beef noodles have red color of satay and have extremely spicy flavor. It is often served with spinach and some kinds of herbs and a small plate of salt with fresh chili. Soft and greasy beef mixing with spicy but tasty hot soup will make diners as eating as uttering an exclamation. Tasting a hot bowl of spicy beef noodles in a cool day after the rain would be your lifetime experience.
14. Steamed coconut rice
Due to the abundant of coconut trees, people in Can Tho have created a list of delicious dished made from coconut, among which steamed coconut rice is the most famous.
It is not difficult to make steamed coconut rice. After choosing the high quality rice and coconut, people will use a sharp knife to cut the top of a coconut to take out the coconut water. Then, people will pour a moderate amount of rice and coconut water into the coconut. Finally, the coconut will be steamed in boiled water for one hour.
Steamed coconut rice is sweet, aromatic and buttery. It is often served with roasted shrimps. The sweet and soft flavor of coconut rice goes along with the salty and crispy flavor of roasted shrimps is such a perfect combination. Coming to the land of coconut trees, don't ever miss tasting steamed coconut rice as it will become your unforgettable experience.
15. Grilled "Climbing" beef
In Tan Chau, An Giang province, there is a specialty with funny name of "climbing beef". It is interesting that "climbing beef" does not mean meat of cow fed in mountainous area. However, it has special flavor because it is seasoned with secret condiments. Looking at its setting, we can understand why it is called as "climbing beef".
At the centre of the table, there is a griller made of iron in mountain shape surrounded by a plate of beef marinated with spices, vegetables and herbs and soy sauce. First of all, a piece of pork fat and then butter put on the griller placing on ember. Pork fat, butter and beef grilled make an irresistible aroma. Specially, no matter how long beef is grilled, it still preserves perfect flavor: soft and tasty. Grilled beef will be wrapped by ricepaper and served with some herbs, vegetables and green banana and special soy sauce.
Salted fish hotpot
16. Salted fish hotpot
Coming to Bac Lieu, tourists will have chance to savor a specialty of salted fish hotpot. The most important step of making salted hotpot is cooking the fish soup.
Salted fish will be cooked together with fresh coconut water and fried garlic and lemongrass. Salted fish hotpot is often served with a dish of pork, some dishes of different kinds of fish and variety of vegetables: luffa, guinea squash, lotus roots, spinach, and some special kinds of vegetables which only exist in floating season.
Salted fish hotpot has sweet flavor of coconut water, salty flavor of fish, greasy taste of pork and fresh taste of vegetables will be a big and great party for your tongue./.
VNF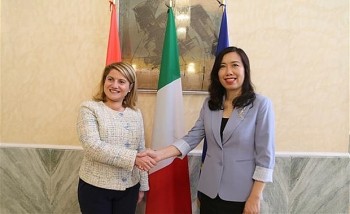 Friendship
The Vietnam - Italy political consultation is part of the occasion of the 50th anniversary of diplomatic ties and the 10th anniversary of the framework of the strategic partnership.